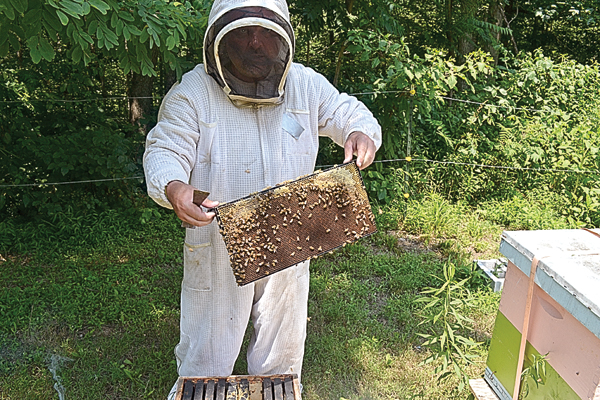 Suzanne Stewart
Staff Writer
Britt Parcell has known the value of honeybees ever since he was a child. Growing up in Boone County, he had a neighbor who kept bees. That's where Britt learned that not all buzzing and stinging are bad.
"I remember thinking, 'What kind of person does that?'" he said, laughing. "When I was young, I couldn't differentiate between a wasp and a bee. They sting – that's all I needed to know. I remember my grandpa telling me, 'No, we want him having bees. He's dealing with them up there, but look at all of my corn; look at my tomatoes.'"
After realizing that honeybees help with the growth of all kinds of fruits, vegetables and flowers, Britt changed his tune. About 12 years ago, he and his wife, Tabitha, began beekeeping at their home in Frankford.
It was a rough start, but, through the years, Britt managed to raise bees that acclimated to the harsh West Virginia winters and were able to produce honey.
"My first five years, I lost all of my bees every winter," he said. "I started off with two hives and got them going. I was like, 'If I've got four hives, I've got double the chances' and the four hives were dying on me at a time. It was just heartbreaking. I learned a lot along the way."
Because the honeybees come from the south – Georgia and South Carolina – winter took a toll for years until, finally, the newest generation of bees born on the farm were heartier and managed to survive.
"The only ones that I split and reproduce from are hives that have made it through the winter," Britt said. "So, I'm kind of selectively breeding for bees that will handle this climate better."
Britt now has 27 hives at his home and on Hidden River Farm in Monterville. Hidden River is owned by Tolly Peuleche.
"She has an organic flower farm and the bees just absolutely thrive there," Britt said. "She's got something blooming all the time. They produce a lot more honey there than what they do here."
Before getting the bees, Britt said he never saw bees around his home in Frankford. Now, the trees, flowers and produce on his land are thriving – a change that happened almost immediately.
Once the bees settled in and were producing honey, Britt and Tabitha founded Greenbrier Bee Farm to sell honey and lip balm made with the beeswax from the hives.
"I do all the Farmers Markets in Pocahontas County, and I'm fortunate that I have people who are willing to sell for me because I work all the time," Britt said.
The products are also available at Snowshoe Mountain Resort, Levels Depot and in several locations in Greenbrier County.
While Britt handles the honey side of things, Tabitha takes care of the lip balm.
"It's not really that difficult," she said. "You just use a stovetop and double boiler. Melt the wax down and put all your ingredients in – your essential oils – and melt it. Take a pipette and fill each individual tube."
The lip balm comes in honey lavender, peppermint and pink peppermint, which has a pink tint.
Tabitha also makes candles with the wax, but usually, those are just for use in her home.
"I make them mostly because I burn them all the time," she said, laughing. "I like the lavender and I did some lemon grass."
Britt said he was initially drawn to raising bees as a hobby, but it soon turned into something more – a small business with many health benefits to boost.
A former allergy sufferer, Britt is no longer on medication due to his daily consumption of honey. The bees themselves also assist with ailments.
"I actually like getting stung on the hands," Britt said. "I've got arthritis in my hands and they were so much more limber after a few stings. It lasts for about two weeks."
While he appreciates the stings, Britt's dog, Reno, does not, but that doesn't stop her from chasing them.
"When one of us walks down to the bee farm – when we get past a certain point – she stops," Tabitha said. "She won't follow us."
"She likes to be right out there with me, but she just got eaten up too many times," Britt added.
"She likes to kill them, snap them in her teeth," Tabitha said, laughing. "They must taste pretty decent. She eats quite a few. She'll do the same thing to wasps."
Despite the pain, Reno continues to enjoy snacking on the bees.
The couple – who grew up together in Boone County – moved to Frankford, which is close to family camps they visited as youngsters.
"My grandparents had a camp up at Anthony, and my dad worked in the mines," Britt said. "In the summertime, we would come and stay at the camp because where he worked outside of Beckley was about halfway between both places, so we just spent all of our time up here.
"Tabitha's people had a camp over at Neola, so when I got out of the service, this is where we wanted to be," he added.
Britt was in the U.S. Navy, and when the couple moved to Frankford, they both became employees at Snowshoe Mountain Resort. He is the transportation manager and she is the transportation supervisor.
Along with managing the shuttle services at Snowshoe, Britt and Tabitha provide CDL classes for those interested in the training.
For more information on the Parcell's honey, visit greenbrierbeefarm.com