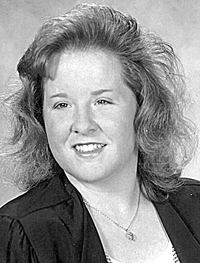 Leslie Kay Goldizen, 46, of Marlinton, went to be with the LORD Thursday, July 15, 2021, at Roanoke Memorial Hospital.
Born July 11, 1975, in Elkins, she was a daughter of Rev. Fred and Barbara Phillips Goldizen.
Leslie was a 1993 graduate of Pocahontas County High School and graduated in 1997 from Alderson Broadus College with a BS degree in Psychology. She worked in the medical field for many years and was currently employed in the medical records department at Pocahontas Memorial Hospital. She was a faithful, active member of the Marlinton Church of God where she served as church clerk, song leader, soloist and Sunday school teacher.
Leslie was preceded in death by her maternal grandmother, Lou Ellen Phillips; paternal grandparents, Sam-pson and Gladys Goldizen; two aunts, Janet and Linda; and two uncles, Bob and Larry.
In addition to her parents, she is survived by her maternal grandfather, Claude Phillips Sr., of Marlinton; and many aunts, uncles, cousins and friends.
Funeral service was held Sunday, July 18, 2021, at the Marlinton Church of God on Beard Heights with Rev. Michael Shaffer officiating. Burial was in Cochran Cemetery.
Visitation was held Saturday, July 17, 2021, at Marlinton Church of God.
In lieu of flowers donations of sympathy may be made to Marlinton Church of God, 114 Beard Lane, Marlinton, WV 24954 in Leslie's honor.
Online condolences may be made at Lantzfuneralhome.com