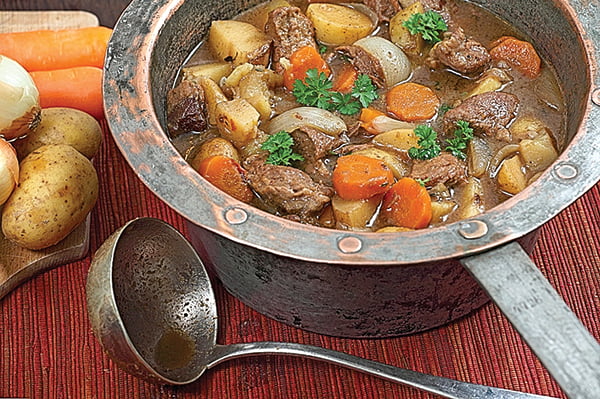 Laura Dean Bennett
Staff Writer
"May you have rye bread to do you good,
Wheaten bread to sweeten your blood,
Barley bread to do you no harm
And oatmeal bread to strengthen your arm."
~ Old Irish Blessing
If you've resolved to make St. Patrick's Day special this year, nothing will bring you closer to the Old Sod than "eating Irish."
These days, you can find plenty of "Irish" recipes featuring all manner of fancy ingredients.
But because life in Ireland was hard, and sometimes nigh impossible, traditional Irish recipes tended to be simple.
Irish cooks did not have a huge range of exotic ingredients available to them. 
They relied heavily on a few ingredients – more often than not, root vegetable-garden staples like potatoes – and field crops like oats.
They also used wild edibles, like mushrooms and nettles, gathered from forest or field.
Many of the first settlers of Appalachia were from Ireland, and I imagine they found many similarities to the old country here. 
Certainly, a hard-scrabble existence was nothing new to them – they were proud of knowing how to live on little. 
In Ireland, just as here in the early American mountain settlements, no scrap of food was ever wasted. 
No food source illustrates this so well as the pig. 
Few ordinary Irish households in the old days would have eaten beef – that was a food for the rich – but many kept a pig or two. 
There are old Irish recipes calling for every part of the pig – literally – every part. 
Hence, the famous Irish culinary direction: "everything but the grunt."
Not featured here, but still popular among Irish cooks, are recipes for dishes like crubeens, also known as "pigs trotters," and black pudding (made from pork offal). The perfect illustration of everything but the grunt.
Notwithstanding the lucky households that had a pig, the Irish primarily depended on meat from the sheep they raised.
The Irish were known for recipes using lamb and mutton.
Sheep provided wool for clothing, milk for drinking and cheese-making, and finally, meat, after the animal reached the end of its productive years. 
Potatoes were the main vegetable crop, and families who had very little else could nearly always depend on potatoes. That is why the potato blight was so devastating.
Since Irish homes traditionally used peat as a source of fuel for heating and cooking, there are scores of recipes for slow-cooked stews and casseroles.
Stobhach or Irish stew, made with lamb, carrots, potatoes and onions, is, hands down, the national dish.
Being surrounded by the sea, Irish cookbooks are also full of recipes for fish and seafood. Those who lived near the shore ate salmon, cod, scallops, lobster, mussels and oysters.
Because of their Roman Catholic roots, many in Ireland still observe the tradition of abstaining from eating meat on Friday. 
Even now, fresh fish sales on Fridays in Ireland account for around 30 percent of weekly sales, according to the Irish Sea Fisheries board. 
Meat and fish were always a welcome addition, but the staples of the Irish diet have traditionally been potatoes, grains, and dairy products. 
The Irish have been accomplished cheesemakers for centuries. Ireland makes about 50 types of cheeses, which are considered delicacies the world over.
It would be a rare Irish home without a garden featuring potatoes and cabbage.
Potatoes are, by far, the most Irish of all foods.
They are the mainstay of every meal.
They are eaten boiled, mashed, fried, chipped and baked, or mixed with cabbage, scallions or leeks to make colcannon or champ. 
They are made into potato cakes and used to top casseroles like Shepherd's Pie. They are added as thickening to soups or stews.
Recipes often call for an exact variety of potato, to make the taste and texture just right.
Markets usually stock at least five or six different potato varieties – sometimes more – with the varieties changing depending on the season.
An Irish meal without potatoes is inconceivable, so make sure you are well-provisioned with spuds for this most Irish of all weeks. 
Try this Irish version of mashed potatoes, a traditional favorite: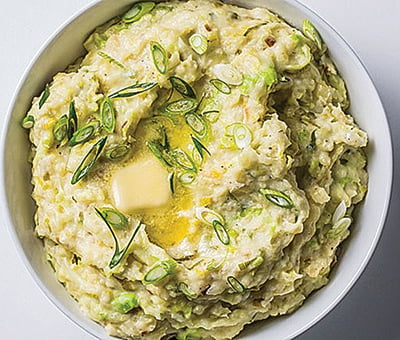 Colcannon
5 medium potatoes-Yukon Gold, if you have them- between 1 1/2 and 2 lbs.
course ground salt
6 Tbsp. unsalted butter, divided
2 leeks, white and pale-green parts only, sliced in half lengthwise, thinly sliced crosswise
2 garlic cloves, thinly sliced
2 cups (packed) shredded cabbage (from about 1/4 large head), divided
1 1/4 cups milk
1/2 cup heavy cream
black pepper
1 scallion, or spring onion, thinly sliced or, if you're blessed with ramps, I'd garnish with some snipped green tops either in addition to the onions or instead of.
Cover potatoes with water in a small pot; season with salt. Bring to a boil over medium high heat, then reduce heat and simmer until a paring knife slides easily through the flesh, 30–40 minutes. Drain, let cool slightly, and peel.
Meanwhile, melt 4 Tbsp. butter in a large saucepan over medium heat. Add leeks and cook, stirring frequently, until very soft, 8 to 10 minutes. Add garlic and cook, stirring frequently, until garlic is fragrant and leeks are just beginning to brown around the edges, about 3 minutes longer. Add 1 cup cabbage and cook, stirring constantly, until wilted. Add milk and cream and bring to a simmer.
Add potatoes and remaining 1 cup cabbage, then coarsely mash with a potato masher. Season with salt and pepper. Transfer colcannon to a large serving bowl. Top with remaining 2 Tbsp. butter and sprinkle with scallions or ramps.
– – –
Irish stew is a filling, flavorful peasant dish made with the cheapest, most readily available ingredients. This dish reflects the history of Ireland itself. 
An 1800s ballad celebrated the homey satisfaction of a hot bowl of the stuff.
"Then hurrah for an Irish stew, 
That will stick to your belly like glue."
Sheep were not as plentiful in America, so cooks substituted beef and other more readily available meats.
Irish and non-Irish chefs alike have tinkered with the original recipe, and some of the resulting variations lift this original peasant dish to near gourmet status. 
Irish Stew
("ballymaloe" or "stobhach gaelach" as it is called in Gaelic)
3 lbs. potatoes, peeled (yukon gold preferred)
2 1/2 lbs. lamb shoulder (or beef roast) cut into 1″ cubes
2 medium onions halved lengthwise and cut into thin half-moons 
2 1/2 tsp. course salt
2 tsp. coarsely chopped fresh thyme and pepper to taste
3 cups homemade lamb stock, or low-sodium store-bought chicken stock 
Optional: Garnish- 2 Tbsp. finely chopped parsley- curly or flat-leaf
Preheat oven to 325 degrees. Cut 1 pound of the potatoes into 1/4-inch-thick slices, spread them out in a large (5 to 6 quart) heavy-bottom pot or Dutch oven. 
A heavy pot with a tight-fitting cover works best, don't lift the lid or stir the stew. The more heat and moisture – the more tender the meat will be.
Layer half the onions on top of the potatoes. Place lamb cubes on top of onions. Sprinkle of 1 1/2 tsp. salt and pepper to taste. Add the thyme. Place remaining onions on top of lamb. Add the stock and 1 cup water. Place whole potatoes on top of onions. Sprinkle with remaining tsp. of salt and season with pepper.
Cover with a tight-fitting lid; bring to a boil over medium-high heat. Transfer to oven; cook, without stirring, for 2 hours. Sprinkle with parsley and ladle into bowls. 
– – –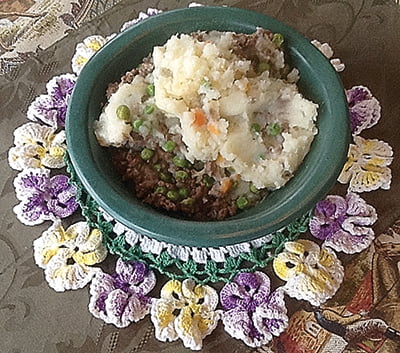 Shepherd's Pie was originally known as cottage pie, a name which was in use in Ireland in 1791, when the potato was being introduced as an edible, affordable crop for the poor. 
In early cookery books, the dish was a means of using leftover roasted meat and vegetables of all kinds.
The term "shepherd's pie" appeared around 1877, and since then it has been used interchangeably with "cottage pie," in both Ireland and America.
Shepherd's Pie
1 Tbsp. olive oil
1 tsp. black pepper and or salt
1 lb. – 1 1/2 lb ground beef
1 large onion, finely diced
3-4 large carrots, finely diced
1 cup frozen peas (or if you're in a rush just use frozen peas and carrots)
Thyme, finely chopped
2 Tbsp. flour or corn starch
1 or 2 Tbsp. butter
1 can tomato paste
2 Tbsp. Worcestershire sauce
1 cup beef stock
6 cups mashed potatoes made w/butter and milk
Paprika and grated Parmesan cheese (optional)
Preheat oven to 400°.
Sauté carrots in the olive oil until tender (if using fresh).
Add the onions and sauté for a minute or two, then add the finely chopped meat.
Season with black pepper, salt and thyme.
Cook until browned, then completely drain fat.
Add the butter and frozen peas.
Sprinkle on flour or corn starch and mix well.
Add tomato paste, and Worcestershire sauce. Mix well.
Add the beef stock and perhaps a wee bit of stout, if you wish.
Allow mixture to reduce down until you have a thick meaty gravy.
Season to taste.
Remove mixture from heat. Then grease an oven proof dish, about 9×13, with butter and add the meat.
Spoon the mashed potatoes over the top.
Add some butter and sprinkle with paprika and Parmesan cheese if desired.
Bake covered for about 30 minutes, then uncovered under the broiler for a few minutes, until the mashed potatoes are browned on top.
Serve with a crusty bread or a traditional Irish Brown Bread.
– – –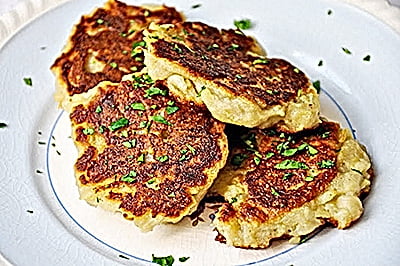 Boxty
1 lb. boiling potatoes, peeled
1 lg. onion, finely chopped
2 eggs, beaten
1/2 tsp. Salt
1/2 tsp. Pepper
1/4 tsp. Nutmeg
2 Tbsp. Flour
2 to 4 Tbsp. unsalted butter
Line a large bowl with a piece of muslin or cheesecloth, or a clean linen towel. 
Using the large holes of a box grater, grate the potatoes into the bowl. 
Squeeze the cloth to extract as much of the starchy liquid as possible. 
Discard the starchy liquid, return the potatoes to the bowl, and stir in the onion, eggs, salt,  pepper, and nutmeg. 
Add the flour and mix well.
In a large skillet, melt 2 Tbsp. of butter over medium heat. 
Drop the potato mixture, 1 Tbsp. at a time, into the skillet; do not crowd the pan. 
Flatten each cake with a spatula and cook for 3 to 4 minutes on each side, or until lightly browned and crisp. 
Transfer the cakes to a baking sheet and keep warm in a 200º oven. 
Repeat until all the mixture is used, adding more butter as necessary. 
Serve immediately.
– – –
You may leave the green beer to those celebrating in the public houses in towns and cities across the U.S. – it is not a drink traditionally popular in Ireland. 
If so inclined, to celebrate the great saint's day, you may allow yourself a sip or two of stout or a jigger of Irish whiskey. 
But, to truly steep yourself in the feeling of everyday life in Ireland, just keep a tea kettle at the ready on the stove. 
Sláinte, and eat well!
Laura Dean Bennett may be contacted at ldb@pocahontastimes.com