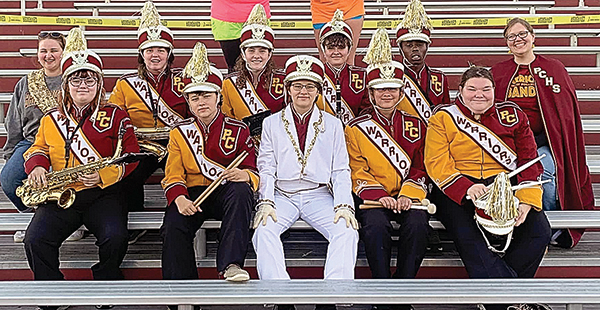 Suzanne Stewart
Staff Writer
There's a large room at Pocahontas County High School, with a recessed tiered floor in the shape of a horseshoe. For years, the sound of harmony, cadences and the occasional sour note filled the room, played by future teachers, doctors, parents and, yes, even a certain newspaper reporter.
These students fed their passion for music and became award winning musicians during their time in the Warrior Band.
In August of this year, this large room held nine students who were faced with a challenge. With no band director, it was up to them to keep the program alive. Not only did they meet the challenge head on, they rose to the occasion, found the leaders inside themselves and created a nine-member band with a big heart.
Drum major/director Hailey Fitzgerald; clarinet – Jadyn Lane; drums – Miya Johnson; alto saxophone – Eric Dibble; trumpet – Kaidence Cutlip; drums – Miles Fitzgerald; drum – Emilynn Hall; tenor saxophone – Olivia Hamilton; and alto – saxophone – Reggie Whiting; are the core nine members of the band who were determined to have a band, no matter what.
On the first day of school, principal Joe Riley talked to the students and said it was up to them to decide if there would be a band or not.
"He talked to us and said 'it's your class, you figure out what you want,' and we were like, 'let's continue doing the band,'" Hailey said.
"At first, we were like, 'let's just turn it into a drumline band,' but only the drummers were on board with that idea," Cutlip said.
While there was a substitute teacher teaching music classes, the students needed to find sponsors to be with them at performances, such as football games and concerts. The students turned to math teachers Jennifer Nail-Cook and Casey Griffith, who have both gone above and beyond in supporting their students in the past. They both signed on and became band sponsors.
"I have a very long history with band and marching band," Nail-Cook said. "My father passed when I was really young, but he was a band director and my mom taught color guard. We would march in with the band when I was five-years-old because my mom was the color guard instructor so it was always a thing. I was going to be in band."
Nail-Cook played clarinet for 15 years, from middle school to college, and always held band in a special place in her heart.
"I have a lot of experience, and they knew that," she said of the band. "I talked to them a lot about band in the past and we dreamed up – wouldn't it be cool if I could come help. We figured out a way that [Casey and I] could."
While Nail-Cook and Griffith are the sponsors, the students are in charge. They select the music and several made instrument changes to better benefit the band.
"Hailey and Miles were searching up music and while Hailey was directing, Miles would be in the back with his tablet searching different songs, finding if we had the instrumentation for it or not," Lane said.
Miles pulled out a selection of music and the students chose their favorites together.
"They're flexible pieces and they're adaptable to the instruments," Hailey said. "So it doesn't say this is for trumpet. This says B flat instruments and then at the beginning of the pack it tells you what a B flat instrument consists of. It's really forgiving."
"They were really smart about these decisions," Nail-Cook added. "They picked music that has really fluid instrumentation. So B flat instruments need to play this, so it could be trumpet or clarinet or it could be tenor sax. They were really, really smart about picking things that fit the group that we have. I was really impressed when they showed it to me."
When they started, the band mainly consisted of clarinet players and drummers. Luckily, several of the students were willing to switch things up.
"I was a clarinet player for four years," Cutlip said. "When I came up here, we didn't have a trumpet, so now I'm a trumpet player."
"There are nine of us," Dibble added. "None of us are set in stone."
Not having music in their curriculum was not an option for these students. They each have a reason for sticking with band, even when faced with adversity.
"I am a musically oriented child," Cutlip said. "I got in the band in the fifth grade when I was ten, but I had been messing with that clarinet since I was like two. My mother just had it in the corner of the living room and she'd come out, and find that I would have the pieces all around the living room. That's why it was broken when I brought it in to fifth grade."
"I'm a senior this year and I've also been playing in band since fifth grade," Lane said. "I couldn't play my sophomore year, and I regretted it. I went to one of the band concerts my sophomore year and I was behind the scenes, bawling my eyes out because I wasn't up there.
"When I heard there wasn't going to be a band this year, I was devastated because band really is a family," she continued. "Art classes and music help me throughout my day. Classes get really stressful with work and school, so whenever you get one class period to just be loud and express yourself, it's so important."
The students are the first to admit that when the year started, they were a bit unorganized. For the first two weeks, they didn't do much but hang out in the band room. Then, they got their act together and with the help of Nail-Cook and Griffith, built some structure into the band and even made their own rules.
"The only thing we said was please stay on the same instrument," Nail-Cook said. "The rest they came up with."
Reciting the rules off the dry-erase board, the students shared the rest.
"Instruments and supplies are out and ready five minutes after the second bell," Dibble said.
"Follow horns up and down, follow the directions of the leader. Only play when directed. No arguing about what we're playing," Cutlip said.
"Keep the band room and playing areas clean and organized. No food or drink except water in room or while playing," Johnson said.
"Instruments go home for practice on weekends," Cutlip said.
"Only play your instrument. Don't switch instruments and don't touch anyone's instrument and don't share germs," Lane said.
The students follow the rules and pick on one another if they don't. They have become a small family, that grew by leaps and bounds in time for the homecoming game last Friday. The students invited anyone and everyone who wanted to join them, to play with them at the game.
Hailey said 35 people signed up – both students and adults – to play with them. It was a great sight at the game to see alumni, current staff, students and community members fill the band section of the stands to play stand cheers and "My Girl," for the homecoming court.
Up next for the band is a slew of performances including Veterans Day ceremony at PCHS, the Marlinton Christmas parade and possibly a Christmas concert. They've also been invited to play at a Pocahontas County Board of Education meeting.