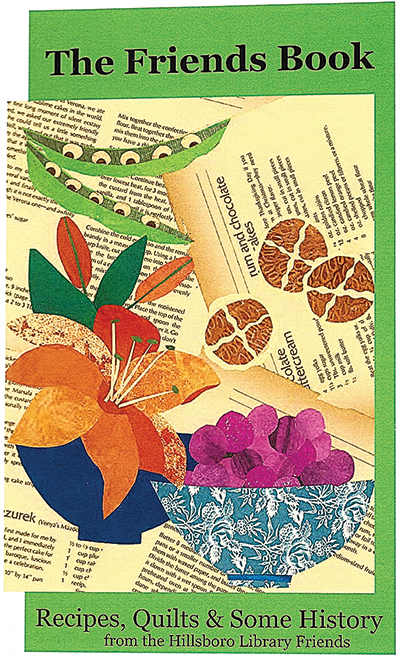 Jaynell Graham
Editor
The Hillsboro Library Friends group is known for hosting some interesting shindigs and soirees for the education, entertainment and betterment of the community.
Now, the members are putting it all on the table with their new cookbook, "The Friends Book."
This little gem showcases quilts and artwork and contains a wonderful collection of recipes.
It is dedicated to the late Louise B. McNeel, who was a strong advocate for reading – for all ages – but children in particular. She was instrumental in establishing a community library early on in the Hillsboro community, and later procuring a building, books and computers that continue to serve the people today.
Fast forward to more recent years and the formation of the Library Friends, and you now find that the building is more than a public library, it has become the central gathering place – "the Heart of Hillsboro."
"The Friends Book" contains tributes to the late Norma Mikesell and Virginia Kinnison, both of whom "had a heart" for the library.
Since it is a cookbook, you will also find Gwen Balogh's recipe for Welsh Currant Cakes. How about an old-fashioned Shoo Fly Pie? Connie Zeitler tells you how to make it, while Ginger Must has you covered with it comes to Ratatouille.
Since it is that time of year, you will appreciate Louanne Fatora's recipe for Zucchini Parmesan Fritters.
There many more recipes – from many more "friends" – 71 wonderful cooks, to be exact.
"Susan Chappell and Eleszabeth McNeel took our Hillsboro Library history, recipes, quilts and art and shaped them into a treasure," Hillsboro Library Friend Mary Dawson said.
So, where can you get your copy this treasure?
It's available at the 4th Avenue Gallery in the depot; Handmade WV Market on Street in Marlinton; Hillsboro Library; and online at hillsborolibraryfriends.net
What's Cookin'?
A sampling from
'The Friends Book'
Horseradish Pot Roast
Book Lovers
2 to 3 pound beef roast
1/2 tsp. salt
1/2 tsp. pepper
2 medium onions, thinly sliced
3 carrots, cut into large chunks
6-oz. jar of prepared horseradish
1/4 cup beef broth
1 Tbsp. butter, melted
1 garlic clove, minced
1 Tbsp. sugar
2 Tbsp. flour
2 Tbsp. cold water
Place roast in slow cooker, sprinkle with salt and pepper and top with onions. Add carrots.
In a small bowl, combine horseradish, broth, butter, garlic and sugar. Pour over roast and onions.
Cook on low 7 to 8 hours.
When done, remove roast and cut into large chunks. Remove carrots.
Skim fat from cooking juices. Mix flour and water until smooth, gradually stir in juices. Return beef to slow cooker. Cook, covered, on high 15 to 30 minutes or until the sauce is thickened.
Return carrots when ready to serve.
Can serve over cooked egg noodles.
Gazpacho
Mary Dawson
3 cups peeled, chopped tomatoes
1 green pepper diced
1 cup celery, diced
1 cup cucumber, diced
1/2 cup green onion, diced.
8 tsp. fresh parsley
2 tsp. fresh chives
1 tsp. minced garlic
7 Tbsp. red wine vinegar
1 tsp. Nature's Seasons (or salt and pepper to taste)
1 1/2 tsp. Worcestershire sauce
2 cups V-8 juice
3 cups tomato juice
Chop vegetables and combine with all ingredients. Refrigerate overnight so that all the flavors "get to know each other.
Layered Squash
Casserole
Helena Gondry
1 yellow squash, sliced
1 zucchini, sliced
1 sweet onion, thinly sliced
3 to 4 Roma tomatoes
1 cup shredded cheddar cheese
½ cup breadcrumbs
Dried oregano, basil and garlic powder for sprinkling
Olive oil to drizzle
Preheat oven to 350º. In a 9×9-inch glass baking dish, repeat layers of squashes, onion, tomatoes, cheese and breadcrumbs.
Sprinkle each layer with spices and drizzle with olive oil.
End with breadcrumbs and cheddar cheese.
Cover with foil, and bake for 40 minutes.
Prep time: 15 minutes.
Serves 6 to 8
Finger Paint
Goldie McClure
1/2 cup cornstarch
1/2 tsp. salt
3 Tbsp. sugar
2 cups water
Food coloring
Heavy paper for drawing
Mix all ingredients except food coloring. Divide into equal portions and add different shades of food coloring to each.
Provide paper.
Children love this.