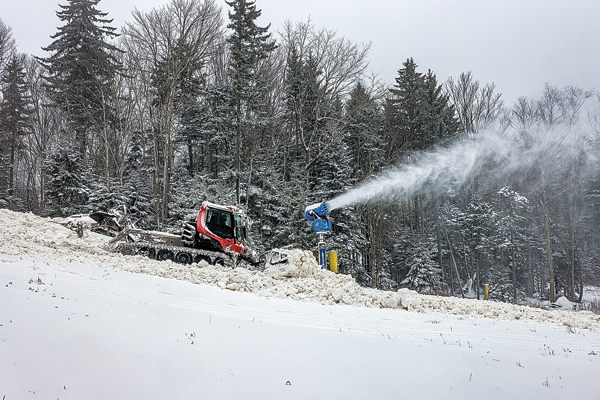 Suzanne Stewart
Staff Writer
Snow can naturally occur when the temperature is 32 degrees Fahrenheit or below and ice crystals are formed in the atmosphere, creating unique snowflakes and a picturesque winter scene. 
When the weather fails to provide, Snowshoe Mountain and Silver Creek resorts turn to the snowmakers who are quite knowledgeable as to how to make snow using the snow guns and an elaborate technological setup.
"There's a lot to it," director of mountain operations Ty Tegtmeyer said. "Snowshoe's been making snow since we opened in '74. They had a snowmaking system. It's not anything like it is today."
So, how do you make snow? It takes three elements – cold temperature, high pressure water and high pressure air.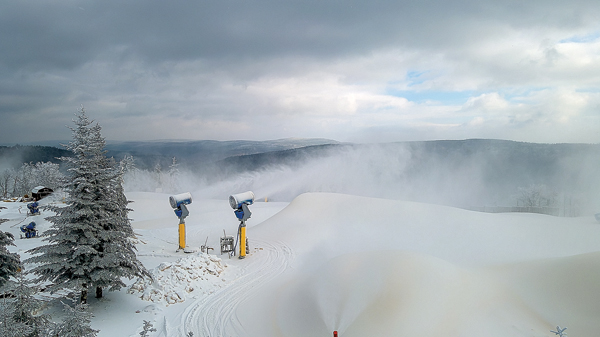 Temperature
Clearly, it has to be below freezing to make snow, but there is more to the formula than that. The wet-bulb temperature – the lowest temperature that can be reached under current ambient conditions by the evaporation of water only – plays a part, too.
"Wet-bulb temperature plays a little bit into that because it can be thirty-eight degrees actual and you can still make snow," Tegtmeyer said. "It boggles people's minds. They think we're doing magic, but it's just because water freezes at low humidity."
Still, below freezing is better.
"Obviously, the colder the better," Tegtmeyer said. "Our sweet spot with our system – and this is different for every resort and the system they have – I like eleven to thirteen degrees. If it gets much colder than that, we don't have any water left and we end up making really dry snow on the mountain which just kind of ends up in the woods."
High pressure water
"A standard pressure washer that you wash your car with has high pressure water – but it doesn't have air mixed into it, so you can spray it in cold temperatures and it will freeze, but it will be like freezing rain, Tegtmeyer said.
The snow guns have the same principle, but when the air is added, it goes from being freezing rain to snow.
High pressure air
"When you're making snow, you have high pressure water and then you break it with the air," he said. "You hit it sideways – it's called nucleation. It atomizes the water into tiny little particles and then as soon as that freezing process starts back, you can put more water on it and it will increase your crystal."
Snowmaking began simply enough with snow guns that were manually moved by snowmobile to all the trails to evenly distribute snow. Now, the mountain has between 700 and 1,000 stationary snow guns that are managed by a computer system in the compressor house.
"We started adding permanently mounted guns because every second you are dragging a gun from one trail to the next, you're not making snow," Tegtmeyer said. "It's for efficiency. We started mounting guns on trails, so pretty much every trail, unless there's a lift or something in the way – has guns on it."
The snow guns are hooked to 43 miles of pipeline under the trails that is operated through the compressor house where water and air are pumped through to the machines.
"The air is always the same," Tegtmeyer explained. "It's two inches of air wide open. We have six compressors down in this compressor house. Each one will make 53- to-5,500 cubic feet per minute of air. There are six of them, so that's 35,000 CFM which is huge. That's a lot of air to compress."
Each snow gun uses roughly 1,000 CFM, so the compressor house can only handle 35 snow guns at a time. Luckily, the newest models have their own compressors and are able to work on their own.
"The newer models have a compressor on them, and they have a fan," Tegtmeyer said. "Plus, they're totally automated so they have a weather station on them and a computer in them. The weather station says 'this is what the temperature is, this is what the humidity is, this is what the water temperature is, this is how much water I can put out with the quality that you want,' so the operator chooses the quality of snow between one and nine, wet to dry, and then the gun will do this rest, unless something goes wrong."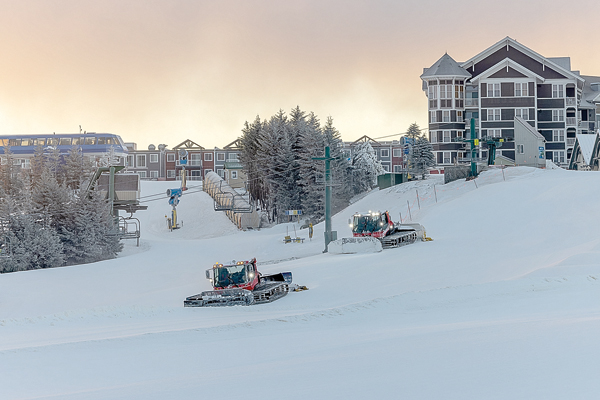 Those operators are well-versed on how to program the computers that operate the snow guns and are keen watchers of NOAA – National Oceanic and Atmospheric Administration – weather reports.
They know that although there is a seven-day forecast, they focus on three to four days out and that determines how many of the snow guns are operated and what trails are focused on at that particular time.
It's also helpful to have a layer of natural snow to build onto, but a bare trail won't deter the snowmakers.
"If we can make snow on top of snow, it helps to give the snow something to stick to; something to build upon," snowmaking manager Nathan Price said. "If we're starting with bare grass, the ground's generally warmer than the snow, so then we're fighting that melting effect from the ground until we get enough snow to actually cap the ground and start to cool it off."
There is an interesting phenomenon that happens when the ground is bare and the snowmakers have nothing to build on. The heat from the ground sometimes melts the artificial snow as the layers are being built and causes a gap between the ground and the snow.
"What happens with manmade snow is it turns into layer glacier, so it's one big chunk of snow and it all moves together," Tegtmeyer said. "It ends up almost floating up off the ground. So if you could cut down to the ground, you'd see there's two inches of air underneath our snow on top of the ground because it melted up and there are certain places where it will be touching the ground."
Once the snow is made and has created a good base, it's time for the groomers to enter the picture. The groomers usually operate at night, after the slopes are closed. They work to smooth out the trails and make a nice surface for the next morning's skiers and snowboarders.
"Think of it like a plow and a tiller in a garden," slope maintenance manager Brandon Cline said. "It does the same thing except it puts corduroy on top of it and makes it real pretty for in the morning."
"If they make dry snow and groom through it, it's soft, nice snow," Tegtmeyer added. "It does aerate a little bit. With the tiller, you're turning over the snow with a plow. It puts air in it and then the tiller grinds it into tiny little pieces and then it compacts it back down and sets it in place."
The corduroy is a pattern similar to the pants of the same name. A nice lined pattern that gives the snow a nice aesthetic.
"When people are skiing on it, they're not going in deep, they're on top of it," Tegtmeyer said. "It holds that corduroy until midday, usually, depending on the temperature. If it's cold, it'll hold that shape all day long. If it's warm and rainy, it gets moved around a little bit."
While it only takes three elements – cold temperature, water and air – to make snow, there's no denying the importance of the crew of dedicated snowmakers and groomers to keep that snow ready for the thousands of skiers and snowboarders who carve their way down the trails at Snowshoe Mountain Resort and Silver Creek Resort.