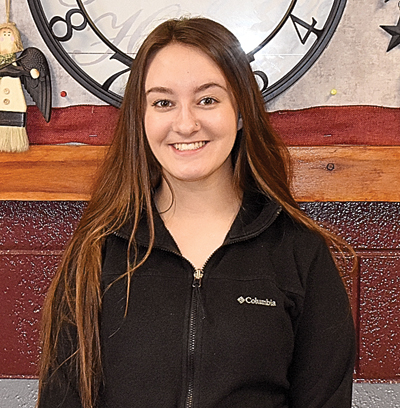 Suzanne Stewart
Staff Writer
Pocahontas County High School senior Jazzlyn Teter has wanted to be a teacher for a very long time.
Now, thanks to the Grow Your Own program and the West Virginia Department of Education Teacher Apprenticeship program, she is closer than most high school seniors to earning her degree.
The Grow Your Own program through Glenville State University was started several years ago to encourage high school students to get a head start on their college education and become teachers in their home counties. Students who enter the program take college level courses while in high school and in turn earn their bachelor's degrees a year early, allowing them to begin their teaching careers sooner.
After learning about the program her junior year – when Glenville representatives visited PCHS – Teter signed up and began her college career right away.
"I took the first class last semester, and I'm taking the second class now," she said. "You're supposed to take four of their classes and even though I didn't finish the other two, I still have thirty-three credit hours with all my other college classes I took this year, so I still get to go for only three years to get a bachelor's degree."
As part of the program, Glenville will pay for all the college classes Teter took in high school. She will have to return to Pocahontas County to teacher for five years or up to 500 hours after she graduates from college.
Teter went to Charleston in late March to be recognized for being in the Grow Your Own program and was surprised to learn she was also the first West Virginia Teacher Apprentice.
"I was recognized for that and then Glenville gave me a $9,000 scholarship," she said. "It was really exciting. It was heartwarming. I was like, 'wow, all of my hard work paid off.' I did put in a lot of hard work. I put in a lot of college credit hours and high school hours."
On top of all her high school and college classes, Teter was also on the basketball team and worked four to five days a week at Alfredo's in Marlinton.
All her hard work has definitely paid off and Teter is excited to get started on the next chapter at Glenville.
"I am supposed to go April 20 to tour and schedule my classes and all that," she said. "I haven't been [to Glenville before]. I was looking on the map, and I'm a little nervous for job opportunities when I get there, but the workforce program is going to help me get a job."
Yes, that's right. Teter plans to have a job while she is attending college, as well. She is a hardworking student who is ready to pass on her work ethic to the next generation of students who go through Pocahontas County schools.
As the first Grow Your Own and Teaching Apprenticeship member, Teter said she would highly recommend taking advantage of the opportunities given to students by the program, especially to those wanting to be educators in the future.
"I would recommend this program, for sure," she said. "If they want people to be by their side, it gives you a lot of guidance and there's people by your side – helping you get through it. It helps with money as well, because you only have to go for three years. They can also get their credit hours paid for while they're in high school, so I would tell them they need to take as many college credit hours in high school as they can."