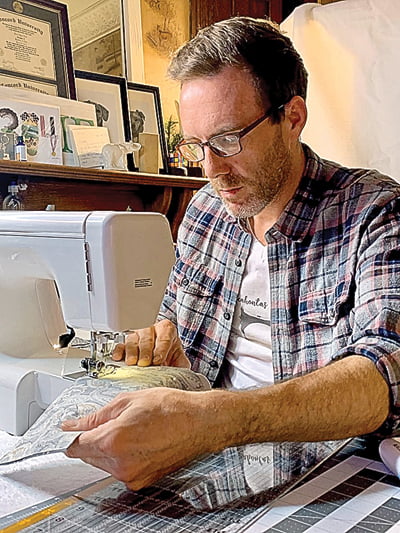 Suzanne Stewart
Staff Writer
In mid-March, when the COVID-19 virus was officially in all 50 states, there was a buzz online that healthcare facilities were running low on PPE – Personal Protective Equipment – due to the increase in private citizens purchasing masks and protective gear for their own use.
Although the virus was not in Pocahontas County, area crafters, including Green Bank Elementary-Middle School science teacher Derek Trull, began looking for sewing patterns for cloth masks.
"Hearing these comments about the PPEs just really made a light go off in my head – 'Whoa, this is early on in this, and we're already seeing that we might have a shortage,'" Trull recalled.
"I happened to have the sewing machine out," Trull said. "I never have my sewing machine out, because I'm always so busy, but I had just made a book back and was like, 'Eh, I'll just go ahead and give it a shot.'"
Trull got a pattern online and began making face masks which are washable and reusable.
Then, he thought there might be other crafters looking for something to do during the quarantine and that is when "Crafters for a Cause" was created on Facebook.
"It just blew up," Trull said. "As far as the group goes, we have more than 250 members now, and we're growing every day. That's just the Facebook group. Of that, I don't have an exact count, but roughly, off the top of my head, we have around ten-to-twelve sewers who have been with me since the beginning. They have been the ones that I look to to help me with these orders."
Crafters of all skill levels are logging on to lend a hand and sewing machine for the cause.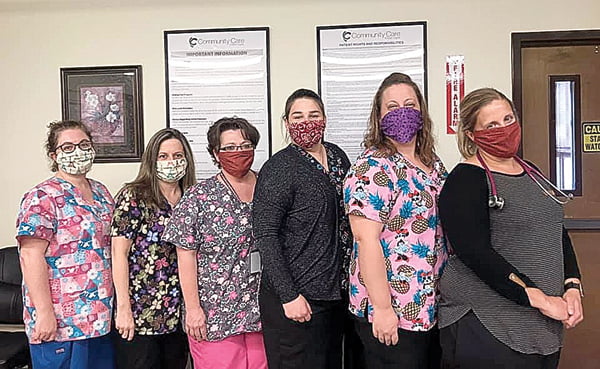 "We have a few on the side who are really trying their hand at sewing," Trull said. "They always wanted to sew or give it a try and now they have the opportunity. They are jumping in and doing the best they can."
On the site, crafters can get links to mask patterns and individuals and companies in need of masks can request a shipment.
Trull explained that the main focus of the group is to provide masks for healthcare professionals first and foremost, but anyone can make a request for masks. Joanna Burt-Kinderman and Nancy Martin gave Trull assistance by creating a GoogleDoc request form for those interested in masks.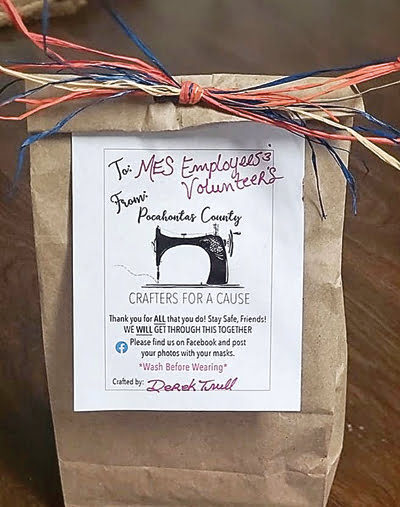 "I'm getting messages left and right on Facebook," he said. "I shoot that link over to them and on the request form it has a little questionnaire – how many do you need, and for what purpose. We had to put a disclaimer on there that our main priority are the essential workers and the medical professionals. Anybody with personal requests will be seen to as soon as medical professionals are taken care of."
In a sense, the grassroots group has gone viral and, at this point, it would be easier for Trull to name the states they haven't sent masks to because that list would be shorter. Requests are even coming in from other countries.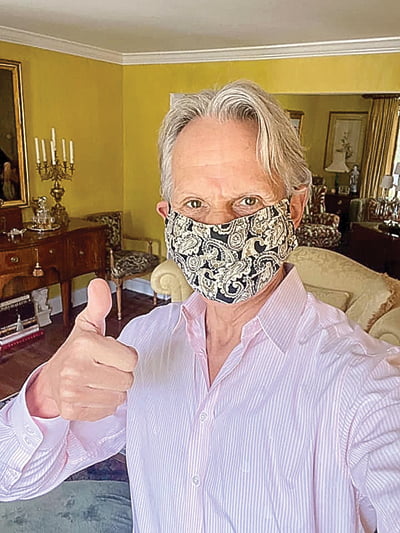 In just a month, the group has made and sent out more than 3,000 masks, a number that will continue to grow, along with the group.
"People are coming out of the woodwork," Trull said. "Everybody's been so great. They've been really patient with us. We really didn't know how many we were going to be able to do in a day and get out. It's been fun."
Crafters interested in joining the group and those interested in masks may contact Trull on the Facebook page: Pocahontas County Crafters for a Cause. 
Trull also welcomes donations – either monetary to purchase materials or the materials themselves.
"We are looking for fabric and quarter inch flat elastic cording," he said. "We're taking donations. People can drop off donations at Allie's Salon on Main Street in Marlinton. Then when the supplies get to my home, I divvy them up and put them on my front porch for the crafters to pick up. So there's never any contact. We're still practicing social distancing."
For more information on the group and how you can help, visit Pocahontas County Crafters for a Cause on Facebook.