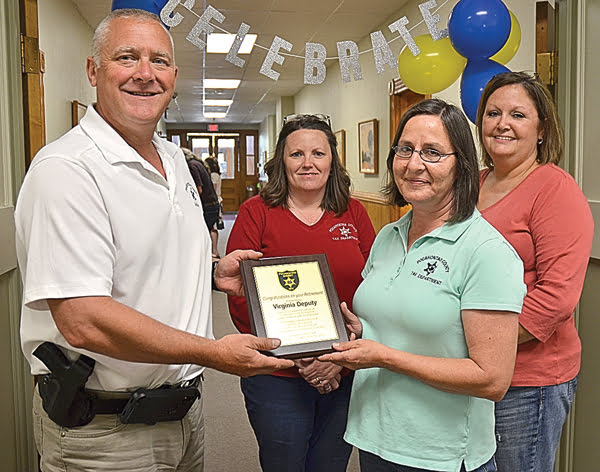 Laura Dean Bennett
Staff Writer
Virginia Via Deputy is retiring after working 35 years in the Pocahontas County Tax Office.
Deputy's position was, appropriately enough, tax deputy, a job that she must have been plenty good at, as she did it part-time for 10 years and full-time for 25 years.
Tabbi Mann and Missy Sparks aren't looking forward to seeing Virginia go.
"We've worked with her for 23 years," Mann said. "She was good to work with. It's not going to be the same around here with her gone."
"She was easy to work with, and we always got along so well," Sparks agreed.
"Virginia can be super funny," Mann noted. "One thing about Virginia – she can't hear unless she has her glasses on."
"And I guess that's rubbed off on me," Sparks said, laughing. "Now I'm the same way."
"Another thing about Virginia," Mann said, "she dearly loves her family.
Deputy has a son, John Deputy, a self-employed logger who lives in the county and has two sons.
Her daughter, Dr. Jennifer Beverage, also has two sons. Jennifer worked as a physician in Marlinton before joining the Air Force. She is now an Air Force physician at the Pentagon.
Deputy, who lives in Clover Lick, loves spending time with her grandsons, who range in age from six to 16.
She also loves to tool around on her side-by-side, so there may be a fair amount of that in her future. But Deputy has one activity planned for sure.
When asked what she plans to do after her retirement, Deputy answered most definitely –
"I'm going to clean my house."
"The three of us have been pretty tight over the years," Mann said. "We've always been there for each other, and we're really going to miss her."
Her co-workers organized an elaborate lunch last Friday, complete with a "farewell cake" baked by Rayetta Barnisky.
They invited Deputy's family and her courthouse family to join them in saying goodbye and good luck to Deputy as she embarks on the next chapter of her life.