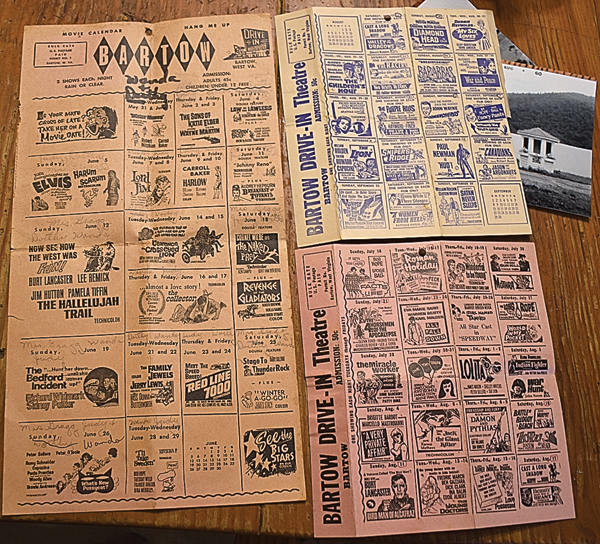 Suzanne Stewart
Staff Writer
The Bartow Drive-In Theatre held its grand opening June 1, 1950, with a showing of the Abbott and Costello film, "In the Navy." The show also included three color cartoons.
The drive-in was built by the Kisner family on Bill Kisner's land in Bartow. Bill ran the theatre while his brother, Dabney, operated the Pocahontas Motel and Restaurant on Cheat Mountain.
Bill's widow, Edith, recalls meeting Bill when she started working at the concession stand in 1964.
"I'm from Buckhannon, but this was like my second home," she said of Bartow. 
The couple married and operated the drive-in together – Bill in the projection room; Edith in the concession stand.
"Lyle Jennings helped them build the place," Edith said. "[Bill] had to drive to Jessop, Maryland, once a week to pick up the film. They ran seven days a week back when they first started. Raymond Wilfong was an usher, and [his wife] Edna worked in the concession. As far as I know, Bill's mother worked in the concession or in the ticket booth. They switched around."
Things ran as smooth as could be expected, although Bill did have to learn how to splice film together when it snapped in two during the showing.
"It broke several times over the years," Edith said. "He taught Raymond Wilfong how to fix it, too."
The theatre would be open from April or May to September, and attracted paying – and non-paying – customers, who piled in their cars to see the best that Hollywood had to offer.
"A lot of people snuck in in the trunks," Edith said, laughing. "We had a couple people who would give us two dollars a piece – they felt guilty because they snuck in. The funniest thing involved a little boy. I had to come to the house for something and he was going in. I said something to him and his eyes got big. He was going in the back way, sneaking in. If he walked up to the ticket booth and said, 'I don't have any money,' they would've let him in."
The drive-in was the place to be in the northern part of the county and not just for the movies. The concession stand left such a lasting impression on people that they ask Edith if she still makes some of the goodies she sold there.
"Whenever I came here, they had Jiffy dogs and French fries, and then later we started with cheese rolls," she said. "People still ask for cheese rolls."
The cheese roll was an Edith original and a local favorite. Edith would cut a chunk of American cheese, put it on a stick, roll it in batter and deep fry it. Between the cheese rolls and the French fries, Edith had customers coming back for more.
"Everyone wants to know if I'm going to get the French fries back, but they don't make them anymore," she said. "I started out getting them in Charleston. Had to order them from Charleston, go to Roanoke to pick them up. I had those for a long time. They came from California."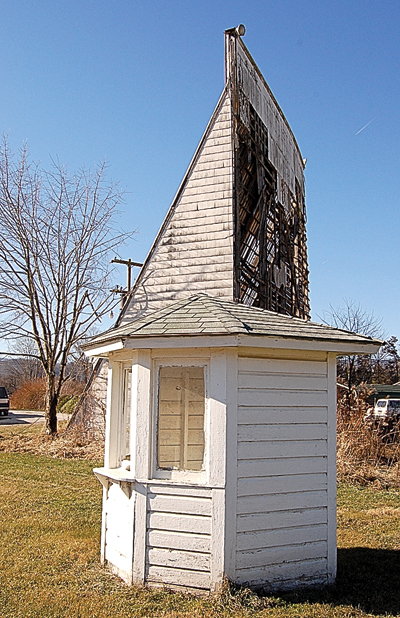 When Edith came to Bartow, she was joined by her two-year-old daughter, Barbie, who spent a lot of time at the drive-in, helping in her own special way.
"She used to take M&Ms out and pass them out to people," Edith said. "Everybody knew her. She'd sit in the car with some of the kids. It worked out pretty good."
After the movie was over and all the people were gone, it was time for clean-up and a little family fun.
"When the movie was over, around one or one thirty in the morning, we were out there playing Frisbee," Edith said, laughing.
There was never a dull moment at the drive-in. It showed films from 1950 to 1988, when it closed for good. The family used the field for a flea market for several years and Edith had a store at the entrance of the theater, which is closed now, as well.
The screen remained until Edith had it removed in 2013 due to safety concerns. All that remains of the buildings are the ticket booth and concession stand. Remnants of the inner workings of the theater remain, including the film rewinding table, original popcorn machine and several movie reels.
Although the theater was only open for 39 years, it has remained a cherished memory for those who enjoyed watching movies with their friends, families and on dates with their sweethearts.