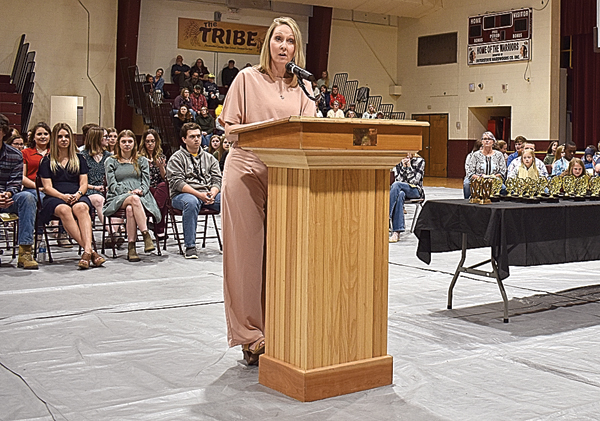 Suzanne Stewart
Staff Writer
At the annual Super Scholars event May 2, held in the Pocahontas County High School gymnasium, students in third through 12th grade were hailed for their achievements during the 2022-2023 school year.
As part of the ceremony, the County Teacher of the Year, Marlinton Elementary School's Kristie Smith, gave a speech of encouragement and praise to the students and families who have gone above and beyond to ensure this year was successful.
"As I look around in this gymnasium, I would invite you to consider the hard work that was necessary for these students to be sitting here tonight," she said. "Think of the number of hours in school, which is about 1,296 this year alone.
"We can only estimate the number of pencils that they've used to write notes, answer questions on tests and quizzes, write and rewrite essays and complete projects," she added. "The number of pencils they've lost? – we won't mention."
Smith addressed the students, as well as their parents and guardians – all of whom worked hard, stayed up late and continued to strive for greatness, no matter how hard the task at hand.
"Students, think about the information that you now know and the new skills you have," she said. "We applaud you in your efforts. The amount of time and effort that these children have applied to completing school work to the best of their ability is a testament to someone in their life being a good influence and inspiring them – whether it was a parent, guardian, grandparent or school staff.
"Parents and guardians, you have experience in numerous long evenings of homework and even nights you had to give up because it was time to rest to be ready to do it all again the next day," she continued. "We tip our hats to you, as well. You are amazing and the backbone of support for your child and their teachers. Without you and your support, we would not all be here tonight. Thank you."
Smith then turned to her fellow school staff who work together to make school a welcome environment full of learning and love for the students.
"I'm so proud to be part of a group that cares so deeply about other people's children," she said. "It is truly inspiring. All these people have worked together this year to make gains for our students and their future. Without their cooperation and ability to see what we are all capable of, we would not have seen the successes that these students have experienced. What an awesome group of people we have here in Pocahontas County."
In closing, Smith turned again to look at the students who were named Super Scholars.
"Looking at this large group of achieving students, we have a bright future, as well," she said. "Congratulations to all of you."
Educators named Teacher of the Year at each school were: Leah Shinaberry, Green Bank Elementary-Middle School; Greg Morgan, Hillsboro Elementary School; Sherman Taylor, Marlinton Middle School; and Chris Sutton, Pocahontas County High School.
Director of transportation, Ruth Bland recognized the county's Service Personnel of the Year – bus driver Silas Sattler.
"Silas Sattler, a native of Clay County and a graduate of Glenville State College, began as a bus driver here in 2012," Bland said. "In 2015, he took a different career path, but he knew that he had to come back and, in 2019, he returned to us as a bus driver. Mr. Sattler runs that Allegheny Mountain run every day and you can set your clock to Mr. Sattler's schedule."
Bland said Sattler is devoted to the youth of Pocahontas County, not only as a bus driver, but also as a 4-H leader and coach for little league. 
Service Personnel of the Year at each school were: Kristin Kinnison, Hillsboro Elementary School; Kim Beverage, Marlinton Elementary School; Karen McCoy, Marlinton Middle School; and Sarah Cover, Pocahontas County High School.
Retirees were also recognized for their service to Pocahontas County Schools – Ruth Bland, Cora Lee Carpenter, Becky Evans, Ron Hall, Jan Jonese, Karen McCoy, Julian Rittenhouse and Dondi Stemple.
Superintendent Terrence Beam recognized Haley Spencer for serving as the Pocahontas County Board of Education student representative, and the county Golden Horseshoe winners, Baylee Nelson and Thomas Arbogast of GBEMS.
To be named a Super Scholar, students in third through eighth grade must achieve an overall cumulative average of at least 80 percent at the end of the third nine weeks in the core subjects of English/language arts, mathematics, science and socials students. Pocahontas County High School students must maintain a 3.75 average in all core subjects and must also have at least a C average in other non-core subjects.
The 2022-2023 Super Scholars are:
Hillsboro Elementary School
Fourth grade – Levi Irvine, Hunter Hefner and Jackson Tankersley.
Fifth grade – Kya Arbogast, Autumn Hively and Ryan Withrow.
Marlinton Elementary School
Third grade – Grayson Barlow, Savannah Barnes, Kylor Brock, Penelope Buzzard, Victor Dean, Brayden Diller, Crickett Gregory, Konrad Lowe, Serenity Lycans, Shelldon Maitland, Aurora Phillips, Olivia Shoemaker, Abigail Stewart, Arabella Wade and Emma Wilfong.
Fourth grade – Jonathan Burgess, Draydon Cassell, Jaxon Cassell, Layne Dunbrack, Ayla Fanning, Wade Goldizen, Austin Harrell, Nebraska Long, Elizabeth McClure, Isabelle McClure, Jaelyn Moore, Carson Oscar, Alivia Penno, Kaidee Sewell and Phoenix Shinaberry.
Fifth grade – Blake Alderman, Alana Bennett, Joshlynn Burgess, Makiya Burns, Jarrell Clifton, Brantley Cox, Ava Fields, Bailey Goodwin, Ace Gregory, Natalie Irvine, Karis Lowe, Hunter Lundmark, Brantlee Moore, Hunter Moore, Easton Smith, Samantha Walton and Maggie Wilfong.
Green Bank Elementary-Middle School
Third grade – Madalynn Brock, Rufus Morgan, Braxton Pugh, Brayden Ray and Jenifer Taylor.
Fourth grade – Madeline Rittenhouse.
Fifth grade – Marcus Bauserman, Karliana Boyd, Eva Edwards, Reed Garber, Ethan Jones, Skyler McLean, James Monico, Alivia Morgan, Bayla Plaugher, Noah Sharp, Palmer Simmons, Brayden Smith, Liam Sutton, Kendall Taylor and Aiden Wimer.
Sixth grade – Nora Evans, Payden Kerr and Trey Sattler.
Seventh grade – Nadiya Kerr, Mazie Monico, Duncan Sizemore and Tristan Sizemore.
Eighth grade – Thomas Arbogast, Morgan Beverage, Charleigh Halterman, Kaylee Hershman, Haley Moore, Baylee Nelson, Sierra Nelson, Allyson Taylor and Griffin Taylor.
Marlinton Middle School
Sixth grade – Chloe Annett, Eli Beezley, Ezra Bond, Madeleine Burns, Silas Dean, Zara Fanning, Tyler Friel, Khloe Gainer, Hailey Goldsberry, Mallory Koerber, Sydney Slifer and Kylie Underwood.
Seventh grade – Reeanna Alderman, Rylynn Barlow, Lexie Burdette, Willa Hardy, RT Hill, Tessa Johnston, Brom Koerber, Madalynn Landis, Eli Lee, Smma Sacca, Natalee Sewell, SAvana Sharp, Harmony Thompson, Taylor Trainer, Ahna Valach and Irelyn Withers.
Eighth grade – Cash Beers, Damien Blankenship, Kaidence Cutlip, Riyan Gladwell, Aiden Jordan, Gavin Jordan, Kenslee Lane, Catherine Lucabaugh, Erin Rider and Tanner Smith.
Pocahontas County High School
Ninth grade – Allison Friel, Ramona Hardy, Heidi Jordan, Madison Jordan, Dylan Keller, Nolan Street, Joseph Van Meter and Cammi Warner.
10th grade – Jade Arbogast, Florian Baudler, Ellena Bauserman, Trenton Brock, Brianna Cochran, Dillon Dunz, Kirsten Friel, Miranda Gum, Shaylee Landis, Ella Markl, Easton Nelson, Willie O'Ganian, Ryleigh Parker, Riley Pollack, Kaylee Pritt, Gracie Sisler, Eden Smith, Addisyn Waddell, Courtney Waugh and Kaydence Waybright.
11th grade – Jessica Armstrong, Mileya Bircher, Cameryn Boggs, Clayton Burns, Cheyenne Dean, Elizabeth Friel, Taiylor Hoke, Katie Jack, Correanna Jordan, Ben Lambert, Jadyn Lane, Sabina Leyzorek, Madeline Ray, Cierra Sharp, Kimberly Underwood, Olivia Vandevender and Kynlee Wilfong.
12th grade – Isabella Bauserman, Grace Beverage, Melinda Beverage, Olivia Bickford, Amanda Burns, Christy Casey, Caitlin Mallow, Max O'Ganian, Robert Pritt, Sydney Puffenbarger, Emma Riffe, Emily Rimm, Mason Solliday, Haley Spencer, Jazzlyn Teter and Samuel Williams.