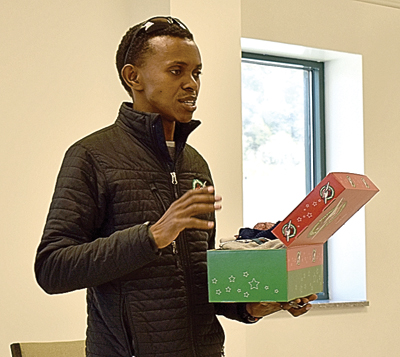 Suzanne Stewart
Staff Writer
When Alex Nsengimana was seven-years-old and living in an orphanage in Kigali, Rwanda, he received an shoebox gift from Operation Christmas Child. Little did he know that years later, as an adult, he would become a full-time employee of the Operation Christmas Child program in North Carolina.
Alex shared the journey of his life with the community last Friday at the Community Wellness Center and again, later that evening, at the First Friday event at the Discovery Junction, both located in Marlinton.
Alex was born in a small village in Rwanda, a country in the central eastern part of Africa. Rwanda is the size of Maryland and currently has a population of 12 million.
Alex explained that, when the country was colonized in the 1800s, the colonizers divided the people into tribes according to their physical appearance.
"They would say, 'oh, if you are very tall and you're very slim, you are Tutsi,' so they decided to take a ruler and measure the length of your nose," he said. "Things they made up. They would say if you were very short and you were muscular build, you are a Hutu.
"Hatred is created among the people of Rwanda and the people who colonized Rwanda were teaching the Hutus to hate the Tutsis," he continued. "So, a seed of hatred was planted in the lives of the Tutsis and the Hutus. That tribalism was made up because Rwanda was originally one people. Rwanda is one of two countries that I know that only speaks one native language, that's Rwanda and Burundi."
The hatred between the two tribes grew through the decades and by the 1960s, the government was made up of members of the Hutu tribe. The seed of hate grew to maturity in 1994 when the Rwandan president was assassinated.
The assassination of a Hutu president led to a three-month long genocide of nearly one million Tutsis, from April 6, 1994 to July 4, 1994.
"At that time, there were seven million people and a million of them were wiped out and many more fled to other places, other countries," Alex said.
Alex, who was six-years-old, was living with his grandmother, uncle, brother and sister. His mother passed away from HIV/AIDS when he was little and he never knew his father.
"I remember on April 7, we woke up in the morning and we were hearing noises from a distance," Alex said. "We had no idea what had happened the night before, but our neighbor came to us and said, 'hey, the president of Rwanda was assassinated last night; they are looking for Tutsis, so you need to hide.'"
The family hid, but returned to their home in the afternoon and was attacked by a Hutu militia. The militia killed Alex's grandmother, and although his uncle hid under a bed and was safe for a short time, the militia came back and found him, taking his life, too.
Alex and his siblings went to live with another uncle, who used all his money to bribe the militia to stay away. Once the money was gone, the uncle sent the children to live with an aunt in Kigali, an hour-and-a-half walk away.
The children did not stay long with the aunt because things kept getting worse in the city. They left again and were on the run for a total of two months until the genocide was over.
Alex said it was during this time that God performed one of his many miracles for him.
"I remember one of the most vivid moments that God saved my life," he said. "He did so many miracles, but one of them that sticks with me every day, shows the humor of how He works."
Rwanda is known as the land of a thousand hills and Alex said he and his brother were running into a valley and they got caught in the middle of a fight between the militia and refugees.
"As I was running, I hear this noise coming from a distance and I'm wondering what that noise was and all of a sudden, I slipped in something and fell down to the ground," he said. "When I fell, it was that moment that I got away from the noise I was hearing. Me and my brother, we're young, we're running to find out what just happened.
"We run and we look on the ground and we find out that that noise that just missed me was actually a bullet that had missed my head because I had slipped and fell in a cow pie," he continued, chuckling. "That's what God used to save my life. That's the humor that God used a cow pie to save my life."
In July 1994, after the genocide was over, Alex and his brother and sister lived with their aunt for some time before she put them in an orphanage. She passed away three months later due to illness.
It was at that orphanage the following year that Alex was first introduced to the Samaritan's Purse and Operation Christmas Child.
"For the very first time in my life, I got to receive an Operation Christmas Child shoebox gift," he said. "That was a gift that I will never forget. When all 250 of us – in that orphanage – are lining up and being told 'don't open your present' until all of them were handed out, it was so exciting. I will never forget the excitement we had. I was seven years old at that time. Now imagine telling a seven year old to hold a Christmas present for five minutes. That's a long time."
Alex recalled that the orphanage filled with screams of delight as the children opened their gifts and were in awe of all the items they received.
"I looked through the shoebox and I saw the school supplies; I saw the hygiene items; the toys, all these fun little coloring pencils and coloring books that we could create new memories with," he said. "It was such a special moment that I will never forget."
Deep inside Alex's box were two gifts that stood out to him the most. The first was a brush/pick combo that he enjoyed using to brush his hair and a white and red sweet he had never seen before – an item that is no longer allowed in the shoebox gifts due to restrictions.
"It was red and white, and it smelled good," he said. "It was so hard. I had no idea what it was, so I ate it and halfway through it, I realized it was wrapped in plastic. That was my encounter with a candy cane."
Regardless of what is in the boxes, Alex said they were life changing gifts for the children because the gifts reminded them of the joy and simplicity of being a child.
"At that time in the orphanage, I didn't need anything big," he said. "We needed something simple, something small, to remind us to be children again and that is something the genocide had taken away from us. As six year old boys and girls, we were running for our lives, looking for shelter. Maybe some of us were separated from our family members, but to have that little gift to remind us to be children was so special that I will never forget."
Along with the shoebox gifts, Alex said the Operation Christmas Child gave the children another life-changing gift in the gift of faith.
"The shoebox gift planted a seed of hope and love of Jesus Christ in my life," he said. "A little pilot light was lit."
Later in his childhood, Alex left Rwanda for Uganda and joined the African Children's Choir. During this time, he was learning the stories of the Bible and getting answers to the questions he had. He did not understand, if God loved him, why did He allow bad things to happen? That was when he looked back on his life and saw all the miracles God did to lead him to where he was.
Alex said he realized God had been with him from the day he was born. As the child of an HIV/AIDS positive mother, Alex should have been passed the virus, but he was not. Then, when his grandmother and uncle were taken away from him by the militia, it was done with him watching through a window. Although he and his siblings were there, the militia did not harm them.
And again, the humorous miracle that night when Alex was running and slipped on a cow pie, with a bullet speeding by over his head.
"For the first time, I saw God's presence along the way, that He was with me from the day I was born," he said. "I didn't want Him to touch a specific part of my life. It was so deep. Inside of that deep part of my heart, it was full of bitterness and anger and rage, and I did not want Him to come in there. I had accepted Him in my life, but I didn't want Him to clean out all the junk that was in my heart. So, I struggled for the longest time because I was so full of bitterness."
Alex carried a hatred for the men who took his grandmother and uncle; a hatred so deep, he wasn't sure if he would ever be able to forgive them.
Despite that hatred, Alex continued traveling with the choir and spreading God's message around the United States.
During that tour, he stayed with a host family in Minnesota which would later become his adoptive family in 2000. Alex joked about going from Rwanda, where the coldest temperature he remembers experiencing was 55 degrees, to Minnesota, where the temperature could get to 55 degrees below zero.
Although it was a drastic change, Alex settled into life in Minnesota and while attending high school, he said the students were encouraged to do a project that got everyone involved. One student suggested Operation Christmas Child and Alex wondered what that program was.
"All they did was show me the logo and my eyes were this big," he said, showing that his eyes grew very wide. "I told the whole high school [my story] – this was in 2004 – and then we decided to pack shoeboxes every single year."
When Alex attended college in Rochester, Minnesota, he became an OCC project leader and got students on campus involved in packing parties each year, continuing to create more and more shoeboxes for children.
In 2009, Alex was invited to a processing center for OCC in Minneapolis, Minnesota. That was the same year the program started sending the book, "The Greatest Journey," with the shoeboxes. When shoeboxes are sent, there is an option to add $6 to the box to have the book given along with the gift.
"Since 2009, when 'The Greatest Journey' was developed, more than seventeen million children have accepted Jesus Christ as their Lord and Savior and that's because someone in a small community – all over the country of the United States and eleven other countries that pack shoeboxes – because they chose to pack one box, one child has learned the gospel."
After graduating college, Alex got involved even more and started an internship at the OCC office in North Carolina.
In 2013, Alex's story came full circle, when he returned to Rwanda to the orphanage where he grew up.
"That was the third time of me going back to Rwanda since moving to Minnesota, but this time was special because I got to deliver shoeboxes to the same orphanage I grew up in," he said. "I stood in the same place that I got to receive my shoebox, handing out a shoebox gift. It was so special."
As for that deep part of his heart that held so much bitterness and hatred – Alex got yet another miracle that helped take away those negative feelings. Alex was able to meet with one of the two men who took away his grandmother and uncle, and he was able to find peace.
"He had answered a prayer I had been praying for a long time," Alex said, of God. "He gave closure to me."
Since 1993, Operation Christmas Child has served 200 million children and continues to provide shoeboxes to children in more than 170 countries and territories. To learn more about the organization, visit www.samaritanspurse.org/operation-christmas-child