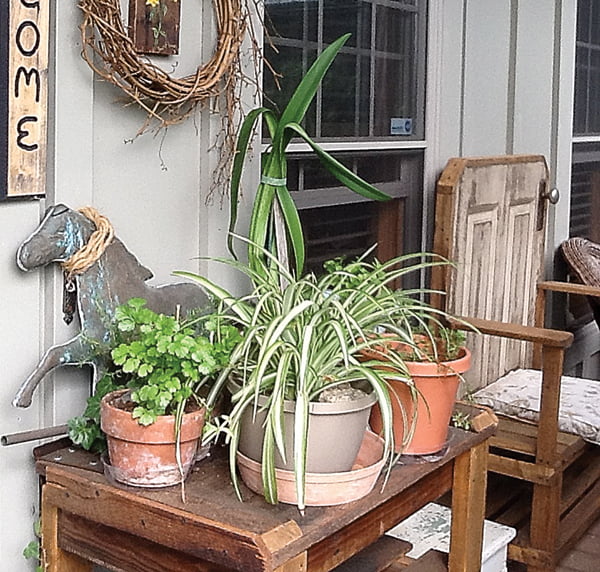 Laura Dean Bennett
Staff Writer
The calendar may say it's been spring for three weeks now, but to me, spring really begins as soon as it's warm enough to sit on the porch and listen to the birds in the morning.
That happened the other day.
I had such a good time hanging up the spring wreaths and uncovering and dusting off the porch furniture. As I looked around the porch, I thought it might be time for a few new porch ideas.
Like decorating anywhere in your house, I've always believed that you don't need a big budget to make a big impression.
Think of a porch as an outdoor living room – what would make it more inviting and comfortable? What would make you and your guests want to spend more time there?
First, start with a thorough "spring cleaning."
You may just need a broom and a bucket of hot soapy water, or it may be a job for a pressure washer, but things always look better after a good cleaning.
And besides, if you need to do any repairs – like repainting the porch swing – you'll need to start with a "clean slate."
Before you even think of buying anything new for your porch, take some time to shop inside your home. If you just want to change your colors a bit, bring out a few cheerful throw pillows you're not using inside.
Colorful blankets or throws will tie your color theme together and be handy for chilly spring days and and late summer nights. Lay them across furniture or even over a railing for a splash of color.
The welcome mat at the front door is just the tip of the iceberg when it comes to how important rugs are to a porch. The simplest way to say "let's spend more time on the porch" is with rugs or runners. Rugs are essential to making a covered porch feel like a room.
Don't discard your old indoor rug – whether it's a throw rug or an area rug – bring it out to the porch for the season. An old indoor rug that's stained or worn out will make a nice rug liner to help keep throw rugs or lightweight rugs in place.
Another easy way to make your porch feel like a special place, is by hanging a few strings of mini LED lights.
The soft light they'll bring to evenings on the porch makes everything more romantic.
If you don't already have electricity on your porch, you might consider what could be a relatively easy and inexpensive upgrade.
Besides mini-lights, you could add charming wall sconces, table fans or a ceiling fan.
A fan can make all the difference on hot, humid days.
Next, what about porch furniture?
When you're planning your porch, think about cozy seating and conversation areas.
If you have lots of room, so much the better, but really, two chairs at a small table is all it takes to make a conversation area.
If it's time for a change and you don't have the budget for "real" porch furniture, that's okay.
How about gathering up a few pieces of cast off furniture for end tables, coffee table or plant stands?
Sanding and painting to coordinate with your throw pillows, blankets and rugs will pull your décor together nicely.
But use two coats of an outdoor oil-latex solid colored stain rather than a paint.
It's easier to apply and dries faster than paint.
And speaking of painting – if you're able to do it – the biggest impact you can make is to paint your front door or your screen door. Play it safe with neutral colors like tan, black or grey, or you can really have some fun with this, and show your personality by choosing a bold or bright color.
Then you could also consider painting the porch floor and/or the ceiling. If you do both, consider choosing coordinating colors rather than the same color for both.
Bold is great, but be careful about primary colors. It's probably wiser to choose something a little more subtle.
Unused vases, decorative bowls, shells from trips to the beach, candleholders and lanterns can all be repurposed as porch décor.
If they're scuffed up or don't match your color scheme – get out the spray paint.
Make seat cushions for your chairs and swing. There are lots of DIY instructions for this on the internet.
If you're a whiz with a sewing machine, you've probably got ideas about how to go about it.
But some beautiful and durable porch furniture cushions can be made without sewing a single stitch. You'll just need a few supplies – foam, batting, fabric, outdoor fabric and some hook and loop tape.
Remember to clean up the area around your porch.
Weed, trim and plant to make the area in front and around your porch attractive.
And consider placing flower pots full of bright blooming flowers on your porch steps. But don't forget to give your flower pots a good scrubbing and replace the soil in them.
Having fragrant herbs or blooming plants growing on a porch will never go out of style.
And they can be practical, as well.
How wonderful is it to be able to snip off a bit of mint or basil just outside your door?
The only down side to keeping flowers on the porch at my house has been the little visitors that like to dig around in the flower pots.
I've found that sea shells scattered around on top of the soil where the "neck" of the plants come up keeps ground squirrels from digging around in my flower pots.
If you don't have sea shells, you could use pebbles or little rocks.
And if you'd like to have a planter box on your porch, you can make one yourself out of scraps of wood.
Again, there are lots of do-it-yourself instructional videos online to show you the way.
Planting climbing vines like honeysuckle at your porch columns in the ground or in pots will pay lots of dividends- providing beauty, fragrance and maybe even a little shade for your porch.
And you'll have a front row seat as the hummingbirds come calling.
After you get your porch all spruced up for spring, all you'll need to complete the picture is a pitcher of lemonade and a good book.