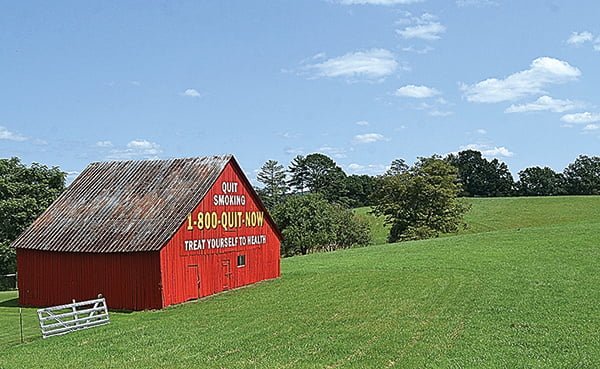 Suzanne Stewart
Staff Writer
In a state where barns were once used to advertise Mail Pouch tobacco, now, thanks to anti-tobacco organizations, barns are promoting a tobacco-free lifestyle.
Earlier this month, The Barn Artist Scott Hagan spent a week in Cook Town painting a barn owned by Jack Burks. Using a simple palette of fire engine red and bold black and white letters, Hagan put his talents to good use by sharing the Centers for Disease Control [CDC] Quit Hotline number and a quote from a previous smoker.
The Burks barn is the second in West Virginia to be painted with a "quit" message through the joint efforts of the CDC Tobacco Free organization and Mercer County Commissioner Greg Puckett.
Hagan said he was worked with Puckett on such projects for several years now and enjoyed his time in Pocahontas County.
"I'm very open," Hagan said. "I'll go wherever the job is. We're just offering the opportunity for people to see the quit line number. That's kind of the whole idea."
In the four days he was at Cook Town, Hagan spent as much time on the project as he could, weather permitting. He was visited by curious deer and barn owner Burks who drove past on his tractor.
It takes a lot of time and paint for a project this size and Hagan said it was a "thirsty" building and really soaked up the paint.
"The barn had never been painted before since 'birth' so it took, I think, forty-five gallons of red to paint the barn to begin with," he said. "There's a lot more to it than just the artwork."
On days when rain didn't allow him to paint, Hagan explored Pocahontas County and said he hopes to return one day and see more of the sights.
"I only got to do that when it was raining," he said. "I usually worked from when I came to work to, really, after dark, but there was a day I got to take some advantage. I'm hoping to take more advantage another time when I have another trip there. It sure is beautiful, that's for sure."
Along with barns, Hagan, of Jerusalem, Ohio, also paints high school gymnasiums and is open to new projects, as long as the canvas is big.
"I started out just by painting something on my Dad's barn when I was nineteen-years-old, and I've been doing it ever since," he said. "I didn't intend to make a living out of doing work on barns, but I just wanted  to challenge myself. Dad's barn was the biggest thing I could think of to try it on, so that's kind of how it started."
Twenty years later, Hagan has made his mark on barns all across the country. His largest project was in 2003, when he did work for the Ohio Bicentennial – 88 barns, one for each county – emblazoned with the Bicentennial emblem.
Hagan said one of his goals is to have at least one painting in each state, although, right now, he is at a stand still.
"I'm kind of stuck on nineteen [states] right now," he said. "That may change next year. I'm kind of waiting on a contract. We're sort of in negotiations to do forty barns around the country, so that might add a few more states to the portfolio."
Hagan's portfolio is vast and includes a slideshow of his work in Pocahontas County. His website barnartist.com has photos of his artwork as well as media coverage of special projects. He can also be found on Facebook, at www.facebook/barnartist where he keeps followers up-to-date on current projects.