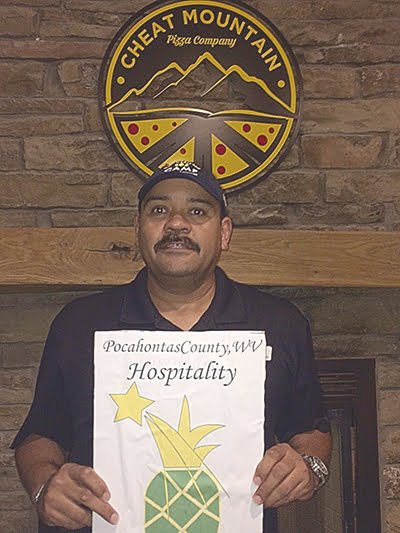 Dan Smalls, of Slaty Fork, is the Pocahontas County Convention and Visitors Bureau Hospitality Superstar for July.
Smalls currently greets the public at Cheat Mountain Pizza at Snowshoe Mountain Resort.
Originally from Beaufort, South Carolina, he made his way to the mountain in 1988.
Smalls said he met some guys from Charleston, West Virginia, when they worked together in South Carolina. When the business closed, one of his friends said, "let me take you to my home state."
That was 30 years ago.
"I'm living in their home state now, and my two best friends are living in mine," Smalls said. "I never thought I'd live in West Virginia. You know when you were in school and the teacher would say, 'write down two states you want to live in' – and I'm sure I wrote down Hawaii as one of them, because all kids want to live in Hawaii. Then you had to write down the names of two states you didn't want to live in, and I'm sure I wrote down West Virginia as one of them.
"You never know where life will take you. I've lived here over half of my life. It's a beautiful state with beautiful people."