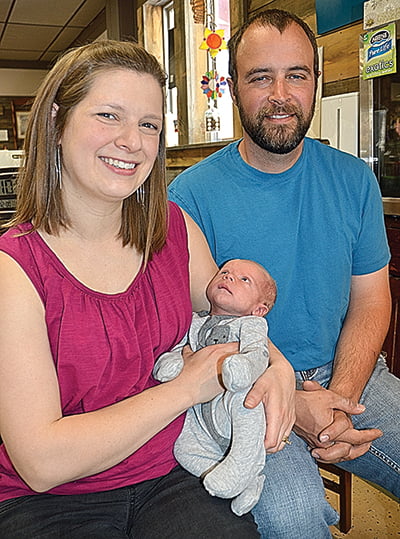 Laura Dean Bennett
Staff Writer
Josh and Leah Shinaberry are an interesting couple.
They are stirring and stitching their way to a homespun future with their heritage skills from the past.
Together with their five week old son, Nolan, they live in Boyer on what was previously a family farm.
And they both have homemade products for sale at the Green Bank Gallery.
Josh's family is native to Pocahontas County, going back generations.
He is the son of Howard Shinaberry and Louise Cassell Shinaberry, now Starke. 
He graduated from Pocahontas County High School in 1999 and then Fairmont State College with a double major – general business and management. He went back and got another bachelor's degree in elementary education.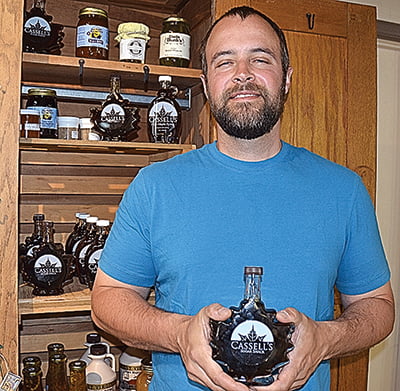 His career took a right turn when he decided on a career working in the outdoors, improving the habitat for another group of Pocahontas County natives – our own brook trout.
Josh works for Trout Unlimited's  "wood crew" as a watershed technician, creating native brook trout habitat and planting trees in riparian areas to keep the water in the streams shaded and cool. 
Riparian areas are beaver meadows – where beavers have downed timber to the point of turning once wooded areas into goldenrod infested fields.
Trees have to be replanted to bring the habitat back to its original, trout-friendly condition.
The "wood crew" fells trees and moves them into position in the county's many streams to create deep, cool pools where the trout can thrive.
"It's intense work – some serious manual labor," Josh said.
"We're the only people in the entire country doing the habitat work on this scale. They are doing a little bit of this habitat work in Maine, but not like we're doing here.
"We'll also be doing some of this up in Randolph County this summer."
Josh met Leah while they were both attending Fairmont State College.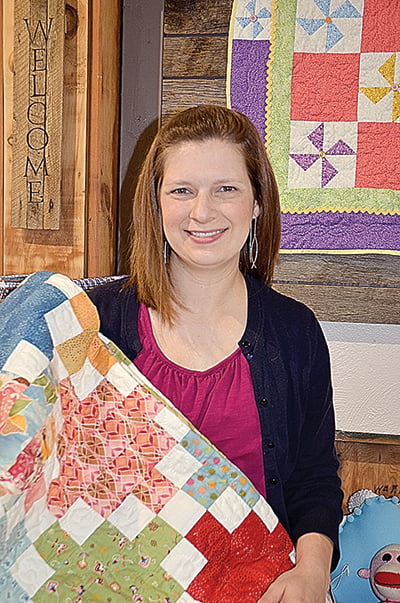 Leah was a city girl from Morgantown.
"We dated for a long while," Leah said. "It took a long time to convince me to move to Pocahontas County. As everyone knows, it's quite a change, moving here from Morgantown. And it meant leaving my family, who still lives there."
But Leah loves living here now. 
It seems she's taken to it like a duck to water, or, perhaps one could say, like a native trout to a Pocahontas County stream.
Her mom, Vickie Pavelko, a former pre-school teacher and now a housewife, and her dad, Gary Pavelko, an electrician, love to come to Pocahontas County for visits.  
Now that baby Nolan has arrived, it's not hard to imagine that their visits will become more frequent. 
Josh sells his maple syrup at the Green Bank Gallery. 
You'll recognize it – it has a pretty "Cassell's Sugar Shack" label on the bottle.
The syrup is made on the site of the old Cassell family sugar camp on Back Mountain, about six miles from Cass.
Josh's grandfather, Paul Mullenax, rebuilt the original family sugar shack and started a little family maple syrup business in the late 1970s.
Paul, his wife, Gayle, and his in-laws, Neal Cassell and Mary Cassell, would pitch in to collect the sugar water and make the syrup.
Every spring, during the late 70s and 80s, Josh's grandfather and grandmother would have people over to their farm for pancake and maple syrup breakfasts. 
The breakfasts came with all the trimmings. The delicious pancakes were not only served with homemade maple syrup and sausage, there was maple syrup for sale to take home. 
These were pretty well-known weekend rituals of the season.
There would sometimes be 300 people in attendance.
"When I was a kid, I'd help my grandparents," Josh fondly remembers.
"All us grandkids would ride out through the sugar trees on the tractor, hop off and pick up the buckets hanging from the trees and bring them back up on the tractor with us.
"Grandma usually made about 80 gallons a season."
After making a few gallons here and there over the years, Josh decided to get the family sugar camp working again in earnest and has been making maple syrup to sell for about 10 years now.
"I use the modern way of collecting – the tubing method," he said, "but I prefer boiling it down the old-fashioned way, on a pan, not an evaporator.
"It boils for at least a day – that makes a really good syrup. I think it needs to boil for a long while to get a really great maple flavor."
During the spring when the "sugar is running," the whole family pitches in.
"When Leah's working, and I'm making syrup, my dad keeps me fed. He's a pretty good cook," Josh said.
Josh makes more than 300 gallons, and it takes all year to sell it all – and that usually happens around Christmas.
Leah's parents enjoy helping out on the farm and with the maple syrup business. 
"Her dad especially likes cutting wood with the chain saw," Josh said, laughing.
"Hopefully, he's going to retire soon, because I have plenty of farm work for him to help me with!"
Leah's degree is in math education. 
She's been teaching math at Pocahontas County High School, but is looking forward to moving to Green Bank Middle School as a librarian where she will also teach a couple of math classes for high school credit.
These days, when many seamstresses have gone on to making machine-sewn quilts, it is nice to know that a few younger women are still making them the old-fashioned way.
Leah makes gorgeous hand-sewn quilts. 
She usually makes them in a double or queen size, and they are not rapidly finished projects.
This kind of quilting is a labor of love. 
"It takes about a year to make one," Leah said.
When asked how many she has made, she has to think a bit, then says, "maybe twenty, so far." 
Leah said that she has enjoyed making them for family and friends – for her mother and her grandmother and an especially good friend – and she's made baby quilts for her nieces and nephews.
The over-sized king size quilt she has on sale in the Green Bank Gallery right now is just gorgeous. 
It took Leah three years to finish it.
Leah also makes fanciful stuffed animals and crocheted chickens, which would make delightful Christmas tree ornaments for those who are crazy about chickens.
She has a loom and weaves very nice rag rugs – some of which are for sale in the gallery. 
She used to loom dish towels, "but they just take so, so long" she said.
And she makes reed baskets, but, as she explained, the reed pieces are taking over the whole house. 
"I really need to get them their own room," she laughed.
Leah also makes painted wooden signs from old reclaimed lathe boards from a friends' house. 
The rustic old lathe boards were removed to be replaced by dry wall and now they have another life as beautiful hand painted signs.
Baby Nolan, who patiently got handed from his mom to his dad and back again as the couple posed for photos, was turning one month old the day I met them at the gallery.
Besides being busy with their jobs, farming, crafting, syrup making and baby raising, Leah and Josh are looking forward to rescuing Josh's great-great grandmother's loom, which they found in a barn.
Josh has promised Leah to build the loom a little house of its own, where, as soon as they can get the pieces of the loom moved and re-assembled, Leah will be able to weave on it.
Don't you know how proud both of these young people's ancestors must be, watching them take the skills of the past to fashion for themselves and their family a strong and beautiful future.
The Green Bank Gallery is located in Green Bank at 717 Route 28/92.
It is open Fridays and Saturdays, from 11 a.m. until 5 p.m. and on Sundays from 10 a.m. until 6 p.m. 
The phone number is 304-456-9900.