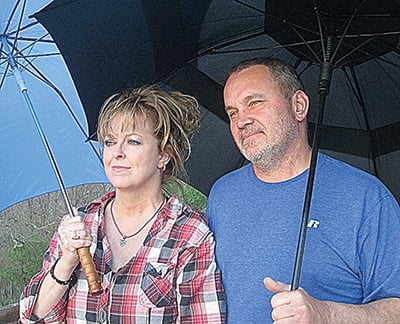 Bonnie Gifford
Contributing Writer
Bankin' on the Grand explores the aftermath of a weather occurrence familiar to those who live  in Pocahontas County. This short play depicts Buddy and M. Lou, a man and wife, stranded on the roof of their home during a historic flood, surviving the present and pondering the future.
Playwright Chris Shaw Swanson explains, "Bankin' on the Grand was inspired by the 2006 Grand River flood in Lake County, Ohio.  My father was living in the area at the time, so I avidly followed the flood's forced evacuations and dramatic rescue efforts on Internet news.  As the Grand River had little history of flooding, some nearby residents saw no need to purchase flood insurance. When I read that a mobile home park was still under water on day two, 'Bankin's' story began materializing in my mind."
According to her website www.chrisshawswanson.com Swanson began performing at the age of seven, progressing to community theater in early adulthood.  This led to improv comedy at a local radio station where she also wrote promotions and commercials. The writing evol-ved into a job as an advertising copywriter, but her theatre muse eventually enticed her to return to her real love – play writing.  Her work has been performed by more than 90 theatre companies worldwide, and she has received numerous awards, including the Goshen Peace Play Prize. Swanson's play Legacy was part of the 2016 PlayFest.
Rhonda Pritt will portray M. Lou.  Pritt is a former Miss Pocahontas, whose previous theatre experience includes A Christmas Carol, at the Princess Playhouse in Mt. Hope, and Pickadilly, a comedic production in the late 1980s in Pocahontas County.  She also appeared as Chrissy Steringer in the Drama Workshop's 2017 production of A.J. DeLauder's The People at the Edge of Town. When not working at The Southern WV ENT Clinic in Ronceverte, she enjoys gardening.
Bill W. Mitchell, of Alderson, will perform the role of Buddy. Mitchell's first theater experience was at the Greenbrier Valley Theatre, where he portrayed Mr. Cunningham in To Kill a Mockingbird.  This was followed by the role of Dandy in GVT's recent production of Babes in Toyland.  He also appeared as Richard in the short play "Slammed!" by James T. Kitchens at the New Voices Play Festival at GVT. All performances were in 2017.
The Opera House PlayFest 2018 will include five other short plays, including comedy, drama and a mixture of both.  The festival will be performed Friday, May 18, and Saturday, May 19, beginning at 8 p.m. each evening at the Pocahontas County Opera House in Marlinton.  There will be a free preview performance on May 17 at 7 p.m.
Parents should be aware that some of the plays contain adult themes that may not be suitable for young children.
The Pocahontas County Drama Workshop is community theater supported by Dramas, Fairs and Festivals, Parks and Recreation and the Board of Education. Tickets are $10 and will be available at the door.