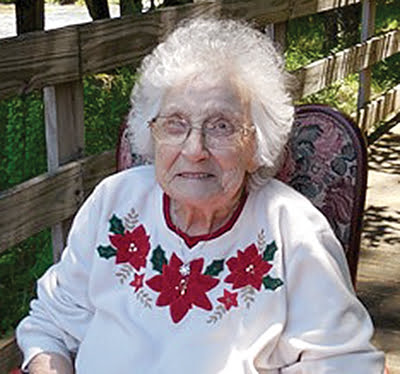 Laura Dean Bennett
Staff Writer
With the exception of one brief foray to work in Baltimore, Maryland, Anna Maxine Shinnaberry Foe has always called Pocahontas County home.
Maxine spent her life on Back Mountain and in Cass.
Her parents were Albert and Pearl Shinnaberry.
Maxine was born in 1927, at home, on her family's farm on Back Mountain.
Born at home, "like everybody was," she said.
She had one sister and three brothers, and she said she was a typical farm girl of the time.
"A lot of people grew up on farms – maybe most people," she said.
It was the usual big farm. We had sheep, cattle and two draft horses.
"No matter what work there was to do, everybody had to pitch in.
"Mom and Dad always had a big garden.
"I didn't like helping with the garden very much, but that didn't matter, we all helped out doing whatever needed doing."
There was one farm chore that Maxine liked better than others.
"I did like haymaking time," she said, smiling. "I remember riding one of the big horses to haul the hay shocks over to make hay stacks in the field. That was before the hay was put up in bales.
"It was stood up in hay stacks.
"Somebody would tie a bundle of hay shocks behind the horse, and then we'd drag it over to where the next hay stack was."
But life was not all work and no play.
"When our chores were through, us kids played outside games," Maxine recalled.
"We played I Spy, Hit the Can, Fox and Geese and Hide and Seek – and we loved to swing on the grapevines.
"But my dad would run us off of them, because of tearing up the grapes."
Maxine remembers being a pretty good student.
She attended the Cass School and graduated from Green Bank High School.
After graduation, like a lot of other young people back in the day, Maxine went to Baltimore to look for a job.
She worked for the summer at the Armour meat factory, stamping meat.
She was staying with her aunt and uncle in Baltimore – as was a young man by the name of Winfred Foe.
"That's how we met," Maxine says of her husband.
"I don't remember our first date, but Winfred had a car, so we might have been going to the movies.
"We liked to go to the movies."
Not long after they met, Maxine and Winfred were married in Baltimore.
Maxine returned home to Cass soon after, although Winfred stayed in the city and worked a while longer.
Winfred came home, and we got a house in Cass there on Back Mountain," she said.
"We had some sheep, hogs, chickens, a couple of horses and milk cows.
"I remember milking the cows, making butter and cheese and cottage cheese.
"Of course, we did our own butchering, too, just like on my parents' farm."
Winfred and Maxine had three children – two boys and a girl.
She likes to talk about family life with her husband and children.
"We had an oil stove and a wood stove, which heated the house and I cooked on it," she said.
We went on lots of Sunday drives, and we liked to go on picnics.
"We always had a few pets – dogs and cats. My favorites were the cats. I always liked them.
"At Christmas, somebody would cut down a tree and bring it in the house.
"We'd hang those tinfoil icicles on the tree and the kids sometimes made their own ornaments.
"I cooked a big dinner and all the kids would come in."
Her son, Lloyd, now lives in Lagrange, Kentucky, and son, Lewis lives in Arbovale. Her daughter, Linda Simmons, lives in Hillsboro.
"I guess I was a pretty good cook. My family seemed to like my fried chicken awful well.
"But Winfred liked everything I cooked," Maxine said, with a smile.
"When my eldest son was 15, I guess that was in 1960 or 1962, I started working at the Observatory.
"I worked in the cafeteria as a cook and in the residence hall as a cleaner, and I enjoyed it."
And apparently, the Observatory enjoyed having her around, as Maxine worked there for 36 years.
"I made lunch at the Observatory, and I went by my own recipes," she said.
"I don't remember a lot of what I made, but I do remember that our homemade pizzas were pretty popular.
"We made good pizzas, good salads and good desserts," she proudly added.
Maxine was also active in the community and was the treasurer for the Arbovale Woman's Club for many years.
She always enjoyed handwork, and her hands are not idle now.
"I liked to embroider, quilt and crochet in my spare time," Maxine said.
Maxine now has 12 grand-and-great-grandchildren.
"And I have another great-grandchild on the way," she said, "and it's due most any time now."
She enjoys keeping up with all the news of her large family, and has crocheted an untold number of afghans for them. Every special occasion calls for a special blanket.
Maxine has been at the Pocahontas Center for three years come this August, and she is, by all accounts, a popular resident there.
"Everybody says I look a lot like Marilyn Monroe or Princess Diana," she teases.
But when you look into her lovely eyes, you do catch a glimpse of resemblance to those famous beauties.
Active hands, and active mind and a ready smile.
She is still a Back Mountain girl at heart.