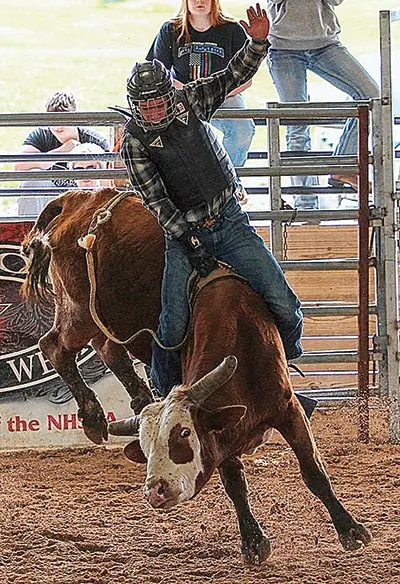 Pocahontas County High School senior Holder Sharp has earned a position on West Virginia's National High School Rodeo Team. He and his teammates will travel to Gillette, Wyoming July 16 – 22, to compete at the 75th Annual National High School Finals Rodeo (NHSFR).
Holden, who placed Reserve Champion in the West Virginia High School Rodeo competition, will compete in the Bull Riding Division at nationals. This will be his second trip to the national competition.  
Featuring more than 1,700 contestants from 44 states, five Canadian Provinces, Australia, Mexico and New Zealand, the NHSFR is the world's largest rodeo.
In addition to competing for more than $150,000 in prizes and more than $150,000 in added money, NHSFR contestants will also be competing for more than $375,000 in college scholarships and a chance to be named an NHSFR World Champion.
The Saturday championship performance will be televised on the Cinch High School Rodeo Tour telecast series on RFD-TV. Live broadcasts of each NHSFR performance will air online at www.thecowboychannel.com