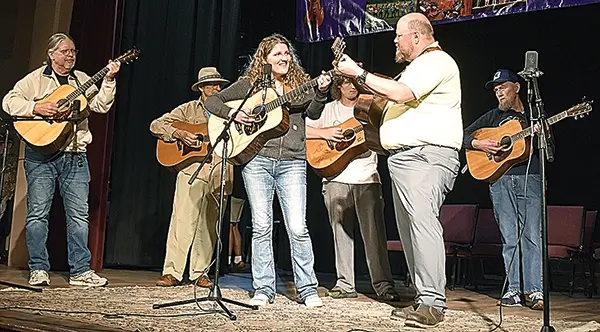 Suzanne Stewart
Staff Writer
After a week –technically four days – of instruction with local and world renowned musicians, the students of the annual Allegheny Echoes old-time and bluegrass music workshops tamped down their nerves and took the stage at the Pocahontas County Opera House Thursday evening for the student concert.
It was a night of Appalachian appreciation, with music and the spoken word inspired by the traditions and people of the region.
Pete Kosky – beginner guitar instructor – acted as MC, except when he joined his class on stage to perform "Cripple Creek."
Several classes were led by Allegheny Echoes alumni who had fun coming up with names for their classes. Ben Davis' beginning fiddle class was named "The Jake Haters" and Tessa Dillon's was the "Super Extremely Very Advanced Fiddle Class."
Abigail Blackner sang "Country Roads," accompanied by guitarist Robin Kessinger. They were followed by Gwyneth Cox, who took one of the creative writing classes. She read a poem she wrote after speaking to other participants about their experience during the workshops.
Bluegrass guitar instructor Dustin Benson was joined by his three children – Sawyer, Elijah and Isabella – in performing "Talk Back Trembling Lips," by George Jones.
Isaac Butcher showed off his finger picking skills performing "Mountain Dew," accompanied by Kessinger.
The bass class, led by Tim Corbett, was joined by Todd Sams on banjo for its performance of "Ruben's Train."
Pat Shields, who calls himself the Georgia Mudcat, shared a story and song he wrote. It was apparent it was going to be good, what with the little pink rubber ducky attached to the bill of his baseball cap.
Shields said that about 50 or 60 years ago, he was substitute teaching at a school in West Virginia. He always played his guitar for the kids and, on one particular day, he broke a string. A little girl said "well that's bad luck, life ain't no ride on no pink duck."
Shields said he asked the girl where she heard that and she said she just made it up. That saying stuck with him all these years and he finally wrote a song about that little girl and her saying.
He added that the audience could also have a little pink duck for a donation that would go toward the Allegheny Echoes scholarships.
Jake Kracks' fiddle class, "The Brushog Beaters," played "Yew Piney Mountain," an old Hammons Family tune.
Writing student Mel Barrett, performed a piece she wrote called "South of the North," followed by Patrick Whitten, who performed "Home Sweet West Virginia," on his guitar.
Other performances were given by: Dave Bing's intermediate fiddle class, Steven Casto's beginning banjo class, Liam and Philip Farley, Ben Davis' beginning fiddle class, Dustin Benson's bluegrass guitar class, Tessa Dillon's advanced fiddle class, Brandon Shuping's bluegrass mandolin class, Danny Authur's intermediate guitar class, Tim Bing's old-time advanced banjo class, Isaac McAllister and Charlie Jo Breece, Hunter Berry's advanced fiddle class, Robin Kessinger and Doug Hepler's advanced guitar class; and Scott Rucker's old-time mandolin class.
The concert ended with a performance by the vocal class, singing "West Virginia, My Home" and "Country Roads."
Kosky announced that the Dwight Diller Memorial Scholarship for banjo was won by Brayden Diller.
Allegheny Echoes is an annual, week-long workshop held the last week of June at the Marlinton Motor Inn. Classes are taught in fiddle, banjo, guitar, upright bass, mandolin, vocals and creative writing, in venues in and around Marlinton.