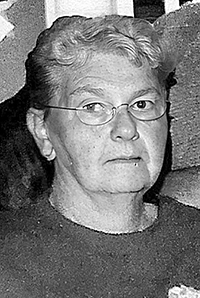 Sharon Lee Ruddle Kelley, 81, of Hillsboro, peacefully passed away Wednesday, June 28, 2023, at her residence after a four-year battle from the effects of a stroke and Parkinson's.  She was surrounded by her family.
Born December 13, 1941, at Hillsboro, Ohio, she was the oldest daughter of the late Walter Paul Ruddle and Evelyn Ruth Beath Ruddle.
Sharon was a 1959 graduate of Buckskin Valley High School in South Salem, Ohio, and had worked at the Kenny Shoe Factory in both Sutton and Glenville and as a stocker at Rite-Aid in Marlinton.  She retired from Godfather's Pizza.  Sharon was a member of the Marlinton Presbyterian Church.
On April 21, 1962, she married Robert Lee Kelley, Sr., who survives.
She was preceded in death by her father, Walter Ruddle; mother and stepfather, Evelyn and Francis Shinkle; daughter, Saundra Lee Kelley; sister and brother-in-law, Melinda K. and Donnie Ward; and father and mother-in-law, Ward and Mary Kelley.
In addition to her husband, she is survived by her daughter, Teresa Ann Westfall, of Hillsboro; son Robert L. Kelley, Jr. (Pamela), of Wakefield, Kansas; brothers, Dennis Wayne Ruddle (Jalene), of Wilmington, Ohio, and Walter Paul "Junior" Ruddle, Jr. (Diane), of Greenfield, Ohio; and a grandson, Austin Lee Westfall, of Hillsboro.
The family will receive friends from noon to 1 p.m. Thursday, July 6, 2023, at Kimble Funeral Home in Marlinton; with the funeral service following at 1 p.m. with Pastor Sam Felton officiating.
Interment will be at Mountain View Cemetery.
Online condolences and memories may be shared at kimblefuneralhome.com
Funeral arrangements are entrusted to the Kimble Funeral Home in Marlinton, West Virginia.