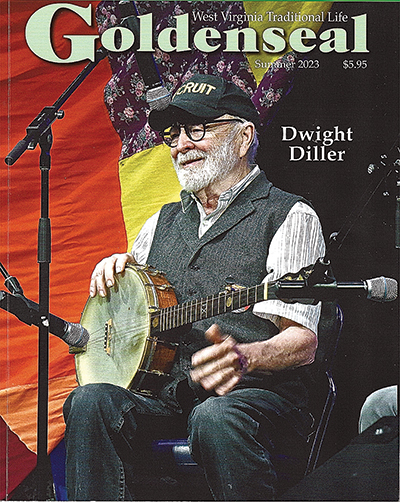 Jaynell Graham
Editor
Goldenseal magazine never fails to educate, entertain and take you back in time.
The Summer 2023 edition does all that and more.
There are numerous articles of interest from around the state, and four about Pocahontas County and her people.
It begins with a photo of world-renowned claw-hammer banjo player and instructor Dwight Diller on the cover.
In "From the Editor," Laiken Blankenship begins with this quote attributed to Diller:
"It's just simple music played by simple folks," OR "Deceptively simple but extremely complex music played from the human spirit, not the mind, which contains the fragile, but powerful, cultural messages and heritage of a people who were/are just as complex as all other humans on the face of this Earth."
Diller passed away February 14, 2023, and several pages of this issue of Goldenseal are dedicated to tributes from some of those he taught and inspired.
"Remembering Dwight Diller"
Friends and musicians such as Sam Linkous, Jamie Loneloy, Bob Heyer, Richard Hefner, Ron Mullennex, John Morris, Paul Gartner and Mike Burns tell about their experiences meeting and learning from the "master."
"Dwight was stubborn sometimes, but most times he laid it out simply, felt deeply, loved West Virginia, the Hammons Family and, above all, was completely 'sold out to Jesus.' – Jamie Loneloy, Randolph County.
"The inspiration from Dwight's playing to pursue old-time music was not only a turning point for me, musically, but life changing. The friendships formed out of the old-time community have been invaluable." – Mike Burns, Pocahontas County
Also in this issue are "Goldenseal Good-Byes," which includes tributes by Alan Byer to two Pocahontas County talents who are gone too soon: Well-respected and well-traveled photographer Doug Chadwick, 1952-2023, known for his panoramic photos, documentaries and more; and his assistant, Gina Marie Cruise Schrader, 1945-2023, who was a entrepreneur, photographer, promoter and lover of West Virginia music and culture.
Another article of local interest is "Greenbrier River, What It Survived and How It Thrived," covers log drives to kayaks, deforestation to conservation, floods to natural and volunteer river clean-ups.
"For the better part of a century, the Greenbrier has cleansed its own corridor."
There is so much information and so many photos contained in this issue, that it is sure to be a keepsake.
People of a certain age will remember the late Jim Comstock, editor of the West Virginia Hillbilly newspaper. There's a story about his work, as well. And, as things come full circle, one of the photos of Comstock in the article was credited to Doug Chadwick.
Goldenseal is published by the State of West Virginia, four times a year – spring, summer, fall and winter – and is distributed for $20 a year. The magazine can be purchased at locations around the state, or you may subscribe by calling 304-558-0220 or email chgoldenseal@ev.gov