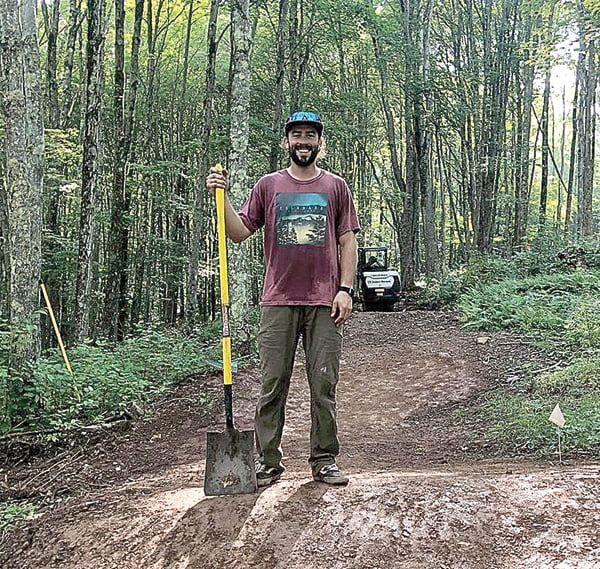 1. Were you born in Pocahontas County?
I was born in Charleston. I grew up just outside of Charleston in a little town called Elkview. I have the rural, outdoors kind of lifestyle or passion.
I moved to Snowshoe in the winter of 2016. My first day of work at Snowshoe was December 5, 2016. I came with the intention of maybe sticking around for the summer because I love mountain biking. I love the outdoors – camping, hiking. I thought, 'what better place to come and really make a living than Snowshoe?'
I worked really hard that first winter and was able to get a spot in the bike park on the trail crew. I thought, 'this is such a dream come true to be able to work on these bike trails.' It's like being a kid all over again.
I got hired as the bike park manager the summer of 2017, and we've had the two most successful summers for the Snowshoe Bike Park since then. We had about 11,000 visitors last year. We'd been trying to get past the 10,000 rider mark, and that was a big milestone for Snowshoe – and me, personally – to achieve the resort's goal within two years.
2. What is your favorite thing about living in Pocahontas County?
I love working at Snowshoe – being there, the people, the atmosphere, the environment. But, just having the unlimited natural beauty at your fingertips to explore so much of West Virginia right around here in Pocahontas.
Just outside of us, you can happen on so many neat places. You can go up to Spruce Knob, Seneca Rocks, go to Blackwater Falls, Lewisburg, White Sulphur – all these places are right around us.
I think just having the unlimited natural beauty around you is probably the coolest thing.
3. If you were asked to take first-time visitors on a tour of Pocahontas County, where is the first place you would take them and why?
My first place would be Snowshoe, but another really special place to me is the Tea Creek area. The Tea Creak mountain trail is one of my favorite hiking/biking trails around. The campground there is awesome. It's just a special place to me.
4. What do you hope visitors take with them after they visit Pocahontas County?
I'd say a new vision, a new perception of the state of West Virginia and the beauty we have here. Appreciation for simplicity. I'd say that. People are so worked up about going here and there, and you can really just get down to your roots and relax. It's very grounding here, and the people are friendly.
5. If you would work anywhere else in Pocahontas County, where would it be and why?
I think I'd try to work for the U.S. Forest Service if I could. I love to be outdoors, and it seems like there's a lot of potential and opportunity within the Forest Service to take you to new places and you can bring your own passion to it.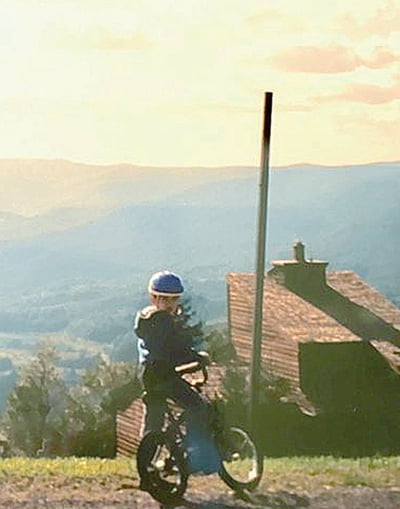 6. What is your favorite place to visit in Pocahontas County and why?
It sounds really silly, and I don't know if people would really understand, but there's a fire tower at Snowshoe and if you hike out to the fire tower, it's a gorgeous view. Not only can you see Snowshoe, but you can see the Cass valley behind you. It's just a peaceful place.
I'd say just anywhere off the beaten path at Snowshoe, more or less. There's a lot of hiking trails. Just talk to somebody in a restaurant or shop for five minutes and they can point you to a place. You get in the woods and it's like, 'oh my goodness.' It's really cool to be out there in the middle of nowhere and hear nothing but a couple of birds. The moss is so spongy and untouched. It's just gorgeous.
7. Which season do you enjoy the most in Pocahontas County?
That's tough because I feel like I could say winter for skiing; summer for the bike part. I think my favorite season, in general, is fall. It's just so gorgeous, seeing the leaves change and you get a lot of different visions of that because at the top of Snowshoe, some of the leaves will change a little quicker than others.
Then, you drive to Marlinton or drive to Elkins and that drive along the way, geez, these trees and leaves are a totally different color on top.
It's like you get to experience the changes in different phases.