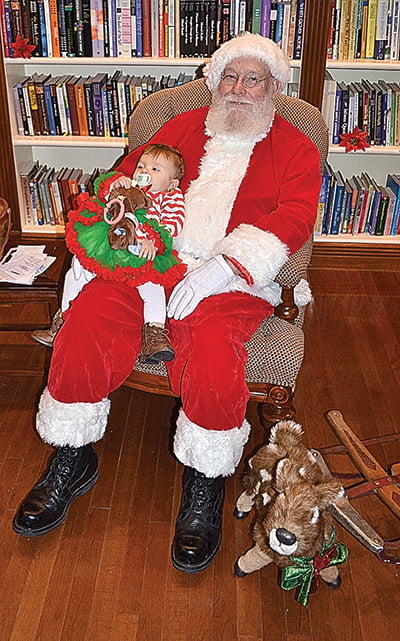 Suzanne Stewart
Staff Writer
Santa Claus is a very busy man, especially during the month of December. Not only does he have a list to check – not once, but twice – he has toys to build and a flight plan to map, he also has countless appearances around the world where he visits with children to get the 4-1-1 on their wish lists.
That is where his special helpers come into play. Santa is a magical man who has the ability to deliver presents all over the world in just one night, but he still has limitations. He can't be everywhere at once. That's why he recruits special individuals to visit with some of the children.
He has recruits all over the world, including several right here in Pocahontas County.
Helpers like Kermit Friel, Kevin Fraser, Bill Reese and Ralphie Beckwith, who take on the privilege of visiting with children in Pocahontas County and surrounding areas.
These gentlemen go through a rigorous training to become Santa's helpers. They have to walk the walk and talk the talk. It's much more than just putting on a red suit and saying "Ho, Ho, Ho."
They have to be jolly and have a sense of wonder, as well as an ability to calm the few crying children who are a little scared to sit on their laps.
It's a difficult process, but they are all up for the challenge, mainly because of the joy it brings the children.
Santa Friel has been helping for the past nine years and makes appearances at the Mountain Quest Christmas celebration when the Big Guy can't make it.
"The children are really nice," Friel said. "They look forward to seeing me."
As a seasoned Santa, Friel said he has learned a few tricks to calm the children and that many of them recognize him from previous years.
"It's fun just getting them to come up to you," he said. "Some of them just come up – some you have to really talk to to convince them. Then, just listen to them tell you want they want. Some of them bring lists. There are a couple lists that are front and back page."
Friel isn't the only helper who has been on-call for a long time.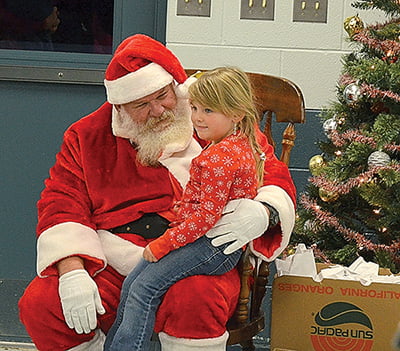 Santa Fraser began as a helper when he lived in South Africa in the late 80s. When the Fraser family moved to Maryland and later to Pocahontas County, he continued to help the Big Guy by appearing at parties.
"My son was at a daycare and they couldn't get a Santa and, of course, I had the beard, and all we did was put that spray stuff on it [to make it look white]," Fraser said. "The older I got, the whiter my beard got and I thought, 'well this could be Santa in the making.'"
Like most of Santa's helpers, Fraser said he continues to help out because the children enjoy it so much.
"When the kids walk up to you – sometimes they're crying, sometimes they're not – but when they first light up, the whole room lights up," he said. "The kids thoroughly enjoy it. Last year, when I did an appearance, I heard a girl – thirteen or fourteen years old – say this was the best Santa she'd seen. Just seeing the kid's faces and the pure happiness it gives them for those few minutes, it's pretty good."
While Fraser doesn't have a sleigh like the real Santa, he does have one mode of transportation he would like to use sometime – a motorcycle.
"I don't think it would work that well around here, but if we had a mild winter sometime, I'd love to go out as Santa on my motorcycle," he said.
Santa is always recruiting new helpers to add to his list of go-to stand-ins and Santa Reese and Santa Beckwith were both added five or six years ago.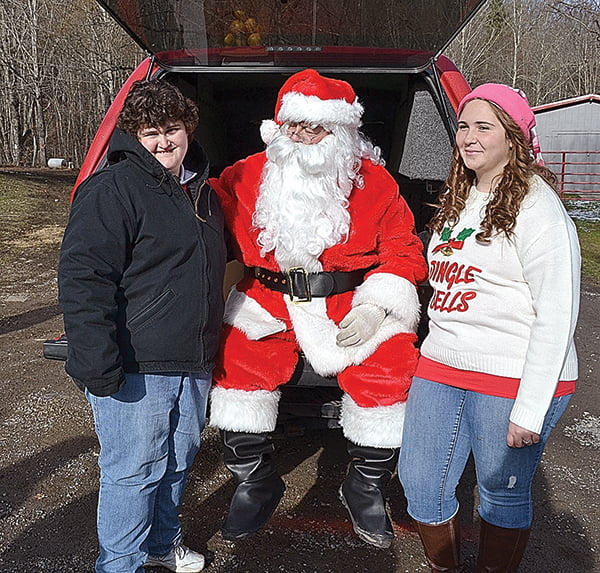 Reese mainly stands-in for Santa during the Durbin Lions Club Santa Run – where the Club drives through the northern part of Pocahontas County, from Green Bank to Durbin, spreading Christmas cheer and visiting children.
"It's something to do to help the kids in the community," Reese said. "I just enjoy doing things for the kids. As long as I'm able, I'll help out."
Reese has always volunteered to help children in many ways – as a little league coach or at football games – and said he is happy to carry on that volunteer work as Santa.
"I can say those were the best times of my life," he said of helping children.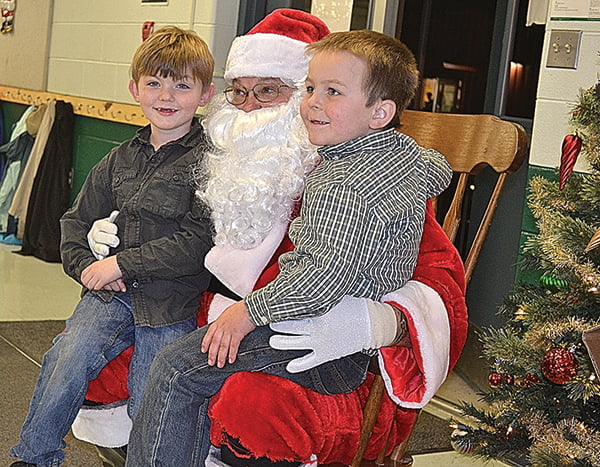 Beckwith, who has made many appearances for the Big Guy agrees that the best part of the "job" is spending time with the children and seeing their excitement as they tell him – in great detail – what they want for Christmas.
"I enjoy watching them and listening to them," he said. "Some of them don't talk quite loud enough for an old guy's ears, but I just enjoy being around the kids. Just seeing the kids' faces and listening to the little guys, it's great."
Beckwith stands-in for Santa at the Marlinton Rotary Club's Dinner with Santa the evening of the Marlinton Christmas Parade and he also visits families in the Snowshoe/Slaty Fork area.
While he has been one of Santa's helpers for several years now, there is always something new to experience and the kids always find a way to surprise him.
"I had a whole bunch of lists that they wrote this time," he said. "That was kind of different. Some of them had long lists. They were prepared."
Being a helper to one of the most powerful and magical men in the world is a great honor and these four gentlemen, as well as many others in Pocahontas County, do a great job of representing Santa.
Just remember, the next time you see Santa Claus, you never know if it's the real Santa or one of his helpers – that's how good they are.
Suzanne Stewart may be contacted at sastewart@pocahontastimes.com