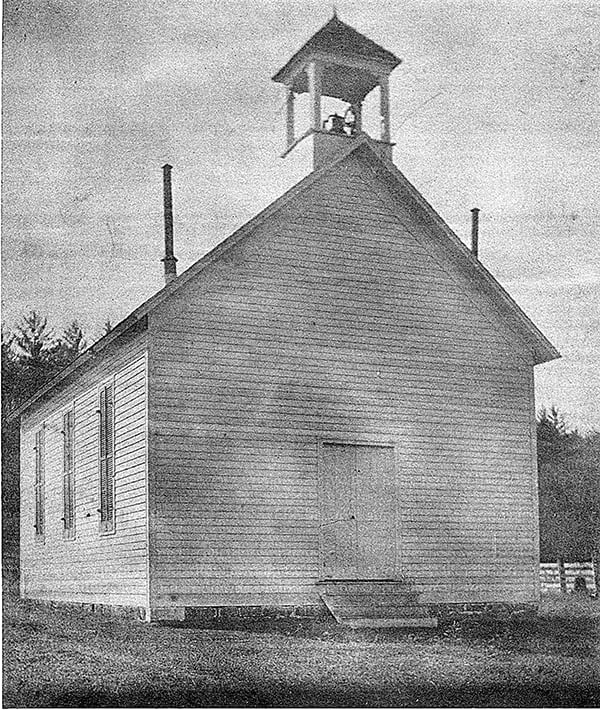 Jaynell Graham
Editor
New Hope Lutheran Church just off Rt. 39 in Minnehaha Springs is one of five churches in the Mountain Lutheran Parish which is served by Pastors Jason and Jess Felici.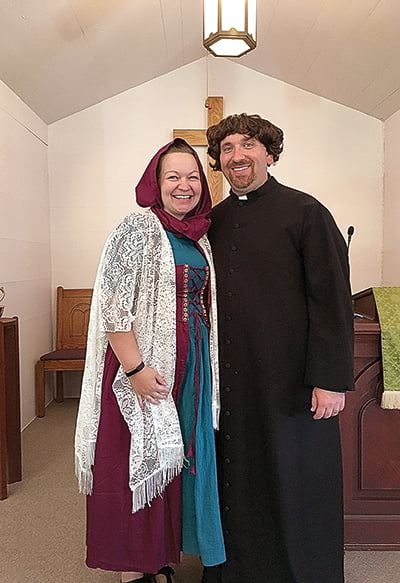 The pastors are young, faithful, enthusiastic and energetic – qualities that come in handy in fulfilling the work to which they have been called.
In addition to New Hope, the pastors also serve Calvary Lutheran Church in Brandywine, Faith Lutheran Church in Franklin, Mt. Hope Lutheran Church in Upper Tract and St. John Lutheran Church in Moyers.
Faithful, enthusiastic, energetic and committed aptly describe today's congregation at New Hope, as well as congregations throughout its history.
Rather than only taking pride in its rich history, the people of New Hope use that history as a guide to faith and mission.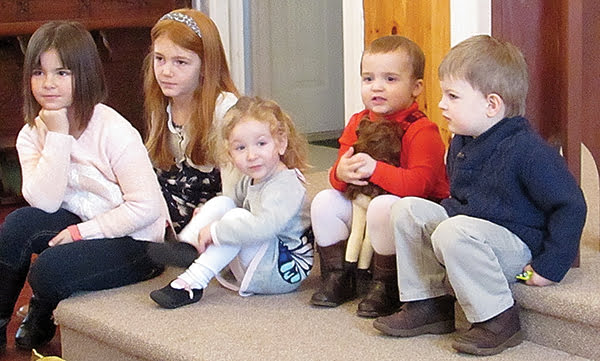 Henry White, a native of Highland County, Virginia, purchased land near the Springs at Driscol – now Minnehaha Springs – and moved his family there in 1876. He and his wife were the first Lutheran settlers in that part of Pocahontas County.
From the time the Whites arrived, ministers from Crabbottom in Highland County, traveled to worship with the family and to share the sacrament of Holy Communion. A more established pastorate began to materialize in 1881.
According to church history, the first and only Lutheran Church in Pocahontas County was built in 1893.
The original founders of New Hope Lutheran Evangelical Church were Henry White and his wife, Sabina, and their children, Cyrena, B. Frank, Lizzie, Sarah, Hannah, H. Lee, Mary and Ida, and Preston R. Rexrode.
The first wedding was held there in 1894. Preston Rexrode was the groom, and Ida White was the bride.
The church celebrated its 100th anniversary July 11, 1993, at which time Pastor Neal G. Weltzin spoke about the importance of its history:
"Why is it we take time to remember and reflect on the past? We need look no farther than the Biblical story which then reflects our story:
"We remember so we can learn from those who have led the way and the saints who have gone before.
"We remember the past in order to instruct those coming in the future.
"We remember in order to mark the faithfulness of God and God's people in a given place.
"We remember because events mark significant times in the lives of people.
"We remember because it gives us a better understanding of our own identity – who we are, what our purpose is, what we are to be about in the future.
"Within our Appalachian culture the concept of home place can be quite significant. It is the place that roots us, gives us stability, gives us connectedness, and relates us not only to the place but the people who gathered there.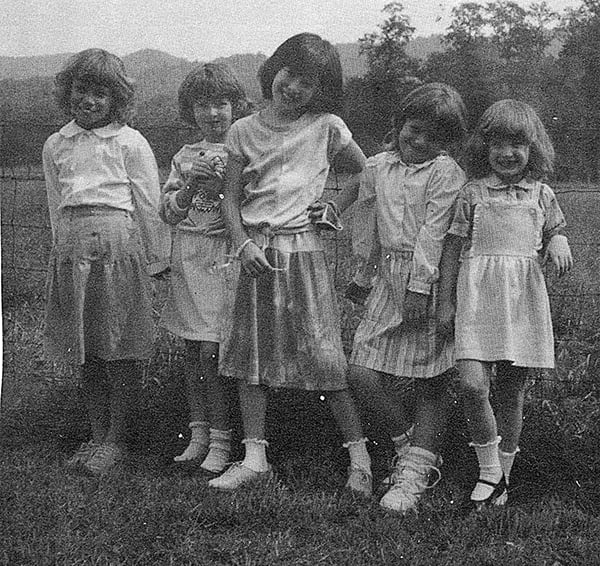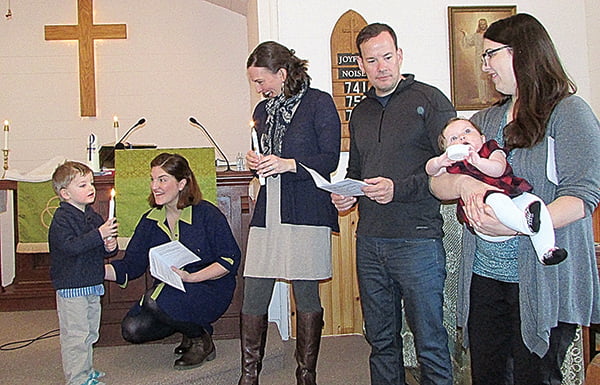 "Our church can do this, as well.
"It is the place we are brought to be baptized and begin the life together in the community of God's larger family. It offers us stability as we join regularly to worship and be renewed to go back out into the world in which we sometimes struggle to work. It offers a place where we can mutually share the burdens as well as the hopes of our daily lives. And it certainly can root us in the gospel of our Lord Jesus Christ. And therein lies the power of God to salvation."
The Mission Statement of New Hope Lutheran Church today is: "Let us go forth to share and offer the Light of New Hope by serving God and our Neighbor."
Throughout the year, the people of New Hope can be seen working hard to live up to those words.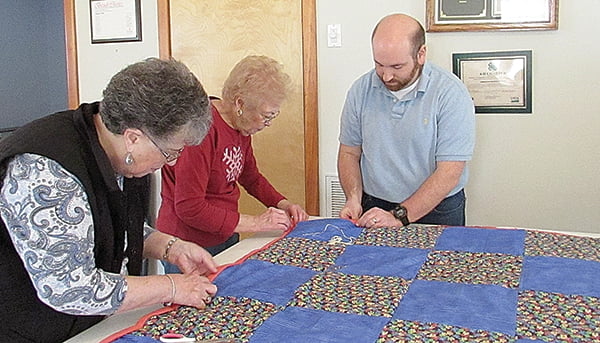 One of the congregation's unique mission projects supports Lutheran World Relief.
Each year in January, several ladies – and some gentlemen, too – can be found in the church fellowship hall piecing together about 30 quilts which are added to the quilts made by members in the other parish churches. Anyone who has ever sewn a stitch for quilting knows that this is nothing short of a labor of love. The quilts are taken to a collection point in Maryland, and from there, they are shipped all over the world by Lutheran World Relief.
New Hope is very involved in the local community, as well, and good works and fun often go hand-in-hand.
On Souper Bowl Sunday, the congregation brings canned food and places it in a box marked for their favorite Super Bowl Team. After the winner is predicted, the food is delivered to the Pocahontas Co-operative Parish Food Pantry in Marlinton.
Families in the Huntersville/Minnehaha Springs area team up for a day of community yard sales in June. One stop along the way is at the New Hope Church for a hotdog, or one of Rene White's famous barbecue sandwiches.
Proceeds from the food sales help meet needs in the community. Through the years, this event has helped support the Meals on Wheels program, the local food pantry, Family Refuge Center, Pocahontas County Free Libraries, the Humane Society, Pocahontas County 4-H Camp, as well as families in need.
With the beginning of school in August, New Hope members start putting together Pocahontas Power Packs.
This project, which began in September 2016, has the approval of the Pocahontas County Board of Education. It helps to supplement weekend meals for elementary school children.
The power packs project requires a physical and financial commitment, and has picked up support from other churches. In addition, items for the power packs are purchased locally, which also supports the community.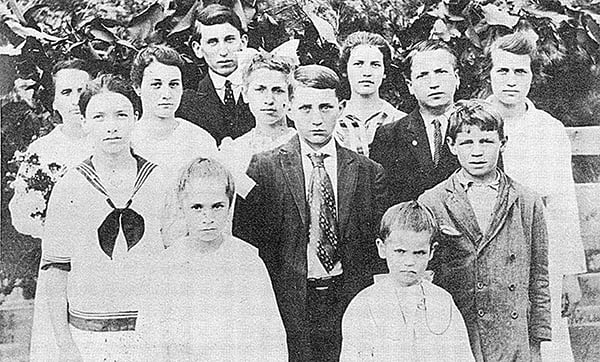 The power pack project has an account at IGA, and donations to Pocahontas Power Packs may be made to its account at Pendleton Community Bank.
"New Hope received a generous bequest from a church family member," Pastor Jess said. "The policy at New Hope, when money is received as a bequest, is to spend a little on church maintenance, put a little in savings, and spend the rest of the money on projects to help the community.
"With this program, we hope to eliminate some pressure on families as they try to feed their children."
Going forward they will need partners and will have fundraisers to continue the program.
One of New Hope's largest fundraisers literally hits the street in September during the annual Autumn Harvest Festival and RoadKill Cookoff.
If you are looking for a vegetarian option and want to contribute to a benevolent fund, you can find the busy group on Main Street in Marlinton, selling loaded baked potatoes in front of The Pocahontas Times office.
Again, the proceeds are used for a good cause. This year they will help offset costs for young people from the parish who want to attend the National Lutheran Youth Gathering in Houston, Texas.
The faith and hope Henry White brought to Driscol in 1876 continues today in New Hope Lutheran Church, where everyone is welcome.
Worship service 8:45 a.m. each Sunday.
Christmas Program, Sunday, December 17, 3 p.m.
Christmas Eve service Sunday, December 24, 3 p.m.