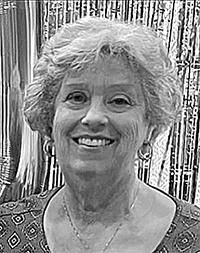 On Thursday, August 31, in the year of our Lord 2023, Sandra Naylor Johnson, age 69, of Mechanicsville, Virginia, and Pocahontas County, was received into her eternal home to be with the LORD.
At the age of seven, she accepted Jesus Christ as her personal Saviour, led by her father Ralph Naylor, as a member of Tabernacle Baptist Church in Greensboro, North Carolina. Upon her salvation, she followed in believer's baptism.
Born January 7, 1954, she was a daughter of the late Ralph Armon Naylor and Elizabeth Mason Naylor.
Sandra was a loving wife and mother first. She worked as a Quality Assurance Inspector at Western Electric and as a floral designer at various florists. Her utmost priority was her love for the Lord Jesus Christ and this was evident throughout her life. Her generosity and compassion for others was portrayed through her love of hosting parties and gifting floral arrangements for special occasions to those around her. She was a dedicated member of Truth Baptist Church in Mechanics- ville, Virginia. Sandra served the Lord by using her many talents to make the church floral arrangements and decorations and by providing encouragement to others with her God-given abilities. Sandy was always willing to help where needed and to serve the church ministry. Sandra enjoyed family and church gatherings and being with her friends and family. Hosting parties brought her much joy, especially around the holidays. One of her greatest loves was doting on her many nieces and nephews and spending as much time with them as possible. Her lively spirit, talents and selfless love for others will be greatly missed.
The legacy of her life and her testimony of Jesus will forever impact others for generations to come.
She is survived by her husband, Richard Johnson; daughter, Bethany Ann Johnson; sisters Cyndi Carter, and husband, David, and Karen Clemons, and husband, Jamie; brother Stephen Naylor, and wife, Tonya; nieces and nephews, Nathan Carter, and wife, Anne Elizabeth, and Christy Baker, and husband, TJ Baker, Lauren and Jacob Clemons, Matthew and Anna Naylor; great-nieces, Ava Baker, Chloe Baker, Ella Grace Carter, Adelynn Baker, Brooke Carter and Claire Carter; and great-nephew, Levi Baker.
The family will receive friends Saturday, September 9, 2023, from 2 to 4 p.m. at Truth Baptist Church, Mechanicsville, Virginia, followed by a service at 4 p.m. with Pastor Erik Hastings officiating. A time of reflection will be in the Truth Baptist Church fellowship hall.
Interment in West Virginia Saturday, September 16, 2023.
Family will receive friends Saturday, September 16, 2023, from 11 a.m. to 1 p.m. at Lantz Funeral Home in Buckeye. The funeral service will be conducted at 1 p.m. with Pastor Caleb Barkley officiating.
Interment will be in Mountain View Cemetery in Marlinton.
Following the graveside service, a time of reflection will be held at Grace Baptist Church Fellowship Hall, 512 Third Avenue in Marlinton.