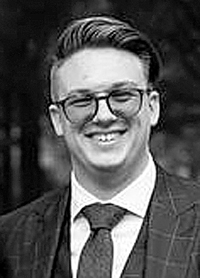 Ryan Jackson, a strong Christian husband, father, son, brother and attorney went to be with God in Heaven Monday, April 10, 2023.
Born November 30, 1992, he was a son of Sherri Jackson, of Horner, and the late Darren Jackson. They raised Ryan to be a kind, compassionate Christian with a desire to help those in need.
A 2015 graduate of WVU, Ryan pursued becoming a State Farm Agent before deciding to follow his passion for the law. In 2019, he earned his Juris Doctorate from Liberty University Law School. He then served in Raleigh County as a public defender and the Marion County prosecutor's office as a juvenile prosecutor, before opening his own practice in Marlinton, and serving as the Assistant Prosecutor in Pocahontas County. He was a member of the WV Bar Association and the Marlinton Rotary Club. He had many passions and hobbies that included cooking, guns, cars and living with the land – but the greatest loves of his life were his wife, Kim, and his son, Elias. Ryan enjoyed nothing more than simply spending time with them, be it out on the road traveling or at home on the farm. He and Kim celebrated three years of marriage in September, and Elias will celebrate his first birthday on April 27.
In addition to his wife and child, Ryan's memory will be cherished by his mother, Sherri Jackson; brother, Aaron Jackson; sister, Morgan Jackson Pitts, and husband, Josiah Pitts; parents- in-law, Wayne and Ernestine Pollard; sister-in-law, Kristen; and brother-in-law, Adam Withers; four nieces and nephews, Abbie and Anna Pitts and Scott and Bruce Withers; grandmother, Helen Hardman; along with countless friends and family whose lives were changed for the better by the way he served his community.
He will be reunited with his paternal grandparents, Bud and Charlotte Jackson; his maternal grandfather, Terry Hardman; and his maternal Aunt Shell and Uncle Lee Kraus.
On April 10, 2023, Darren and Ryan were involved in a horrific car accident.
Because Darren and Ryan were loved by so many in both southern and central West Virginia, a service to honor them was held in each location.
A Service was held at the Pocahontas County Opera House in Marlinton Saturday, April 15, 2023; and at Horizons Church in Mount Clare on Sunday, April 16, 2023.
In lieu of flowers, donations may be made to support Elias' future through a youth savings account. Checks can be made out to Elias Jackson, and contributions can be made at your convenience by contacting City National Bank of West Virginia.