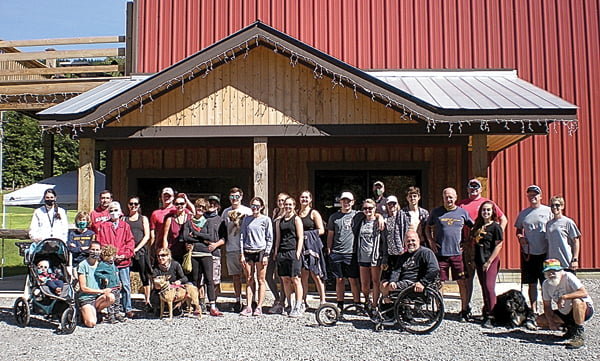 Suzanne Stewart
Staff Writer
Each fall, during the Leaf Peepers Festival, the Tucker Community Foundation hosts the annual Run For It 2K/5K run/walk which raises funds for non-profit organizations in Barbour, Grant, Mineral, Pocahontas, Preston, Randolph and Tucker counties in West Virginia, and Garrett County in Maryland.
Due to the Covid-19 pandemic, the foundation had to redesign the event to ensure the safety of the participants. Instead of canceling the event, the foundation created a virtual run/walk for the organizations that participate.
One of those organizations is the Challenged Athletes of West Virginia, located at Silver Creek Resort.
Teams were left to create and participate in their own 2K/5K run/walks and the CAWV did just that September 5, beginning at the Old Spruce Brewery and winding around Snowshoe Mountain Resort.
CAWV executive director Carol Woody and team members gathered at the brewery and set out to raise funds for the organization which works with individuals with developmental issues, as well as para-and- quadriplegics and amputees.
"This has probably been our biggest fundraiser we do every year," Woody said. "Things are different this year, but we definitely need to do our best to come up with as much as we can to make up for our fundraising events we haven't been able to do."
For the race, team members signed up online, paying a $10 fee – $5 of which goes to the CAWV.  Although the team already held its event, Woody explained that individuals can still join the CAWV online and time themselves for the 2K/5K if they wish to participate.
"They need to make sure they select the Challenged Athletes as their team," Woody explained. "There's an opportunity to sponsor us as well, so they can participate and sponsor, they can just sponsor or they can just participate."
Along with receiving half the entry fees for each individual, the CAWV receives funding through sponsorship, and the more money they receive, the greater the opportunity for them to win even more money.
"What's great is people can sponsor our team, and it's a good time for them to make a donation to our program because that money actually makes money," Woody said. "If we become the top fundraising team, or if we become the top participants, we win money that goes to our organization. The more money you put into it the more opportunity we have to make prize money."
In the past, Woody said the organization has received between $3,000 and $5,000 from the event.
"It's a pretty significant amount of money," she said.
While the event is open for the entire month of September and participants are encouraged to run/walk when they are able, Woody said she wanted to try to get team members together early for a miniature event. The gathering ended with lunch at the brewery.
"I've been telling my team members, 'hey, this gives everybody an opportunity to do it this year,' because it's a big commitment to travel from somewhere to go to Davis," Woody said. "This year, there are no excuses. Anybody can do it, anytime, anywhere.
"It's not like a serious race," she added. "Basically, everybody is just going to keep up with their own time. I did set a course, and there's a sign for the 2K and a sign for the 5K. It's just an excuse for all of us to get together and do it together."
The event will close September 30, so there is still time to participate and/or sponsor the organization. To do so, visit tuckerfoundation.net/run