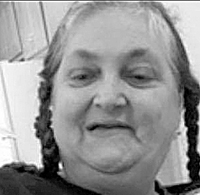 Ruby May Ryder Warner, 59, passed away Monday, October 18, 2021, at her home in Big Run, Pendleton County. Born May 7, 1962, in Elkins, she was a daughter of Barbara Darlene Lambert Ryder and the late Alton James Ryder.
Ruby attended Thornwood Community Church where she served as treasurer.
In addition to her father, she was preceded in death by a daughter, Lauren Rose Hedrick; brother, Tracy Alva Ryder; uncles, Marcel Vincent Ryder and Vincent Alvin Ryder; niece, Autumn Grey Ryder; and nephew, Jordan Mackenzi Moyers.
She is survived by her mother Barbara (Bobby Doo) Darlene Lambert Ry-der, and companion, Henry (Al) Leyh; her significant other, James Malcolm, of Big Run; brother, Rocky Mario Ryder, of Thornwood; sons, Preston James and Colin Clyde Hedrick, of Thornwood; daughter, Sallie Jewell Lambert, of Durbin; two grandsons, Mathew and Jesse Warner; great-granddaughter, Renessmae War-ner; two very special great- nieces, Raelynn Grace and Brooklyn Cadance Arbogast; and several aunts and uncles.
Funeral service was held Sunday, October 24, 2021, at the Thornwood Community Church with Pastor Carl Greathouse officiating. Burial was in Lambert Cemetery on Elk Mountain.
Online condolences may be made at Lantzfuneralhome.com