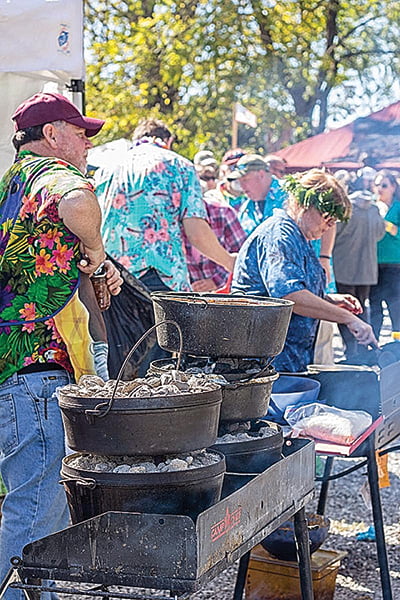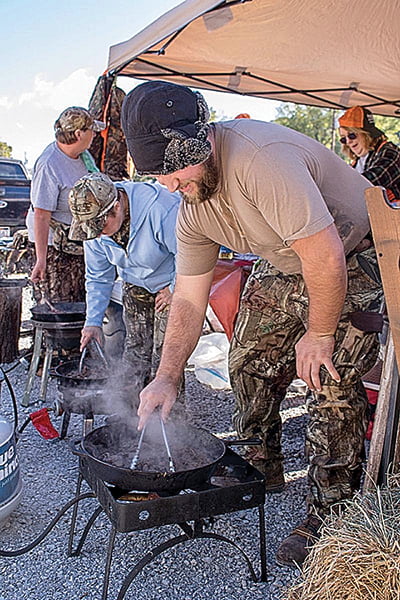 Suzanne Stewart
Staff Writer
When it comes to the RoadKill Cook-off, one team comes to mind – the Coal Hollow Brothers, of Christiansburg, Virginia. Of the 20 years the team has competed in the cook-off, it has taken first place five times – not to mention countless awards for Best of Show, People's Choice and second and third places.
However, the Goliath of roadkill better watch out because there is a David in the midst – the Pendleton Community Bank Buckbusters.
The team first competed in 2017 and caught the judges' and crowd's attention with their Bambi's Revenge served over maggots.
Although the teams have had only one face-off, they have developed a rivalry the likes of which has never been seen in cook-off history. Of course, the rivalry is more for laughs than a serious throw down, but it hasn't kept the teams from preparing for both the cooking and trash talking portions of the competition.
The gauntlet was thrown down last year by Buckbusters leader Kendall Beverage, who warned Coal Hollow Brothers leader Ed Blackford that "we're not going to make it so easy next year."
At the 2017 cook-off, the PCB Buckbusters won People's Choice, second place and tied with the Coal Hollow Brothers for Best in Show. The CHB took first place.
This year, the teams will face off again, and the leaders are ready to take their teams to victory with creative recipes and quick verbal jabs.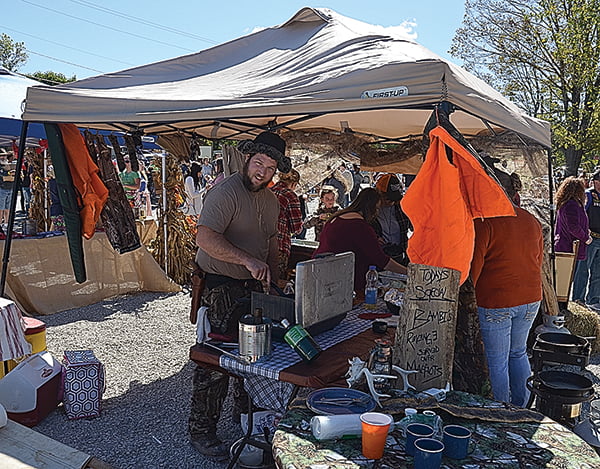 The Newcomers
They may have only one cook-off under their belts, but the PCB Buckbusters are fired up and ready to wow the crowd again with their theme and cuisine.
Pendleton Community Bank has been a financial sponsor of the cook-off for years, but Beverage said the bank decided it was time to step into the "kitchen" and compete, as well.
"We thought last year would be a good year to step up our game and enter, and see how we could do," he said. "It's mostly employees that work here in our Marlinton office with a couple other family friends that just helped out."
Although they were greenhorns to the competition, the team managed to practice their recipe and have enough samples for all attendees – a real feat considering more than 2,000 visitors come to Marlinton to taste the roadkill delicacies.
"We had two thousand samples, and we hit it right on the head," Beverage said of last year. "It was Bambi's Revenge served over maggots – spicey venison served with rice. The recipe we used was a family recipe of mine."
Not one to fix it if it isn't broken, the team has decided to stick with venison, although Beverage is tight lipped about the recipe itself.
"We're definitely going to stick with a venison recipe," he said. "We've got some names brewing and there's a lot of ideas going on. We're going to have a meeting in July to really sit down and set the thing in stone and start testing some recipes again."
Last year, the team prepared the meat from seven deer to have enough for the competition and did three dry runs of the recipe to make sure they had the best possible outcome.
"We did probably three runs at home to make sure it would work," Beverage said. "Then we worked really hard starting Wednesday and Thursday cutting peppers and onions and deer meat. It was a lot of deer meat to cut up."
The hard work paid off, with the team taking home three plaques – one they had to share with their competitors.
"It was funny, when we tied. They had already given us People's Choice – then they presented us with the tie for Best in Show before they got to first, second and third – and I remember looking at Ed and he said, 'they only had one plaque for Best in Show' and I said, 'we've already won one, you go ahead and take that one,'" Beverage recalled.
That was the birth of the rivalry. As the team leaders walked back to their tents – Beverage with three awards, Blackford with two – the pair talked about the next cook-off, and it wasn't long before the competitive nature came out, and they were ready for a friendly brawl.
"We got People's Choice which we were really excited about because that's basically the community saying we were the best," Beverage said. "First place is pretty good, but you only had to sway three people to get first. Winning People's Choice, you basically get the majority vote, in my opinion."
When talking about the Coal Hollow Brothers, Beverage is respectful of the years they have competed, but – at the same time – said he is ready to see a new first place winner.
"Obviously they are an experienced team – I'm not surprised they won last year – they have been doing it for twenty years," he said. "They're getting a little old now and out of date with their style, so I'm thinking it's about time they move over for the young bucks and let us have our time."
As the one who kind of began the rivalry, Beverage said he thinks it amps up the cook-off and adds a little flavor to an already entertaining day.
"We're competitive – everybody's competitive," he said. "Our plan for this year is to win. Our sideline plan is to beat the Coal Hollow Brothers because that's just going to be a lot of fun. It makes it entertaining, and it gives the cook-off another edge."
Beverage doesn't pull any punches when he directs his attention to the Coal Hollow Brothers.
"Last year was our first year and we just got our feet wet, so you better put your big boy pants on because we're coming hard this year," he said.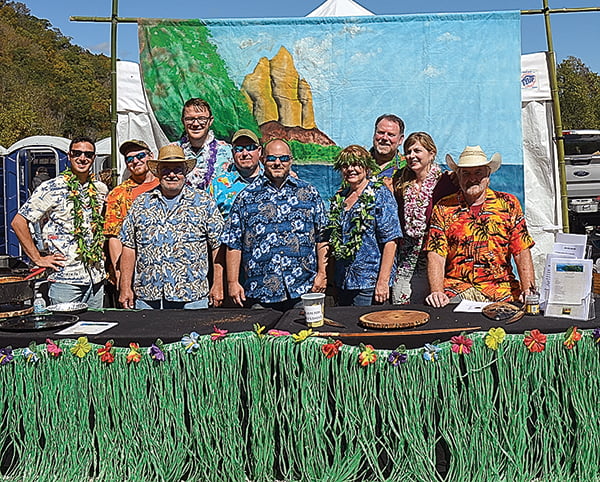 The Reigning Champs
The Coal Hollow Brothers have participated in the RoadKill Cook-off every year since 1998 and have continued to make a mark with a variety of themes and, more importantly, a variety of recipes.
What began as a team of four friends has become a team of between 17 and 19 people – now technically making the team the Coal Hollow Brothers (and Sisters).
As the leader of the team, Ed Blackford is first to admit that not all cook-offs have been successful for the team, but they have been fun.
"We started in 1998 – there were four of us – the original Coal Hollow Brothers," he said. "Three of us were scout masters or assistant scouts masters and the other one was a military member who was a good friend. We did really poorly at that one; really poorly. The challenge was there and so each year we come back. We made some friends that first year and then every year it seems we make some more friends, so that's part of what keeps us coming back – it's a big chunk of what keeps us coming back."
If ever there was a team to beat, it would be this one. While some teams have a few trophies and plaques in their offices or homes, the Coal Hollow Brothers could fill a small room.
"We won five first places," Blackford said. "Best of Show – I don't really have the count in front of me, but I'm going to guess five or six. I don't know how many seconds, thirds and People's Choice. We have boxes  of RoadKill trophies that we've distributed out amongst the brothers, and sisters now."
Team members get a lot of practice, not with other competitions, but in teaching their cooking skills to the next generation.
"This is the jewel in the crown for the year," Blackford said of the cook-off, "but what we do, we work with the girl scouts. This month, we're going to be teaching some girl scouts primitive cooking techniques, dutch oven things that we learned with the scouts and have honed over the years. We're going to be teaching eight-to-sixteen year old girls how to cook over fire and make bread on a stick.
"The girls really enjoy it," he continued. "They really like making pizza in a dutch oven and then monkey bread is a good one. We've worked with the YMCA in the past to teach classes on primitive cooking. Whenever someone in the community knows us and asks us, we've never turned anyone down."
While they do keep busy with other projects, the cook-off is never far from their minds. In fact, they waste no time at all in preparing for the next year's competition.
"On the way back from last year's RoadKill, we hadn't even made it into Lewisburg and we already had our idea for the theme and for the menu," Blackford said. "So, that's not unusual. We're always thinking about it and then, we have our go-to bag of tricks."
That bag of tricks includes an array of themes to choose from, including past themes of mountain man expedition, Area 51, Hawaiian, Mardi Gras, lumberjack and railroad.
Along with preparing the theme, the team has been collecting ingredients for a while.
"We've been scraping deer up off the road for the past three months, I guess," Blackford joked. "Some of them are about right and we'll can those guys up. If it wasn't for those methods, we wouldn't have enough stuff to feed fifteen hundred to two thousand people."
All jokes aside, the team is ready and plans to use venison as their main ingredient, just like the Buckbusters.
Speaking of the newbies, Blackford said he is happy to see fresh meat join the competition because it's fun to watch them squirm when going up against a seasoned team.
"I have nothing but respect for Kendall and his crew," he said. "They're new and upcoming, they have a lot of enthusiasm, and I guess it's going to be a shame that we have to crush them. That's it. We're going to feel bad about it, but we're going to crush them.
"Last year, Kendall said, 'yeah, you know, next year, we're not going to go so easy on you,' which means he thought he was going easy on us now," he continued. "We always do what we do. The Coal Hollow Brothers is an easy going team. They cast the gauntlet."
It isn't the first time the Coal Hollow Brothers have been called out and this year, you could say they have a secret weapon joining them in the "kitchen."
"We did have another group we had a lot of rivalry going on with – good natured rivalry – but they stopped participating," Blackford said. "They were called the Fat Boys and they were very similar to the Coal Hollow Brothers in that they had scout masters and former military members. This year, one of their members – one of their team captains – I've asked him to come back and be an honorary Coal Hollow Brother, so John Long will be part of our team."
All jokes aside, Blackford said the team really enjoys the cook-off and said the camaraderie and the light heartedness of the competition brings them back each year.
"We like competition," he said. "We enjoy it. We've got a very interesting theme this year, and we have interesting opposition. It will be an interesting competition. We'll do the same thing we do every year. We found a good combination – people have seen how we do and what we do and now they're modeling themselves after us. That's kind of cool to see, so we have to stay in the competition. It's like the arms race – we have to stay one step ahead of them, and so we have this year."
As for the Buckbusters, Blackford reiterates that the team will do what it always does, even if that means taking down some nice people.
"It's going to break my heart when I have to crush that young man," he said of Beverage.
It all boils down to the face-off, which will determine the winner for 2018.
To paraphrase Alton Brown of Iron Chef America – "which team's cuisine will reign supreme?"
Will the Coal Hollow Brothers add another win to their collection?
Will the PCB Buckbusters come out on top?
Or, will they both be taken down by a dark horse?
Find out Saturday, September 29, at the 26th Annual RoadKill Cook-off and Autumn Harvest Festival.