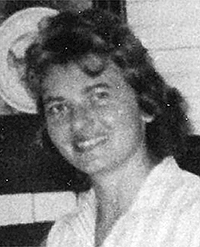 Reta Marie Morrison Rose, age 86, of Hillsboro, died Monday, September 11, 2023, at Peyton Hospice House in Fairlea, after a long battle with ovarian cancer.
She was tough as nails until her death.
Born February 22, 1937, by the fireplace at the family farm in Lobelia, she was a daughter of the late Franklin Pierce Morrison and Carrie Hester Brown Morrison.
Reta attended the Mount Lebanon one-room school through Grade 6, then attended school in Hillsboro, graduating from Hillsboro High School in 1955. Reta was raised on the family farm. Her father farmed and her mother was an elementary school tea-cher. Her mother continued to farm until her death in 1983.
Reta was active in 4-H achieving the rank of 4-H All-Star. She was on the winning state 4-H Vegetable Judging Team and competed at the national level in Oklahoma. She was on the winning state 4-H Poultry Judging Team and competed at the national level at Boston, Massachusetts. Reta was the National 4-H winner in canning in 1957 in Chicago, Illinois.
She obtained a B.S. and Master's plus 45 in Physical Education from West Virginia University. She taught for three years in Maryland before returning to West Virginia. Reta taught five years at Hillsboro High School and 30 years at Pocahontas County High School, primarily physical education and health.
Reta married Lanty Winters Rose August 22, 1959. Lanty preceded her in death February 1, 2000. Lanty and Reta lived in Maryland for five years. While in Maryland, their children Gregory Allen Rose and Bruce Franklin Rose, were born. The family returned to West Virginia in 1965. Lanty and Reta built a home on Caesar Mountain and lived there the rest of their lives.
Reta was part of a family farm after her return to West Virginia until her death. The farm consisted of up to 70 beef cows and 150 sheep.
Reta coached her grandchildren Victoria and Lanty in Recreation League Soccer at Hillsboro. She coached as an assistant to Bruce until Lanty moved up from U-6 age level, then continued coaching U-6 teams on her own. Reta felt Hillsboro was the center of the world for soccer.
Reta was a member of Wesley Chapel United Methodist Church in Hillsboro.
She was preceded in death by her sister, Joan Morrison Cuskey; and brother, Bruce Morrison.
She is survived by her son, Greg, and grandchildren, Lorena Hamman (Derek) and Amelia; Lorena's and Amelia's mother, Cara Rose; son, Bruce, and grandchildren, Victoria and Lanty; Victoria's and Lanty's mother, Sheila Rose; and brother-in-law, Dick Cuskey.
The family will receive friends at Wesley Chapel Methodist Church in Hillsboro Sunday, September 17, from 1 to 4 p.m. Funeral will follow at 4 p.m. with burial in Emmanual Cemetery on Bruffey Creek.
In lieu of flowers, memorial donations may be made to the Wesley Chapel United Methodist Church c/o Carmen LaRue, P. O. Box 127, Hillsboro, WV 24946.
Funeral service will be directed by Lantz Funeral Home. Online condolences may be shared at Lantzfuneralhome.com