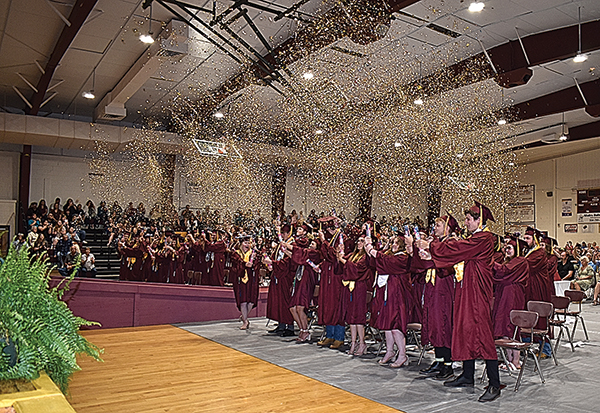 Suzanne Stewart
Staff Writer
Pocahontas County High School Class of 2023 was all smiles Sunday as they entered the gymnasium together one last time to reflect on the tumultuous past four years. If the class could be described in one word, it would be "resilient."
They survived the COVID-19 pandemic and learned by way of virtual classes as underclassmen. They grieved the loss of two classmates. They worked together to help save the life of a classmate. Through all that and more, they managed to find time for homework, sports, extracurricular activities, jobs and maybe a little bit of fun with friends.
Valedictorian Max O'Ganian reflected on the unique high school career he shared with his classmates and how they all managed to come out the other end, better and stronger people.
"Our time at Pocahontas County High School has been very distinctive," he said. "We have had a unique experience and it often takes taking a step away to realize exactly what a special experience we have had. As I look up today, I know every single one of you, and I am sure most valedictorians can't say that."
O'Ganian said that while the school may be small, the students had more opportunities than most – having the opportunity to play multiple sports, take AP classes and vocational courses. The rural setting may have some drawbacks, but the students were still able to make the best of their high school career and earn degrees.
"Yes, virtual sucked and we lost so much of what should make high school special," he said. "But, we learned things about ourselves and grew in ways that otherwise would have been impossible. We found an inner strength and level of maturity to persevere through it all. We found ways to have our sports seasons and succeed academically – even if it meant pushing through weeks of quarantine or canceled games, classes and tests."
O'Ganian took a moment to recognize classmate Nicholas Stephens, who was in a near fatal car accident prior to their senior year. O'Ganian said Stephens was a classmate and a friend. He also recognized the students who acted swiftly to help rescue Stephens that day.
O'Ganian also shared the results of the State Track Meet, which was held the day before in Charleston. Logan Wimer won 8th in shot putt, the girls 4×400 team won 8th, the boys 4×200 won 7th and the boys 4×400 placed third. The winners wore their medals with their graduation attire.
Now ready for the future, O'Ganian congratulated his fellow graduates and wished them success in their future.
"Even after everything, members of this class are going to college, trade schools, the military or to careers in the workforce," he said. "To achieve this, we have pushed through so much as a class and as individuals. Across our four years we have won many individual and collective awards – although none as prestigious as our homecoming championship our freshman year.
"As we look toward our future lives and jobs, it is important to remember each other and this community that has helped us so much along the way," he continued. "So always remember your roots, never forget your friends and look towards a bright future. Congratulations to all of you."
Salutatorian Haley Spen-cer had it down to how many hours the class has spent in school – 14 years, 2,520 days and 20,160 hours to be exact. In reflecting on those long hours, days and years, Spencer said much of that time went by so fast.
"All that time, but it only felt like one minute," she said. "One minute until the bell rings, one minute until we can leave school, one minute until practice is over. One minute.
"We are always rushing and waiting until time is up," she continued. "One year left before graduation turns into one semester, which turns into one month and eventually one week. Next thing we know it's one minute until we can go home. Only one more minute until we never have to step foot in this high school again."
It was a rush to get to the end of school to get to graduation, but in that rush, the students didn't realize there were moments they can never have again.
"We never realized how fast time flies until we don't have another minute – another minute to laugh with your friend at the lunch table; another minute to play your favorite sport or sit in the student section cheering on your fellow classmates; another minute to greet Cindy as you check in late or sign out early or to hear Mrs. Gum's jingle bells as she greets you every morning. We're out of minutes."
Spencer said it is bittersweet to celebrate the end of one part of life and the beginning of the next part, and urged her fellow graduates to remember all the minutes they spent together.
"As we embark on this next chapter of our lives, I'm reminded of this line from a Lee Ann Womack song that reads, 'I hope you never lose your sense of wonder,'" she said. "These lyrics speak volumes, urging us to hold onto that childlike curiosity that sparked our journey here – through late night study sessions, friendships forged and even those comical mishaps we wish we could forget."
With the help of their parents, guardians, family and friends, the class has persevered and found the light at the end of the tunnel. Spencer reminded her fellow graduates to always remember it all, good and bad, and to always keep their light shining.
"As we leave these hallowed halls, remember that life is an unpredictable mixtape of successes, failures and unexpected plot twists," she said. "It's okay to stumble, take detours and dance to your own rhythm. Cherish every high note and find beauty even in the low ones. As J.K. Rowling once said, 'Happiness can be found even in the darkest of times if one only remembers to turn on the light.'
"So my friends, keep that light shining bright and illuminate the world with your unique talents."
Prior to the commencement ceremony, Sydney Puffenbarger remembered two classmates who sadly passed away in 2018 and 2020. Behind the graduates' seats were two podiums, each with a photo and graduation cap for Karissa Friel and Kassidy Long.
Karissa Nicole Friel, daughter of Ricky and April Friel, passed away April 3, 2018.
"She was a great friend to all," Puffenbarger said. "She never had anything bad to say about anyone. She was just genuinely a good person. She constantly had a smile on her face. She was the type of person who would give you the shirt off her back if you needed it."
Kassidy Maria Long, daughter of Ashley Schoolcraft and granddaughter of David and Patricia Long, passed away December 12, 2020.
"She loved playing basketball and was a Super Scholar all through middle school and her freshman year," Puffenbarger said. "She was always happy and she valued her family like nothing else. She wanted to go to college to get her degree in cosmetology."
Sharing reflections on the past four years and appreciation to school staff, family and friends, were honor graduates Grace Beverage, Mason Solliday, Christy Casey, Melinda Beverage, Isabella Bauserman and Kelsi Taylor.
As the graduates were called to the stage to receive their diplomas, most of them presented principal Joe Riley with a rubber ducky. Logan Wimer elected to gift him with a real duck breast.
In his closing speech, Riley explained that one day during the school year, the school was filled with rubber duckies with no explanation or culprits to take credit for the prank, although he was rather certain it was the seniors who brought the squeaky toys to the school.
Riley recalled how the class was rather rambunctious and had yet another prank up their sleeves. However, their timing was a bit poor when they chose to toilet paper the school. It happened to be on the day before the Super Scholar ceremony, leading the class to learn quickly how to clean up after themselves.
Riley added that they also learned a valuable lesson – that it's harder to clean up wet toilet paper – which happened to be the case after a rain shower dampened their prank even more.
Despite the silly pranks and the incessant tardiness and skipped days, Riley said the graduates more than earned their degrees. He gave the graduates four key pieces of advice.
1. Be happy. Surround yourselves with people who make you happy and find a job that makes you happy.
2. Call your parents. Whether you're five or 50, parents love to hear from their children, especially to hear how their day went and how they are spending their money.
3. Remember where you came from. You are Appalachians and from one of the most beautiful places in the world. No matter where life takes you, don't forget Pocahontas County and try to come back as much as possible, if not forever.
4. Don't forget the phone number 304-799-6564. If you ever need anything, call this number and someone will answer. There will always be support for everyone at PCHS.
After his words of wisdom, Riley had the class stand and turn their tassels, officially deeming them the 52nd class to graduate from Pocahontas County High School. The class and staff celebrated with confetti canons, hugs and laughter.
Through all the tribulations, the students remained strong – Warrior Strong – and are now prepared for a future that will take them to all corners of the world and, hopefully, back to Pocahontas County – even if just for a visit.