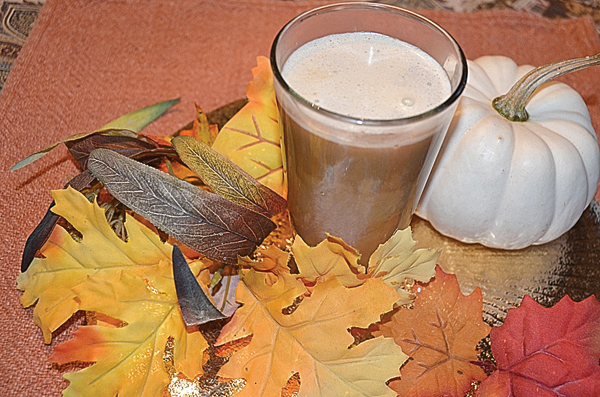 Laura Dean Bennett
Staff Writer
For those of us who don't get out much to what I call "big towns," it seems there are often wide-sweeping social trends in which we aren't able to indulge.
This time of year, and for the past several years, there's been a lot of talk about pumpkin spice this and pumpkin spice that.
I've steadfastly resisted the siren call of pumpkin spice season, as fall is a pretty busy time of year.
What with finishing up in the garden season, fall cleaning season, winterizing the porches season, lady bug removal season, carrying the summer clothes upstairs and bringing down the winter clothes season, changing the beds to flannel bed sheets and down comforters season and bringing in the potted plants and mulching the flower beds seasons all converging at this time of year, it didn't feel like I had enough time or energy to really be adding another season to the calendar.
But there is only so much resistance one can maintain against the relentless onslaught of pumpkin spice advertising.
So, I gave in.
And you know what? I discovered that I really like pumpkin spice drinks and treats.
Now, how can we get them, when we are so far away from their natural habitats?
Like our hardy ancestors – we just need to adopt the "if you can't buy it, you can learn to make it at home" philosophy that made this country great.
Before you start your pumpkin spice binge, you'll want to know how to make pumpkin spice. It's much less expensive than buying it.
Five minutes and five spices – ground cinnamon, ground ginger, nutmeg, ground allspice and ground cloves – and you're there.
Mix equal amounts in a small batch and store in an airtight container.
Now that you have the "secret" ingredient, you're ready to create.
Your morning coffee can be an extravaganza when you serve your own version of pumpkin spice latte at home – with or without a Keurig coffee machine.
If you have a Keurig machine, this recipe will make you an instant autumnal brew master.
Keurig Pumpkin Spice Latte
by coffeestylish.com
Ingredients:
1 coffee k-cup of your choice (regular, dark roast is perfect)
1/2 cup milk
1 1/2  tsp. sugar
1/4  tsp. pumpkin pie spice
1 Tbsp. pumpkin puree (optional)
Directions:
Brew a k-cup at the 4 oz. cup setting. Add sugar, pumpkin pie spice and pumpkin puree. Stir. Heat the milk and slowly pour in while stirring. Garnish with whipped cream.
*For vegetarian and dairy free, substitute almond or coconut milk.
Instead of milk and pumpkin pie spice, you could also use a liquid Pumpkin Pie Spice creamer. Simply brew one regular k-cup at your favorite cup setting, add 1-2 Tbsp. of creamer and stir.
Of course, if you want to cheat, you could just grab a box of pumpkin spice cups. Just add a dash of milk or cream and you have a close imitation of the professional stuff.
If you don't have a Keurig machine, that's okay. There's more than one way to skin a pumpkin spice beverage.
Customize your regular coffee by adding a dash of homemade spiced pumpkin coffee creamer to perhaps a stronger than usual brew.
 
Spiced Pumpkin Coffee Creamer  
2 cups heavy cream or half and half
1 14-oz. can sweetened condensed milk
3 Tbsp. canned pumpkin (or fresh puree)
1 tsp. pumpkin spice
1 tsp. vanilla
In a one quart canning jar combine all ingredients; seal. Store in refrigerator for up to two weeks. Shake before serving.
If you want to continue to make fancy coffee house-style drinks after pumpkin spice season, here are a few other ideas for using the same basic recipe to "spice up" your coffee menu for the rest of the winter.
Chocolate Coffee Creamer – Prepare creamer as directed above, except omit pumpkin and pumpkin pie spice. Add 3 Tbsp. chocolate flavor syrup.
Amaretto Coffee Creamer – omit pumpkin, pumpkin pie spice and vanilla. Add 1 tsp. almond extract and 1/2 tsp. ground cinnamon.
Caramel Coffee Creamer –omit pumpkin and pumpkin pie spice. Add 1/4 cup caramel flavor ice cream topping.
French Vanilla Coffee Creamer – omit pumpkin and pumpkin pie spice. Substitute 2 tsp. vanilla bean paste for the vanilla.
Hazelnut Coffee Creamer – omit pumpkin, pumpkin pie spice and vanilla. Add 2 tsp. hazelnut extract.
With your pumpkin spice coffee, you'll want to serve something appropriately pumpkinish. Why not a different take on traditional brownies? 
 
Pumpkin Spice Brownies
1 can (16 oz.) pumpkin or 2 cups pureed fresh pumpkin
4 eggs
3/4 cup vegetable oil
2 tsp. vanilla extract
2 cups all-purpose flour
2 cups sugar
1 Tbsp. pumpkin pie spice
2 tsp. ground cinnamon
2 tsp. baking powder
1 tsp. baking soda
1/2 tsp. salt
Frosting:
6 Tbsp. butter or margarine, softened
1 package (3 oz.) cream cheese, softened
1 tsp. vanilla extract
1 tsp. milk
1/8 tsp. salt
1 1/2 to 2 cups confectioner's sugar
In mixing bowl, beat pumpkin, eggs, oil and vanilla until well mixed. Combine dry ingredients; stir into pumpkin mixture and mix well. Pour into greased 15"x10"x1" baking pan. Bake at 350º for 20-25 minutes or until brownies test done with a wooden pick. Cool.
In small mixing bowl, beat butter, cream cheese, vanilla, milk and salt until smooth. Add confectioners sugar; mix well. Frost brownies. Store in fridge.
If you're looking for a beverage that can double as an afternoon pick-me-up or an after-supper dessert, how about indulging in a pumpkin milkshake? This one isn't nearly as decadent as some.
 
Healthy Pumpkin Spice Milkshake
From wellplated.com
1/2  cup fresh or canned pumpkin puree 
1/4  cup nonfat or 1% milk
1/2  medium ripe banana, cut into chunks and frozen (about 1/3 cup)
1 1/2  cups no sugar added vanilla frozen yogurt, slightly softened  
1 tsp. pumpkin pie spice
1/4  tsp. ground cinnamon
1 full sheet low-fat honey graham cracker, plus additional for garnish 
Whipped cream, optional- for garnish
To a high-powered blend-er, add in order, the pumpkin puree, milk, banana, frozen yogurt, pumpkin pie spice, and cinnamon. Break the graham cracker sheet into a few pieces directly into the blender. Blend until smooth, adding more milk 1 tablespoon at a time as needed to reach your desired consistency.
Divide into glasses and top with additional crushed graham crackers and whipped cream. Enjoy immediately.
As we careen toward the winter holidays, it's nice to linger just a few moments in pumpkin spice season before we turn the calendar page and start counting the days until Christmas.