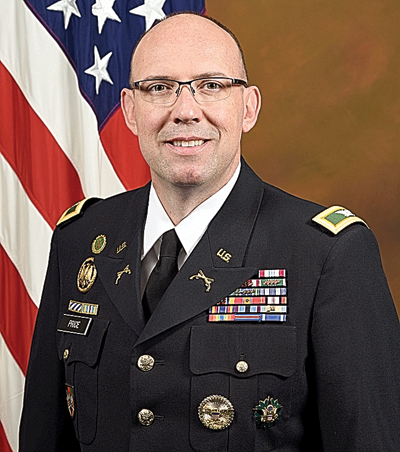 United States Army Colonel Jeffrey A. Price was recently honored at a Retirement Ceremony at MacDill Air Force Base, Florida.
Colonel Price, formerly of Marlinton, enlisted in the Quartermaster Corps of the United States Army Reserve March 19, 1988 as a Supply Specialist (76Y), reaching the rank of Specialist.
He received his commission in 1991 from the Army Reserve Officers Training Corps at West Virginia University. He was commissioned as an Army Reserve 2nd Lieutenant in the Chemical Corps and assigned to the 300th Chemical Company, Morgantown.
Colonel Price serves as Chief of Operations for USCENTCOM J3-Joint Operation Center. He is an Army Reserve Officer with 33 years of service. As a Captain, Price commanded the 300th Chemical Company for four years. As a Major, he commanded the 35th Civil Support team (CST)-Weapons of Mass Destruction for three years. As a Lieutenant Colonel, Price has commanded three times: Joint Interagency Training and Education Center CBRNE Training Battalion, 151st Military Police Battalion and West Virginia Training Center as the Garrison Commander. During his command time, he supported National Special Security Events, such as Presidential Inaugurations, State of the Union Addresses and the G-20 summit.
Colonel Price served as Exercise Director and Lead Planner for the National Guard's Homeland Defense Forces (CST, CBRN Enhance Response Force-Package and Homeland Response Forces) exercises/evaluation. He was assigned to Headquarters Department of Army G34 as Chief for the Army's Migration Task Force dealing with the National Security Agency's 2013 compromise. Prior to his current position, Colonel Price was the Deputy Director of Mobilization and Global Force Management in the Office of the Deputy Assistant Secretary of Defense.
Colonel Price's joint assignments consists of USFOR-A J3 Deputy Future Operations, Office of the Under Secretary of Defense for Personnel and Readiness, Deputy Director of Mobilization and Global Force Management, Officer in Charge of the Advise/Assist Team Saudi Arabia Joint Operations Center and USCENTCOM J3-O Chief of Operations. He has completed the Joint Staff College and is fully Joint qualified.
Colonel Price was a Corporal in the West Virginia State Police and served as a certified firefighter. He received his Bachelor of Science in Business Admini- stration and a Master's of Science in Safe Management both from West Virginia University.
Colonel Price and his wife, Donna, married for more than 20 years, reside in Lutz, Florida. They have three children – daughter, Alexis, age 18, nephew, Chase, age 15, and niece, Mackenzie, age 13.
His awards and decorations include the Defense Superior Service Medal, Defense Meritorious Service Medal, the Meritorious Service Medal, the Office of the Secretary of Defense Identification Badge and the Army Staff Badge.