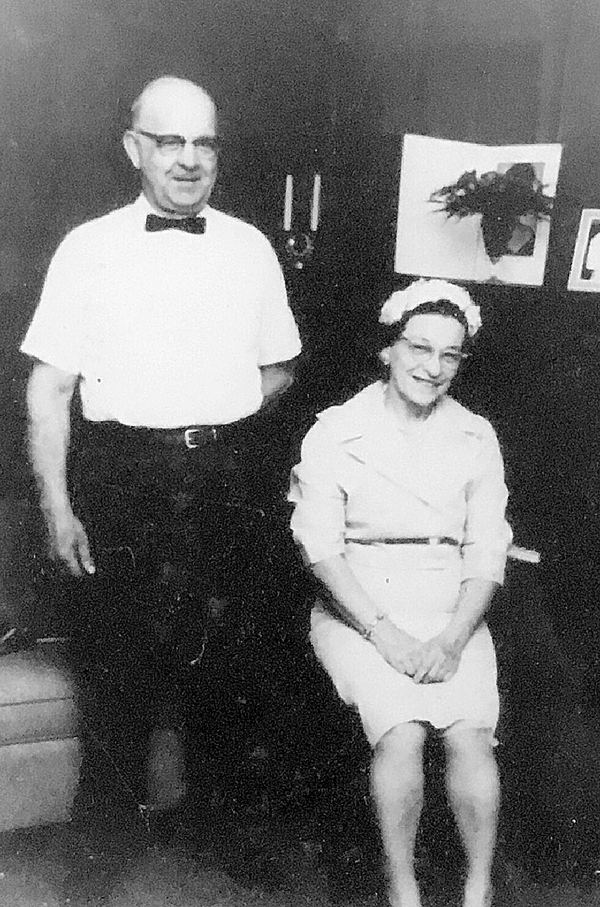 Lloyd Kisner, Sr. and his wife, Edna, lived in Frank, W.Va. where they raised their five children. They are pictured here in front of their piano in the late 1960s. Mr. Kisner was employed by Howes Leather Company for more than 50 years. He and his wife owned L. E. Kisner General Merchandise which Mrs. Kisner operated from 1930 to 1950. They then owned the Bartow Drive-In and Concession.
When Lloyd Edgar Kisner was born on April 9, 1897, in Douglas, Tucker County, West Virginia, his father, Elmer Jackson Kisner, was 28 and his mother, Sidney Ella Mullenax, was 22. He married Edna Graham in 1915, in Pocahontas County, West Virginia. She was born in Pennsylvania on July 8, 1900.
Edna Graham Kisner died January 29, 1971. Lloyd Edgar Kisner, Sr. died October 1, 1979. They are buried in the Arbovale Cemetery in Arbovale, West Virginia.
The Kisner Collection has been donated to Preserving Pocahontas by the Kisner Family. Items will be added to the online digital library as they are inventoried and digitized.
We thank Becky Benton and The Kisner Family for gifting their family albums, photographs and documents to the people of Pocahontas County. (The Kisner Collection, Courtesy of the Kisner Family, Collection; ID: PHP004757)
Access the "Preserving Pocahontas" Digital Library at www.pocahontaspreservation.org or www.preservingpocahontas.org
If you have historical records or photographs to be scanned for the county Historical Archive contact Preservation Officer B.J. Gudmundsson at 304-799-3989 or email info@pocahontaspreservation.org Prints of photographs are available.