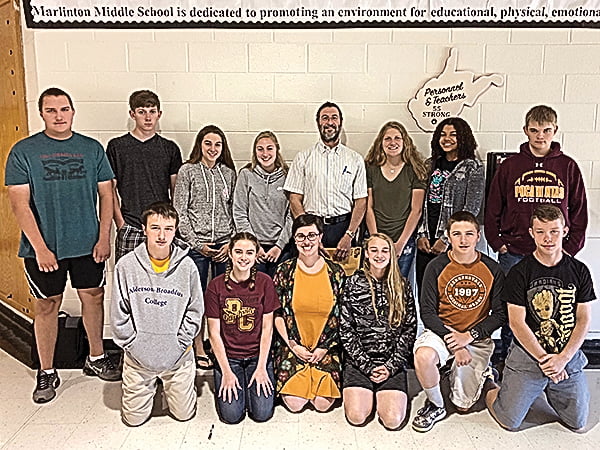 Pocahontas Memorial Hospital's staff of physicians and healthcare providers recently be-gan a campaign to make themselves more visible and approachable in the community. It began with Dr. Alan Thorne, DO, helping out during the hospital's Health Fairs at the State Road Garage and Burns Motor Freight. Then Delinda Woody, FNP, began volunteering with the Family Resource Network's food pantry on distribution day. Last week, Dr. Hanibal Mahdi, MD, joined other hospital staff, attending the Marlinton Middle School Career Day. And most recently, Dr. Jeffry Pilney, MD, visited with Marlinton Middle School students to talk about healthcare careers.
Nebraska Scotchie, a teacher at MMS, invited Dr. Pilney to speak to her class. Each student submitted two to three questions in advance. While many questions asked about education requirements, others asked about the coolest things Dr. Pilney has seen in the Emergency Department, or the nastiest surgery.
Dr. Pilney encouraged students to pay attention to all their subjects – not just sciences and math – because all subjects are building blocks in the success of a medical career. Dr. Pilney himself was an undergraduate major in English and Anthropology. Even these seemingly unrelated fields help him every day.
"English helps me in communicating with people and writing medical records," he said. "Anthropology gives me a better understanding of people. Being able to communicate with the patient is key."
Dr. Pilney encouraged the students to set lifelong goals and remain committed through difficult times.
"Dr. Pilney made us realize that you actually need things that you don't think you do to be a doctor," student Hazel Riley said. "He told us to always want challenges and never shy away from them."
Dr. Pilney serves as Chief Medical Officer at Pocahontas Memorial Hospital. He is the lead physician for the hospital's Wound Care Clinic and also sees patients in the Emergency Department. Dr. Pilney has been a licensed Medical Doctor in the state of West Virginia since 1996 and is board certified in general surgery and specializes in trauma. Dr. Pilney is a graduate of Wright State University School of Medicine and completed his residency with West Virginia University School of Medicine.