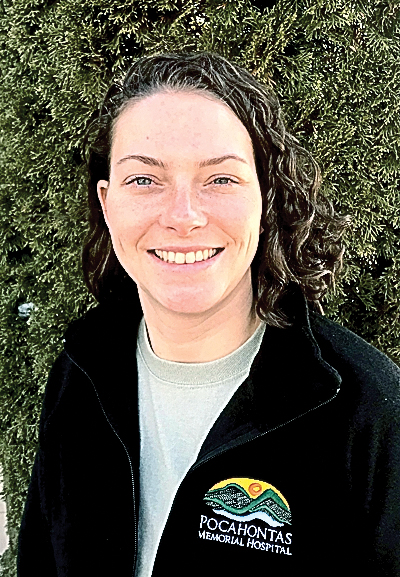 Five years ago, Pocahontas Memorial Hospital's Nursing Department unveiled its new Outpatient Infusion services. This month, Outpatient Infusion is taking a huge step in restructuring itself to increase patient services and access. As of February 1, Madeline Nelson, a Registered Nurse, has taken on the new position as head of Outpatient Infusion.
PMH's Outpatient Infusion provides many services and therapies that might previously have required a patient to travel to Greenbrier or Randolph County to obtain. For example, IV therapies such as antibiotics, IV fluids, iron therapies, blood infusions, specialty medication injections or infusions for pulmonology, ENT, Hematology and Oncology; port flushes; port access for lab draws; allergy injections; intramuscular and subcutaneous injections; routine medication injections; and dressing changes are all available at PMH.
With Nelson, better known as "Maddy," as coordinator, services will be available each day, Monday through Friday, by appointment.
Maddy explained the process a patient will encounter, from the original provider's order to the completion of the visit.
"Once an order from the provider is received, we check with our pharmacy on time frame and medication availability so we can schedule patients quickly. A lot of times these are reoccurring treatments, and we can get their next visit for what works best for the patient. Once registered at the front door, they come to Outpatient Infusion where they see me. I will get vitals, go over allergies, and complete the service ordered for the patient. If any after-treatment monitoring is required, we do that and then they are free to leave."
Over the years, many patients have utilized and loved PMH's Outpatient Infusion services. Patients appreciate that this service is not only offered closer to home, but also for the ease of making appointments. Previously, patients would have to schedule treatments through a larger hospital's Day Surgery Unit. Even with an appointment, if the unit got busy with emergencies or surgeries, a patient might be kept waiting hours to receive therapy.
"At PMH, we try to eliminate the wait time by making the process as easy as possible for the patient," said PMH Director of Nursing Michelle Deeds. "They can obtain the services they need and get back to doing the things they love while staying close to home."
Maddy is a graduate of Davis & Elkins College and has six years of nursing experience. She is a Pocahontas County native and began working at Pocahontas Memorial Hospital in 2015.
"I am thrilled to have this opportunity to contribute to our community in the expansion of our Outpatient Infusion. I look forward to assisting everyone with these services right here in Pocahontas County," she said.
All that is required to schedule an appointment is an order from the patient's prescribing doctor for the outpatient service needed. This can be presented by the patient themselves or faxed to Maddy at 304-799-6729.