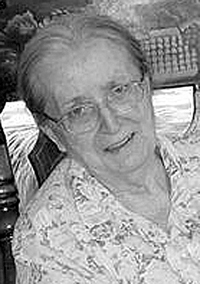 Pauline Mae Burks, 89, of Buckeye, passed away Sunday, February 7, 2021, at Pocahontas Center in Marlin- ton. Born October 8, 1931, at Huttonsville, she was a daughter of the late Paul and Daisey Barkley Wamsley.
Pauline was a member of the Mt. Kennison Church of God and a homemaker.
In addition to her parents, she was preceded in death by a son, William Michael Burks; sisters, Carrie Arbogast, Marie Moss, Lorraine Burks and Virginia Arnett; and brothers, Frank Wamsley and John Wamsley.
She is survived by her husband of 68 years, Homer Jack Burks; two daughters, Kathleen Elaine Wright, and husband, David, of Colorado Springs, Colorado, and Jack-ie Lynn Burks, of Alexandria, Virginia; sons, David Paul Burks, Daniel Keith Burks, and wife, Gertrude, both of Buckeye, and James Ray Burks, and wife, Tony, of Ravenswood; eight grandchildren; eight great-grandchildren; and one brother, Bayard Wamsley, of Mill Creek.
Funeral service will be held Saturday, February 13, 2021, at 2 p.m. at Mt. Kennison Church of God at Stomping Creek. Burial will follow in Sharp Cemetery.
Visitation will be held from 1 to 2 p.m. at the church.
Due to COVID-19, all social distancing and related guidelines will be followed.
Online condolences may be made at Lantzfuneralhome.com