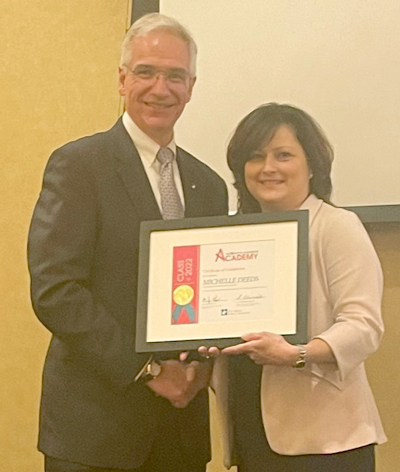 Deeds graduates from Hospital Leadership Academy
The Hospital Leadership Academy Class of 2022, a program of the West Virginia Hospital Association, announced the graduation of Michelle Deeds, RN, BSN and Director of Nursing and Clinical Services at Pocahontas Memorial Hospital.
The 2022 class consisted of 17 individuals from hospitals around the state. They met for four three-day sessions over 10 months at locations throughout West Virginia. The program utilized a variety of techniques to educate participants about the unique and diverse issues that characterize West Virginia's healthcare system.  
As the national and state healthcare landscape continues to shift dramatically, hospitals need leaders that demonstrate innovation and strong decision-making abilities. Every day, West Virginia hospitals are looking for people with skills, techniques and strategies that contribute to organizational success. Leaders who are passionate about healthcare and improving the health of West Virginia communities.
Deeds has worked at PMH since December 2014 and is married to Vincent Deeds. The couple lives in Renick and has two grown sons. Deeds had the unique opportunity of being named Speaker of the Class at the graduation ceremony, which took place April 29, 2022 at Stonewall Jackson Resort in Roanoke.
To help member hospitals advance their workforce capabilities and position themselves for success in today's complex environment, the West Virginia Hospital offers The Hospital Leadership Academy.