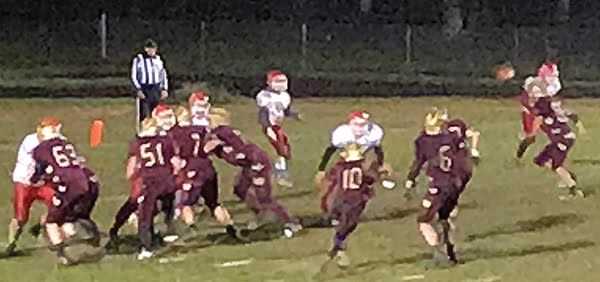 Aaron Pugh
Contributing Writer
The Warriors hit their lowest point of the year with a loss to Summers County in week nine. But the team rebounded and managed to win against the much improved and senior heavy Tygarts Valley Bulldogs who came to Pocahontas County with a 5 – 4 record October 26.
The Warriors were handicapped by the absence of two players who were at the FFA Convention in Indiana for the Forestry and Equine Judging competition – hats off to the National Champions in Forestry and a 21st place for Equine Judging.
The absence of senior Jacob Jones and junior Trevor Wilson made the young Pocahontas County unit even younger. But the Warriors rose to the occasion in the cold, wet and muddy conditions.
After the Warriors received the kickoff and stalled out after four plays, there would be six offensive series before the only score of the night was made.
The game was largely one of defensive struggle with both teams pounding each other. The Warriors, however, were able to score early in the second quarter on a five play series when, on first and goal on the Tygarts Valley 14-yard line, senior Wide Receiver #1 JD "Pablo" Sharp took a hand-off on a jet sweep into the end zone, capped off by an extra point kick by junior #6 Dillon Shinaberry, score 7 – 0.
The rest of the night was low on highlights but high on gritty, muddy defensive football. Despite the low score the Warriors were dominant, with 216 yards total offense to the Bulldogs' 104.
Leading the Warriors on the night was sophomore Running Back #10 Keaton Baldwin with 20 carries for 113 yards, junior Quarterback #6 Dillon Shinaberry with 24 carries for 107 and senior #1 JD "Pablo" Sharp with three carries for 21 yards and a touchdown.
Baldwin led the Warrior defense with 10 tackles on the night.
It was a good night for the Warriors, defeating a talented rival in the Tygarts Valley Bulldogs.
The Warriors will host the #12 AA Shady Springs Tigers Friday night, November 2.  The Tigers' 7-2 record will be a stout challenge for the Warriors.
Friday's game will also be senior night.
Kickoff  at 7 p.m.