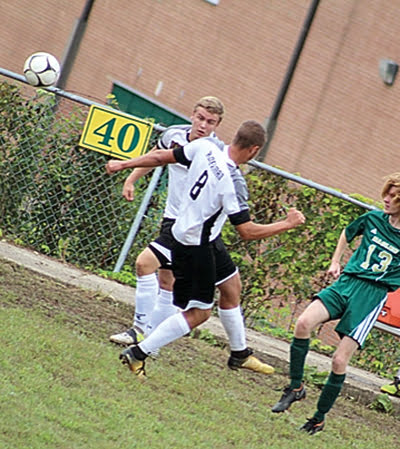 Teresa Kloeker
Contributing Writer
The Pocahontas County High School Warrior Boys Soccer team traveled to Pendleton County September 11, and came home with a huge 12-1 win.
Ten different players scored in the game. Senior Hunter Shafer and sophomore Tony Duncan each had two goals. Senior Colton Massey, Juniors Kolton Alderman, Garrett Coleman, Michael Hardesty sophomores Brandon Price, Jacob Davis, Bryson Cassell and freshman Iam Johnston each had one.
Davis led the warriors with three assists followed by Shafer with two.  Alderman, G. Coleman, Hardesty and sophomore Hadden Mick each had one.
The defense of Coleman, Cassell, Price, Mick and sophomore TD Sparks held Pendleton to only three shots on goal. Massey and Shafer each had one save for the night.
The Warriors traveled to Herbert Hoover September 15 to take on the Huskies, and returned with the second loss of the season, with a score of 3 – 4.
Scorers were Shafer, Duncan and Senior Kyle Cohenour, with assists by Shafer and senior Elijah Robertson. Massey had a busy game with 14 saves.
The Warriors got back on track September 20 with a 6-0 win over Midland Trail.
Shafer and Davis each had two goals with Alderman and Sparks each adding one. Shafer led the assists with three and Davis with one. Massey and Cohenour had two saves each.
The Warriors traveled to Braxton County September 22, hoping for redemption after their loss to the Eagles earlier in the season.
The Warriors came out strong with the first score by Shafer only minutes into the game. Despite the muddy field, the Warriors stayed strong and came out on top 4-0.
Alderman had two goals, one of them from a beautiful corner kick striking the upper right corner, the other from a big throw in from Shafer. Davis also scored from a nice assist from Johnston.  Massey had eight saves on the night.
The Warriors next game is at home on September 25 against James Monroe.
The Senior Night game will be Wednesday, September 26, with the girls game at 5 p.m. and the boys game to follow.  
The 11 seniors and their parents will be recognized between games.
We ask for everyone to come out and support these great athletes!