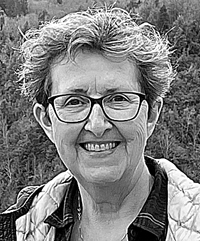 When our time ends, we get one page to enter the joys and blessings or the regrets and mistakes. I want my page to show the love that filled my life. Good parents who provided me with a strong faith in God. Love from a husband whose disability led him to a life filled with the Holy Spirit. The blessing of a son, one of the greatest joys in my life. Being a Mother meant I made mistakes. I'm heartbroken over missed opportunities. I pray that the good memories will be the ones first remembered. I may only get a 2" by 4" column in a newspaper, surely these 74 years held more than that. I've been blessed with more friends than can ever be listed but since this is the end – this is who I was.
Patricia J. Triplett, of Droop, died Thursday, May 11, 2023, at Peyton Hospice House in Fairlea, after a 10-year struggle with Carcinoid cancer.
Born February 28, 1949, at Pocahontas Memorial Hospital in Marlinton, she was the oldest child of the late Hill and Faye Pritt. 
A lifelong resident of Droop, she attended the one room West Droop School, graduated from Hillsboro High in 1966 and began a working career in Pocahontas County.
In 1969 she married Lynn Triplett who was paralyzed in an automobile accident just weeks after their marriage. They were blessed with one son.
Patricia was an employee of the ASCS, the Board of Education, Telephone Utilities of WV and retired from Farm Service Agency in 2015 with 35 years of service. She was the local Avon Lady in the Droop area for nine years during the 1970s. She served on the Board of Directors for the Northern Greenbrier – Southern Pocahontas Health Clinic, and was a board member of the Pearl Buck Foundation. Interested in genealogy since a sixth grader, she kept lots of notes and newspaper clippings and became a valuable resource for local history and genealogy. Active in church projects, she helped organize a Youth Group, was a Sunday school teacher for several years, helped organize the Annual Mother-Daughter Banquet and was Church Secretary.
She was preceded in death by her parents, husband and a sister.
She is survived by her son, Scott, who once remarked to a friend "You may not like your mother, but I like mine. I'm calling home;" special friend, John Rossell, who taught her the love of the river, the joys of fishing and a new awakening of being outdoors; two brothers and two sisters.
Funeral service was held at VanReenan Funeral Home in Marlinton Tuesday, May 16, 2023, with Rev. Barry Moll officiating.
Burial was in Ruckman Cemetery.
For many years, Patricia wrote poetry which was never published; she did, however, write this in preparation of her own demise.
       
MY SEASONS
I have passed through Springtime
With its carefree days
When melting snows become warm grasses.
As the Earth is cleansed
From the winter snows 
I am cleansed as a new born babe.
I have passed through Summer.
I have felt the heat of the sun
And embraced it with a passion
That turned the sky red as a sunset.
I am now into Autumn
Where the crisp air aches the body 
With a bone chilling cold.
I am headed into Winter
Where I will be overcome with a deep and still snow 
That will crush the breath and life from me.
So that I can pass into a Springtime 
That will be eternal and will cleanse me 
As a new born babe.
~Patricia Triplett~
October 8, 2016