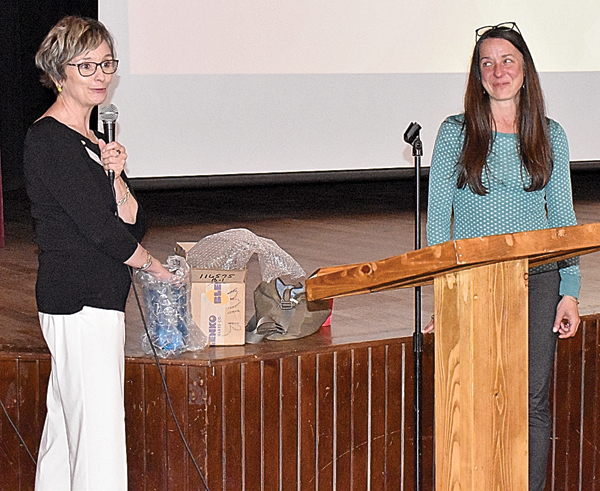 Suzanne Stewart
Staff Writer
It was fitting that the Pocahontas County Convention and Visitors Bureau Tourism Summit was held at the Pocahontas County Opera House last Tuesday considering the fact that facilities operations manager Brynn Kusic was named Tourism Person of the Year.
CVB executive director Cara Rose introduced the award and recipient by sharing comments from the two nominations for Kusic she received.
"I cannot think of anyone who is more deserving of the honor," Rose read. "Anyone who meets Brynn very soon becomes aware of her dedication to this wonderful old building and all that goes on there. Her enthusiasm for this marvelous gem is contagious.
"Not only is Brynn a large part of the reason the Opera House continues to thrive, but her involvement with the development and implementation of the Discovery Junction – the space right outside – has been significant," Rose continued.
The second nomination from Opera House Foundation board president Leslie McLaughlin, who commended Kusic's more than 10 years of dedication to the old theater house.
"One truly does not know the amount of time and work that Brynn puts in to make Pocahontas County Opera House flourish," Rose read. "As the president of the Pocahontas County Opera House Foundation board, I can tell you that we are truly blessed to have Brynn in our wonderful organization.
"Through and with Brynn's amazing people and job skills, she brings the arts, music and theater to our community and schools," Rose continued. "Brynn is able to connect people and events to bring us amazing performances here in Pocahontas County. What an outstanding person of quality and integrity we have in Brynn. She goes above and beyond to help create entertainment in the county.
"Brynn's gift of servitude and personality make others feel welcome in our community, as well."
As she presented the award to Kusic, Rose commented that Kusic had to fly back to Pocahontas County from California and was just able to make it to the luncheon.
"I took a red eye for the first time in years from California," Kusic said, laughing. "I saw a bald eagle, a wild turkey and a deer on my way from Lewisburg, which was pretty amazing."
Accepting the award, Kusic shared her gratitude to the community – past and present – which helped restore the Opera House to its glory.
"I just want to say thank you to this community for restoring this building," she said. "It has been such an inspiration, and I never thought that I would spend so much time in a historic theater, but I will tell you it really has connected me to this community, connected me to all of the amazing people that pass through this place. I'm just very grateful to be carrying on the legacy of this place with all of you."