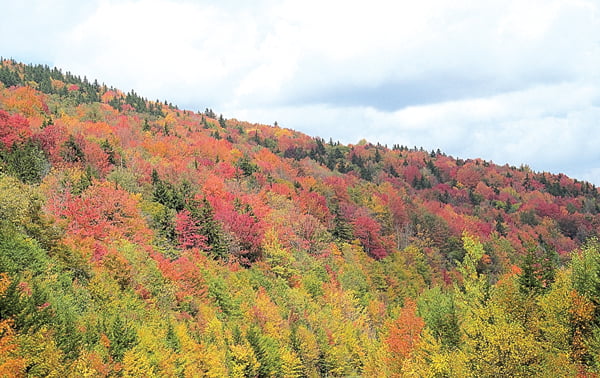 Cara Rose
Pocahontas County CVB
The drive across the Highland Scenic Highway is remarkable any day of the year, but a trip across the Highland Scenic Highway in fall is nothing short of spectacular. 
The pristine Monongahela National Forest provides unmatched views of our mountains as far as the eye can see and with the abundance of deciduous trees and green pines, Mother Nature's autumn season may well be the best time to travel the Highway. 
 Our love affair with the Highland Scenic Highway started October 11, 1981, with the dedication of the 22-mile stretch of the  Highway between Cranberry Mountain Nature Center on scenic Route 39 and Elk Mountain where it meets Route 219. 
Senator Robert C. Byrd requested funds from Congress in 1961 and the construction started in 1965.  Senator Jennings Randolph was also instrumental in the project which took 16 years to complete. 
The original intention was to build the Highway from Richwood to Gormania, the length of the Monongahela National Forest, but the funding to complete the original project was never secured.
Today, travelers are rewarded with scenic views from five overlooks. Numerous hiking trails are accessible from the Highway including the Honeycomb Rocks Trail that features unique rock formations worthy of the short walk up a trail, that in the spring is lined with wild orchids.  Access to Williams River and camping along Tea Creek are added features visitor and residents alike enjoy.    
The Highland Scenic Highway is a gem in our Monongahela National Forest.   Thousands of visitors take the journey each autumn across this unmatched scenic drive.   
As residents, we sometimes forget to take the time to enjoy the beauty around us, so I encourage you to reacquaint yourselves with the pleasures of a fall scenic drive along the Highland Scenic Highway.  Your love affair with the Highway will be reignited! 
As a side note, people always want to know when the fall foliage will peak.
Well, the answer is always up to Mother Nature.
But I believe it is always safe to say that you won't be disappointed with the fall colors the last week of September and the first week of October.  No matter if it is peak, near peak or slightly passed peak, the patchwork of colors will exceed your expectations.