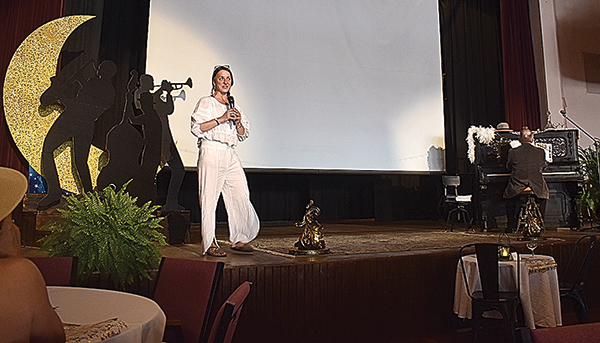 Suzanne Stewart
Staff Writer
Guests walking through the doors of the Pocahontas County Opera House Saturday evening were transported to 1940s French Morocco for the Performance Series Preview Party themed "Midnight at the Oasis."
It was like a scene from the classic film Casablanca, but instead of Sam tickling the ivories, Raymond Godwin performed a selection of tunes from the 1940s to entertain the crowd as they nibbled on hors d'oeuvers. There was a small reserved table with two seats at the front of the stage, possibly for Rick Blaine and Ilsa Lund.
While the theme was specific to one musical genre and era, the performance series lineup for 2023-2024 features a collection of musicians and performers from all around the world.
Facilities operation manager Brynn Kusic enthusiastically shared the list of performers who will grace the stage between September 2023 and May 2024.
"As all of you know, we've got a lot going on in Pocahontas County – there are First Fridays and there are festivals," she said. "There are so many things happening, so we're going to start our season this year in September."
Before the official season begins, Kusic said there will be a performance September 15 and 16 by the Pocahontas County Drama Workshop. Its first performance since the COVID-19 pandemic. The troupe will be performing "The Cocktail Hour."
One of the highlights of the season will be Dom Flemons, an old-time music, Piedmont blues singer and songwriter. Kusic said Flemons recently performed in West Virginia and loved it so much, he wanted to return.
"Yo-Yo Ma had all these pop-up performances," she said. "There was this very special dinner that happened where he performed with Kathy Mattea, Dom Flemons and Crystal Good, who is a great poet from the coalfields."
As it would happen, county resident Jake Hyer has a connection to Flemons and helped connect him with the Opera House.
Along with special guests such as Flemons, there are several favorites returning to the stage, including the Greenbrier Valley Theater, Mike and Mary Sue Burns and the Black Mountain Bluegrass Boys.
"I don't know how many of us really, truly get the fact that there are performances that come from Los Angeles and New York City to Lewisburg to be part of those productions, and the fact that they're willing to pack it up, put it on the road and bring it to our stage, is a huge deal," Kusic said of GVT.
"For our Opry Night this year, Mary Sue and Mike Burns have been involved in an amazing project during the pandemic where they made recordings with all kinds of beautiful musicians from other places and they will be bringing them to the stage for Opry Night," she our favorites, the oldest bluegrass band in West Virginia – the Black Mountain Bluegrass Boys – we will be back, as well."
There will be plenty of acts that will entice the audience to get to their feet and dance. From blues, funk and soul, to traditional New Orleans Jazz, there's some spicy rhythms that will bring out the dance moves of all in attendance.
The season will conclude with Irish contemporary vocalist and visual artist Ceara Conway, in the second part of her artist residency at the Opera House.
"She has had so many accolades and awards in Ireland and it's so incredible to bring the old world to the new world," Kusic said. "She will be making original compositions during that artist residency, so that is something also that we look forward to."
The 2023-2024 performance series is as follows
September 29 – Vanessa Collier.
October 13 – The Rustic Mechanicals – The Age of Rebels and Revels.
October 20 – Dom Flemons.
November 4 – Mike Gillespie Jazz Flute Quartet.
November 18 – Black Mountain Bluegrass Boys.
November 25 – Greenbrier Valley Theater "A Christmas Carol."
February 17 – Opry Night featuring Mary Sue and Mike Burns with old-time festival friends.
March 2 – The Bing Brothers featuring Jake Krack.
March 16 – The Dark Matters.
March 30 – Charlie Chaplin Silent Film Night (with live musical score by Tom Roberts).
April 13 – Garth Newel Classical String Trio.
April 27 – Zuzu's Hot 5.
May 25-31 – Ceara Conway, International Artist Residency.
For more information on the performance series, visit www.pocahontasoperahouse.org