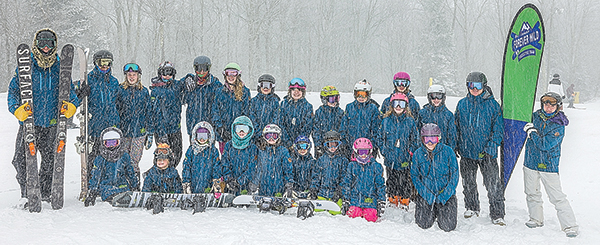 Suzanne Stewart
Staff Writer
With skiers and snowboarders who have been shredding the snow since they were toddlers, it's no wonder the Forever Wild Freestyle Team had an exceptional year of competition this past winter and spring.
Led by ski coaches Seth Ruckle and Bradin Baum, and snowboard coaches Clay Edwards, Ben Marshall and Kody May, the team traveled to four competitions and hosted three events at Snowshoe Mountain Resort.
"For skiers, they have skier cross, half pipe, slope style and rail jam," Ruckle said. "Snowboard has those four disciplines plus giant slalom and slalom.
"In the Appalachian series, we had a lot of series champions which means they finished first in their discipline in their age group for that event. We had a lot of high placing people. I think everybody on the team qualified for nationals."
The team has 12 skiers and 12 snowboarders. Of those, 10 skiers and 10 snowboarders moved on to compete in nationals.
Members of the team range in age from eight to 16, and although they have different skill levels and styles, they all have one thing in common – a zeal for adventure.
Nolan Street, 15, ended the season placing seventh overall at nationals.
"That means I placed high enough in each category to get a combined score to get me to seventh overall out of everyone that came," he said.
Street's age category is very competitive and has the most participants at each event. He has been skiing for eight years and has been on both the Snow Tracks and Forever Wild team.
Why does Street love to ski so much?
"Freedom," he said. "You're free to do whatever you want. Obviously, we're competing with specific rules, but there's so few rules that you're still free to do whatever you want. I like the adrenaline."
To some, 14 is a late age to begin skiing, but Keenan Joyner has really enjoyed his first year on skis, as well as the team.
"It's a great time," he said. "Going to different places was a nice experience."
Joyner competed in ski cross and came in 29th out of 57, which he is happy with, considering it's his first year.
While he may be late to the game, Joyner says it's never too late to take up a new sport and being on a team of old pros has helped him learn a lot.
"Just try it," is his advice to those interested in skiing. "Just go for it and if you don't think you can, don't think that. Just go for it. Try your best. We're helpful. Everybody is like that."
Ten-year-old Jaxon Cassell joined the team two years ago, but has been skiing since he was four.
"I started off pretty miserable, but later on in the years of training, I really progressed," he said.
His favorite event is slope style, in which he placed 23rd. Half pipe, his second favorite, is where he got 14th place. He also placed 38th in ski cross and ninth overall.
As to why slope style is his favorite event, Jaxon said it gives him a chance to express himself and his personal style.
"Off the jumps, you do just what you feel would be the coolest thing and on the rail features, it's just whatever you want to do," he said. "You don't have to copy whatever anybody else does. You just do what you want to do."
Jaxon was on the Snow Tracks team before joining Forever Wild.
"In Snow Tracks, I was one of the highest people, and I decided I wanted more," he said. "I wanted more time training and that's when I asked my dad if there is anything other than Snow Tracks. Immediately when I heard the word freestyle, I was all in."
Jaxon's brother, Boone, age eight, is also a skier and joined the team two years ago, as well. Boone began skiing when he was eight months old. He's honed his skills and has become quite the competitor. He got seventh place at nationals in skier cross and plans to continue growing as a skier.
Boone puts it simply when asked what he likes about being on the team.
"Having fun skiing," he said.
Another teammate who got an early start is Tyler Pace, age nine, who strapped on the skis when he was two years old.
"This is my first year on the team," he said. "I was just skiing with my dad, but I didn't get enough skiing in, so I joined the team. That's every weekend."
Although he didn't place at competition, Pace said he really enjoyed the experience of seeing so many skiers compete.
"There are so many skiers from other countries coming here to do the races," he said. "It was really cool seeing them."
The team isn't just for boys. There are several girls who compete as skiers and snowboarders, one of whom is eight-year-old Isla Zollars.
She took up skiing at the age of four and is a force to be reckoned with on the slopes.
"I loved it," she said of competing. "I love skier cross. I'm really good at it. In skier cross, I placed third and then in half pipe, I placed second."
Skier cross is Zollars' favorite because she can express her personal style and speed down the mountain.
"You can go as fast as you want," she said. "You can do tricks and it's just really fun."
Not one to sit on the sidelines in warmer weather, Zollars said she can't wait to get on her mountain bike and feed her need for speed in another sport.
An older member on the team, Egan Phillips, 16, is a snowboarder who has been hitting the slopes since he was 18 months old. The son of former pros who have trained other pro snowboarders, Phillips took to the sport like a fish to water.
"This is my first year on this freestyle team up here," he said. "I joined mainly because I was looking to improve my riding. I wanted to get more comfortable spinning and hitting bigger features and having people to ride with."
For his first year competing, Phillips said he struggled with slope style due to the size of the jumps. He placed 58th in slope style and 21st in rail jam.
Phillips said he prefers to compete in boarder cross because he is racing down the slope against three other boarders.
"I like it with three other people because it gives me something to chase down if they do get in front of me," he said. "It's just fun. With riding with other people, it's just really nice to be able to see other people's style and try to make it."
Phillips said he is looking forward to improving his skills and is even considering a career as a snowboarding trainer like his parents.
Team members who competed at nationals were:
Egan Phillips; Ali Gregory; Payton Moyer – third in giant slalom, third in slalom; Evelyn Simmons, Isla Zollars – second in half pipe, third in ski cross, second overall; Boone Cassell – seventh in ski cross; Ari Gavrillets – seventh overall; Cuyler Spencer; Declan Strong; Evelyn Prandi – 10th overall; Mia Valach – second in slalom; Jaxon Cassell – ninth overall; Ryder Wilfong; Bridget Moyer; Riley Denkers; Wyatt Denker; Keenan Joyner; Nolan Street – seventh overall; Julianna Black; Mitchell Post; Tucker Dinwiddie; and Tyler Pace.
Other team members are: Zara Fanning, Ayla Fanning, Linus Heroy, Meredith Minter, Ahna Valach, Arthur Heroy and Tristan O'Steen.