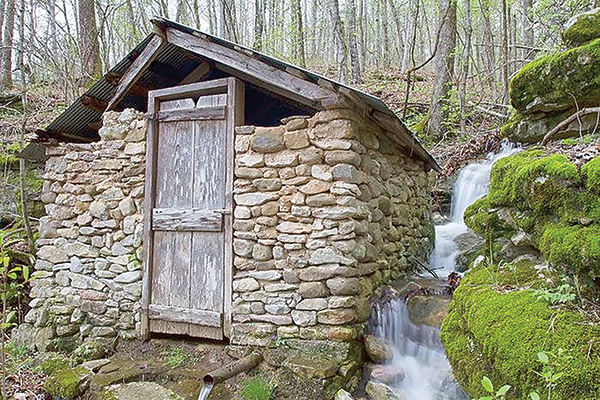 Melondy Phillips
Staff Writer
"Going green" is all the rage these days, but is it really a new concept? The Industrial Revolution did many wonderful things for our society, yet it robbed us of a lot of common knowledge and common sense at the same time.
Something so simple as refrigeration is rarely thought about unless it's time to pick out an appliance to match the kitchen décor in our homes. Even clean water is easily obtained by turning a knob.
Before electricity was an option, springhouses were constructed over a spring, or other fresh water source, to keep the water clean from debris and animals. Later, it became the early form of refrigeration, a place for food storage.
The definition of a springhouse is a small building, usually of a single room, constructed over a spring.
Everything, from meat, fruits, eggs, and even dairy, stayed cool by the constant spring waters flowing around or through the springhouse.
Other names for springhouses were: milkhouses, pumphouses and root cellars; however, the term root cellar is now more commonly thought of as an underground storage room without any water flowing through it. Because of all the water, springhouses were normally constructed of stone. A few log cabin type springhouses quickly succumbed to demise from water damage and rot.
There are endless designs for springhouses depending upon the family's resources and needs. The springhouse could be a very simple single room to a much more elaborate setup consisting of shelves, water basins, a functional water wheel, and could even be multi-room and multi-story. The rafters in a spring house were an ideal place to hang cured meats and cheeses. Hanging these food items deterred critters from feasting on them while they were stored in a sustained environment.
In multi-room springhouses, one room would be used for churning butter and making cheese while another room could store supplies. The supply room would have a spring pool for storing milk and other items. Some springhouses may even have a fireplace in the food preparation room. This was helpful during the winter months as it also gave a place to wash and hang up laundry. In addition, butchering animals and soap making could be done in this room.
Most multi-level springhouses had a fireplace on the top level which also had a separate entryway. This part of the springhouse was used as a place of residence until a larger home could be built. One can see the importance of food preservation and storage in the minds of colonists, since a springhouse would often be built before their home. An old proverb states: "Complete your outdoor work, and prepare your field; afterward, build your house."
Many springhouses were completely sealed to prevent critters from munching on the family's much-needed food and for keeping passing thieves from helping themselves to a free meal.
Part of a springhouse was often built into a hillside or had soil mounded over the top of most of it. This soil bank provided excellent insulation so the inside would stay cool in the summer and warm in the winter, averaging 40 to 50 degrees all year. The one-to-two-foot-thick rock walls were built using nearby stones.
Water flowed through, under, or around the structure – most often around it. Directing the water flow around the building kept it cool and dryer inside, in other words, no pooling water but high humidity. Diverting some of the water through the building created pools for sitting stoneware crocks directly into the cold water. This was ideal for dairy, fermented foods, pickled vegetables and corned meats. Shelves came in handy for whole fruits and vegetables and other items such as eggs.
The flow of the water through the springhouse could also be routed to fill water troughs for animals.
On the colonial frontier, springhouses were as important as barns, chicken coops and workshops. They were essential for food storage and preservation so families could survive through the winter and into the springtime when new crops started producing. Oftentimes, the location of the springhouse determined the location of the main house and barns.
By the middle of the 1800s, the need to process butter and cheese and do butchering in the springhouses started to subside since butcher shops and creameries began moving into the more rural areas. The natural refrigeration of springhouses continued to be heavily utilized until the early to mid-1900s as folks began to make the transition to iceboxes and eventually to gas or electric powered refrigerators.
Basic steps to build a springhouse:
Location: It's best to be built near a year-round water source such as a spring or creek but in a direction so that the water will flow away from the structure, helping to prevent flooding.
Decide how large it should be and if it will only need a single room, multiple rooms or even multiple stories.  Draw up schematics to show this.
Clear out the area needed and lay the foundation. The foundation needs to be able to handle being wet, such as stone or concrete and be at least two feet deep. Consider the design and needs; dig trenches, around, under or through the foundation, as needed, for water to flow in a desired direction.
Thick, insulated walls, preferably built partially into a hill, is best for insulation. Walls can be covered with wood, straw or clay but may need replacing from time to time due to moisture issues. Walls need to be well sealed to prevent excess water from seeping through.
A sloped roof is important to help shed snow and rainwater.
The floor needs to be level to prevent water from pooling but can be dirt, gravel, stone or concrete.
Ventilation and air circulation are important to prevent mold growth; an open door, window or chimney will also help. If the desire is to keep the springhouse closed, because of animals, etc., then consider setting up a passive ventilation system. This needs to be planned in advance but is fairly simple to do. A passive ventilation system can be wind driven or buoyancy driven.
A springhouse should sit so the water flows away from the structure, to prevent flooding, and the door should face south. Modern experts advise that it is best if the whole exposed structure receives plenty of sunlight throughout the day; however, many colonial springhouses were hidden. Small springhouses built in the woods, covered by shrubs and bushes, not only provided for food storage but also provided a place to hide when under attack, such as during the Civil War.
An excerpt from the book Spring House makes reference to this.
"He reported the incident to his superior who opened the small door of the spring house. Inside he found Margaret, sitting on a trunk dressed in her Sunday best clothes; Elizabeth standing beside her holding three-month-old Elizabeth, called Ibby by the family; and four young children – William, Margaret, John and Adam Jr. – next to her. Margaret's hoop dress with its many petticoats hid the hair trunk and fourteen-year-old Robert, who was behind his grandmother's wide hoop dress and the trunk with his grandfather's flintlock pistol cocked and ready for his grandmother to give the word to fire."
As I drive through the countryside and see one of these small, seemingly unimportant, and misplaced structures, I can't help but wonder what intriguing history may have unfolded in its presence.
Maybe one day I will have one of my own.