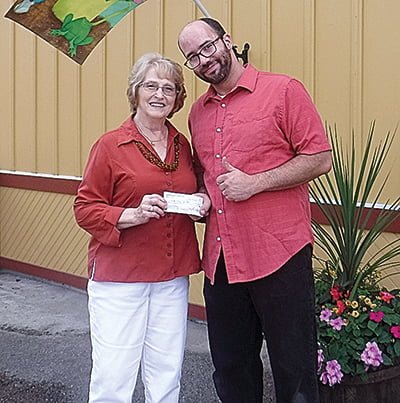 Gail Hyer
Contributing Writer
Watoga Art in the Park – bringing together artists and the great outdoors – Saturday and Sunday September 2 and 3.
Watoga Art in the Park features a great fun-filled weekend for families, set in one of West Virginia's most beautiful parks – Watoga State Park.
Kristy Lanier, owner of the DirtBean Café and Bike Shop, is president of Experience the Arts, Inc., a new group sponsoring and putting together the upcoming event.
"The whole idea of 'art in the park' is to showcase the local and West Virginia artists and their astounding talent," Lanier said of the new event.
Along with showcasing fine art for purchase, there will be eight professional artists, instructing in 22 workshops throughout the two-day event to help you create your own work of art.
"We're all creative," Lanier said. "It's a point of self-discipline and exploration."
Watoga Art in the Park will offer opportunities to take classes from renowned artists. During the two-day event, you can learn pastels, watercolors or acrylics from accomplished artists, watch and participate in wood-fire pottery or blacksmithing, make your own mask and paint or decorate it, check out white oak basketry, as well as yoga and art therapy. All workshops are free but some require per-registration for material planning so be sure to check out the schedule and register at watogaartinthepark.com/workshops/
"Our objective is to enrich people's experience relevant to the arts," Lanier added.
Here's the schedule for art workshops. All classes will be available both Saturday and Sunday: Water colors with Kathryn Gillispie from 10 to 11:30 a.m. and 3:30 to 5 p.m.; pastels with Rose Dobbins from 11 a.m. to 2 p.m.; Kristen Lecroy will be manning the acrylic corner with painting and pollinating flowers from 9 to 11 a.m., Gyotaku: Fish Stamp Art from 1 to 2:30 p.m., and Havin' a Hoot from 3 to 4:30.
Be sure to catch local blacksmith Woody Harman throughout the day. He'll help you make a cool object you can take home with you that day.
Alan Miller will be demonstrating and teaching the art of white oak basketry throughout both days, as well.
Ken Nagakui will demonstrate the art of wood fired pottery from 9 to 2 p.m. Make your own piece of pottery in a wood stoked fire pit.
Sigrid Eilerston has a session from 2:30 to 5 p.m. on oversize mask-making that you create, paint, and decorate.
Mary Burruss will be assisting with individual art therapy as well as leading morning yoga.
Photography is certainly an art expression.
"With remarkable views from T. L. Cheek Road and Anne Bailey Lookout, as well as unique flora and fauna along every trail and with every footstep, we thought it essential to help people with photograph composition," Lanier said.
Noted local photographers Gwen Balogh and Louanne McConnell Fatora will offer a class on special nuances associated with nature photography from 5 to 7 p.m. Sunday evening.
Join in one or all three nature walks led by Watoga State Park Naturalist Christopher Bartley. Learn about birds and then return to paint what you observed, make a clay dish using some of the natural materials you'll find along your walk, or check out the hike where you learn to identify animal footprints. Saturday evening you can participate in an Owl Prowl and even make owl houses to take home with you. Sunday evening includes star gazing with scientists from the Green Bank Observatory on hand to give special insight into the night skies.
There will be great music both days. From the hills of West Virginia, Aurora Celtic plays evocative, original and traditional music for guitar, fiddle, Irish flute, whistle, mandolin and tenor banjo that bridges the cultures of Scotland, Ireland and Appalachia. Enjoy their sounds Saturday afternoon.
Sunday features Paolo and Erica Marks, both classically trained cellists, who have lived in Pocahontas County for 10 years. They play a variety of instruments and styles that include classical, traditional folk and original folk tunes. They are often joined on stage and on porches by neighbors, friends, and family– including their young fiddle-playing daughters.
For more information check out the website WatogaArtInThepark.com or email them at art@watogaartinthepark.com