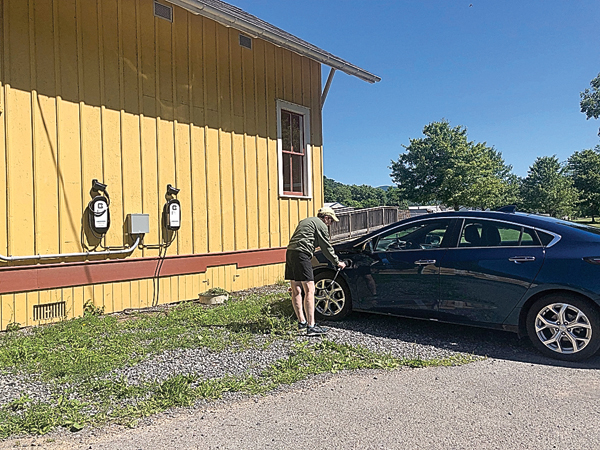 Electric cars are becoming more and more common around the world, the country and, yes, Pocahontas County! 
Car manufacturers such as General Motors are pledging to transition to all electric cars – including new models, GMC Hummer EV, Cadillac LYRIQ and Chevrolet Bold EUV.   
Many metropolitan areas are well on their way, offering EV car owners many charging station locations, and rural America is recognizing the trend.
The West Virginia Electric Auto Association and Charles Pickering, of Pickering and Associates, are working with rural communities in West Virginia to install car charging stations. 
"Thanks to the generous donation from Chip Pickering, Marlinton now has two charging stations located at the Marlinton Depot on Fourth Avenue," CVB Executive Director Cara Rose said.
"More and more visitors are traveling to Pocahontas County driving electric or hybrid electric vehicles and need charging stations."
This is a wonderful added amenity for travelers and residents alike who frequent Marlinton. 
"With the help from Region 4 Planning and Development and the West Virginia Electric Auto Association we were able to install the stations," Mayor Sam Felton noted.  "This is bringing our small town into the new age of electric cars."
These stations are universal and compatible with all electric vehicles, and the locations are already listed on Plugshare, a mobile application that maps locations for electric car owners who are traveling. 
"The stations are free, and we will be asking users to donate $1 per hour of use," Rose said. "This is an average cost estimate for charging electric cars."