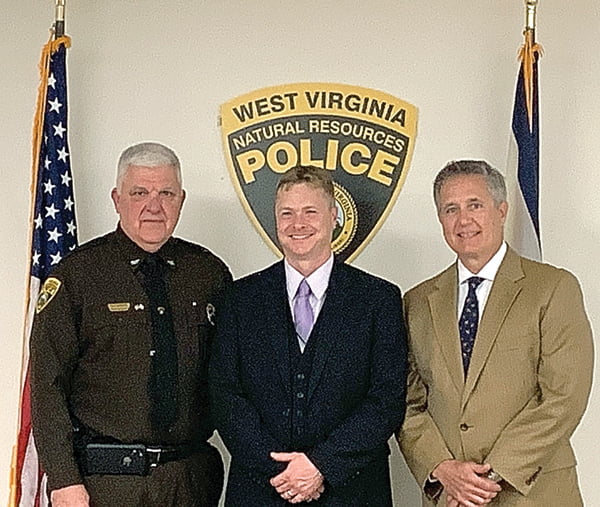 Laura Dean Bennett
Staff Writer
West Virginia Department of Natural Resources field officer Rocky Hebb is originally from Parsons in Tucker County, but he'll be enforcing the law, from the DNR office in Cass.
Hebb has 18 years' experience in law enforcement with the Upshur County Sheriff's Department – serving most recently as a Prevention Resource Officer at Buckhannon-Upshur High School.
During his last year at the school, Hebb teamed up with a black lab named Buc – his K-9 partner – who helped Hebb patrol for narcotics on the campus.
Hebb and his wife, Nina Sharp, from Valley Head, have four nearly grown children – three sons, ages 16 to 20 and a daughter who is 19.
Hebb and Nina have been to Pocahontas a lot over the years. He plays guitar and harmonica in the band, "Hollerwood," a band that Nina started.
They've shared their country/rock/80s and 90s style music at Durbin Days, Pioneer Days and Snowshoe.
Their music is relatively well-known in Elkins, as they are the house band at the Gandy Dancer Theater and Conference Center.
"When Nina and I play at fairs and festivals, our band is "Hollerwood," but when we play at the Gandy, we are part of the house band there, and it's not technically our band," Hebb explained.  
In addition to music, Hebb says he loves Pocahontas County.
"I think Pocahontas County might be the most beautiful county in West Virginia," he said.
"I thought Tucker and Randolph counties were nice, but everywhere I look around here, there's another great view.
"I can hardly keep my camera in my pocket. There are just too many good pictures to take!"
As much as he loves Pocahontas County, he won't be moving here until he and his wife retire from their business in Beverly.
The Hebbs own a dance studio there, "Center Stage," where Nina teaches jazz, tap, ballet and hip hop.
"I'm going around introducing myself to everyone," Hebb said.
"I can tell you that all of the citizens and businesses have been great," Hebb said. "They've all welcomed me and want to assist me."
After introducing himself and sharing a bit of his history, Hebb shared a few words about enforcing the natural resource laws here.
"In one of the most beautiful counties – with some of the best natural resources – in the entire state of West Virginia, I'd like to think that everyone here is respectful of our natural resources and obeys all of our hunting and fishing laws," he said.
"We all want to encourage hunters to come to Pocahontas County, and we want them to enjoy their sport here, but we also need them to be respectful of other people's property.
"Pocahontas County has a lot of parks and recreation here.
"We're 'Nature's Mountain Playground,' after all," he said, with a smile.
Although Hebb will be working out of the Cass office, he will be most easily reached through the French Creek DNR District Office at 304-924-6211 should anyone have any questions or need to speak with him.
Hebb said he wants to encourage everyone to introduce themselves to him.
"I already love being here," Hebb said.
"And I look forward to meeting everyone."